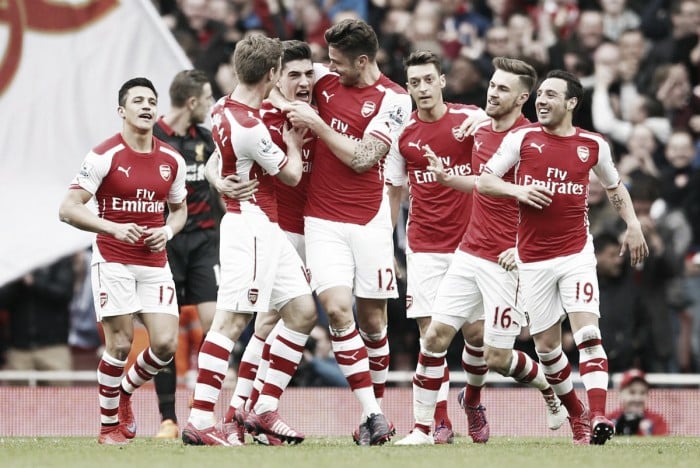 If one word could some up Arsenal's 2015/16 season, it would be odd.
But then that would only be in correspondence of a league season that saw Leicester City win the league, previous champions Chelsea finish tenth and Crystal Palace not win a Premier League fixture for four months and still reach a cup final: football in 2016 has been odd.
Still Arsenal's season seems the most surreal, on the one hand they've finished higher than they ever have for 11 years and have made another progression up the table, on the other, they crashed and burned spectacularly out of the title race by March in an all too familiar manner.
Usually, only the most self-entitled fan of the elite European clubs would call for the head of their gaffer after finishing second, yet somehow Arsenal fans can still hold justification for wanting a new manager whilst holding a toast to the most unlikely St. Totteringham's Days.
This season has been odd indeed.
The Good
It's not all been terrible though, Mesut Özil has never been the English public's favourite player since joining from Real Madrid in 2013.
Much maligned for perceived 'laziness' or 'ineffectiveness' most would tell you Özil has not been worth the £42m Arsenal paid three summers ago, it wasn't that long ago some TV men were trying to tell you that Raheem Sterling were levels above the World Cup winner.
There's no doubting who the better signing has been this year however.
Özil was already showing signs of returning to his best last year, especially in a starring role in the FA Cup final last May but this season he has been far and away the most creative midfielder in the league and only just shy of breaking former Arsenal striker Thierry Henry's 13 year old assist record.
In the end it was the inefficiency of the players in front of Özil that cost him the chance to break Henry's record but with 19 assists and 144 chances created led the Premier League by a long way.
Alex Iwobi has also been someone to be excited about; the 20-year-old Nigerian international broke onto the scene in January in the cup competitions but was given a run in the first team in March that he took with both hands.
He gave a great account of himself at the Nou Camp even though Arsenal failed to turn around a two goal deficit to crash out of the UEFA Champions League at the last 16 stage for the sixth season running and followed it up with a goal at Goodison Park against Everton days later.
He remained a fixture in the Arsenal side till the end of the season but he's contributions were limited towards the end, expected with a youngster who has little first team experience, still he'll be a valued member of the squad next term.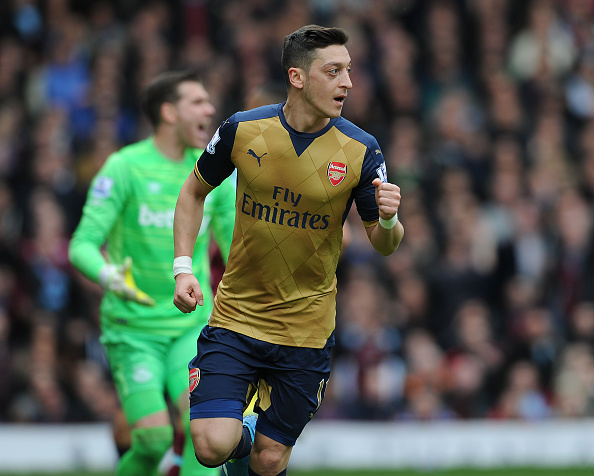 The Bad
2016. Outside of a ten-game unbeaten run to end the season which has still be rather disappointing, Arsenal's 2016 has been atrocious.
It was already going downhill on Boxing Day 2015 when Southampton put four past a hapless Arsenal at St. Mary's but January to March was when it all started to crumble.
A late Joe Allen equaliser cost Arsenal two points at Anfield, where the Gunners had twice had to battle from a goal down to get themselves 3-2 in the lead.
Olivier Giroud's 55th minute strike would be Arsenal's last goal for almost a month too as Arsenal failed to score in their next three games, drawing 0-0 with Stoke City and Southampton and losing 1-0 to the worst Chelsea team this century.
They regained some semblance of form to beat eventual champions Leicester 2-1 at the Emirates through Danny Welbeck's late second header and it looked like the title was destined to go to Arsenal.
Two points behind Leicester following the victory, Arsenal went into their biggest 10 days of the season, the first leg against FC Barcelona and league trips to Old Trafford and White Hart Lane with a league visit from struggling Swansea in between.
It was the make or break point in Arsenal's season and like every title race in the last twelve, Arsenal bottled it.
They firstly lost all discipline and collapsed miserably to Barcelona in the first leg, going down 2-0 to Lionel Messi goals, one from a counter-attack when nearly every Arsenal player was in the opposition half and the second a penalty given away by Mathieu Flamini seconds after the Frenchman was subbed on.
They then went to Old Trafford and were humiliated by a Manchester United side that was unrecognisable from the one Arsenal themselves humiliated back in October at the Emirates.
18-year-old Marcus Rashford followed up a midweek hat trick in the UEFA Europa League by being given free-reign of the Arsenal penalty area as United came away with the easiest 3-2 victory ever witnessed.
Three days later, Swansea started their ascent back up the table to safety with a 2-1 comeback win at the Emirates which basically ended any realistic hopes Arsenal had of winning the title.
Alexis Sanchez spared Arsenal's blushes in the North London Derby three days afterwards, a game Arsenal looked like winning until French midfielder Francis Coquelin was sent off for a needless challenge on Harry Kane.
A week after the Spurs draw, Arsenal surrendered their last hopes of silverware, going down 2-1 to Watford at home in the FA Cup sixth round, in a defeat so bad, Danny Welbeck's last second open goal miss that would have spared the Gunners a replay was largely forgotten.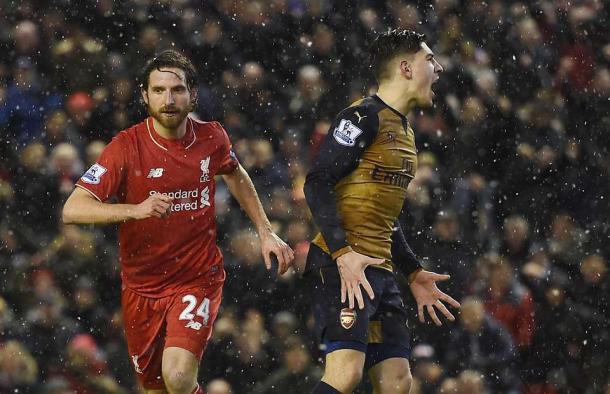 The Ugly
The ugly side of Arsenal's season was that it was one big watershed moment after another for long serving manager Arsene Wenger as his 20-year stay at the club draws to a sad conclusion.
It's odd to not celebrate a manager getting their highest finish in over a decade as anything other than progress but even as good as winners Leicester were this season it was a massive missed opportunity not to win the title this year.
Of course, there are several other teams who can see this season as a missed opportunity too but the difference is those teams are all making changes.
Manchester City are hiring Pep Guardiola, Chelsea are hiring Antonio Conte, Manchester United might be hiring Jose Mourinho and Liverpool already have hired Jurgen Klopp who's already got them to two cup finals.
For Arsenal, watching this season was a sad status quo, the collapse happened in the same way it happens every season, not being solid enough at the back, being a couple game changers short in midfield and goals drying up going forward.
Arsene Wenger deserves respect for his work over two decades, he deserves some credit for finishing second when a few weeks ago it was muted Arsenal might not even finish in the top four at all but that doesn't mean it isn't time for a change.
2016 has been ugly to watch, Arsenal used to be a style and no substance but in this calendar year they've lacked any style either but that wont be addressed any time soon because unlike the Manchester clubs, Liverpool and Chelsea, Arsenal wont make a change.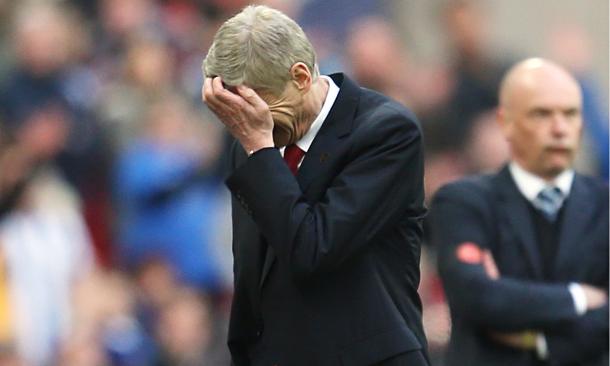 Where next?
Next season has a lot to live up to if it's going to be as insane as the last but with so many new managers at the top end of the league, things will probably even themselves out and the league table will have all its usual suspects fighting for the title again.
The question is, where will Arsenal fit into that?
It's obvious that the managerial situation wont change, without 2016's oddest announcement and that would be Arsene Wenger stepping down actually happening, which means that changes that need to happen have to come from the playing staff.
Mikel Arteta, Tomas Rosicky and Mathieu Flamini are already out the door, leaving several vacancies in midfield, one of which will hopefully be filled by Borussia Monchengladbach's Granit Xhaka in the next few weeks.
With no Danny Welbeck till February 2017 again, Arsenal desperately need a striker if they're going to go for the league title. Olivier Giroud can boast his best season in an Arsenal shirt but he also didn't score a league goal between mid-January and the beginning of May, he cannot be expected to lead the line alone.
Per Mertesacker and Gabriel both have their issues at centre-back and neither one is fit to be Laurent Koscielny's centre-back partner right now meaning the Gunners essentially need a whole new spine to the team next season whilst also cutting out the chaff.
Theo Walcott and Alex Oxlade-Chamberlain both had bad seasons, scoring seven goals between them in a combined 50 league games.
Walcott spent most of this season cowering from responsibility, literally in the sense of jumping away from a challenge with Sunderland's Younes Kaboul in the 0-0 draw in April.
Now 27, it's obvious Theo's days at Arsenal are numbered and it seems like Wenger himself has lost most faith in him, relegating him to the bench after Walcott was touted as Arsenal's first choice striker at the start of the season.
You could argue progress is being made at the Emirates, there's been a steady progression from fourth to second in three seasons, however, progress doesn't continue by standing still.
If Arsenal are to win the league next season, money must be spent, the weak players must be culled and a pressure-resistant backbone not seen since 2004 must be grown.