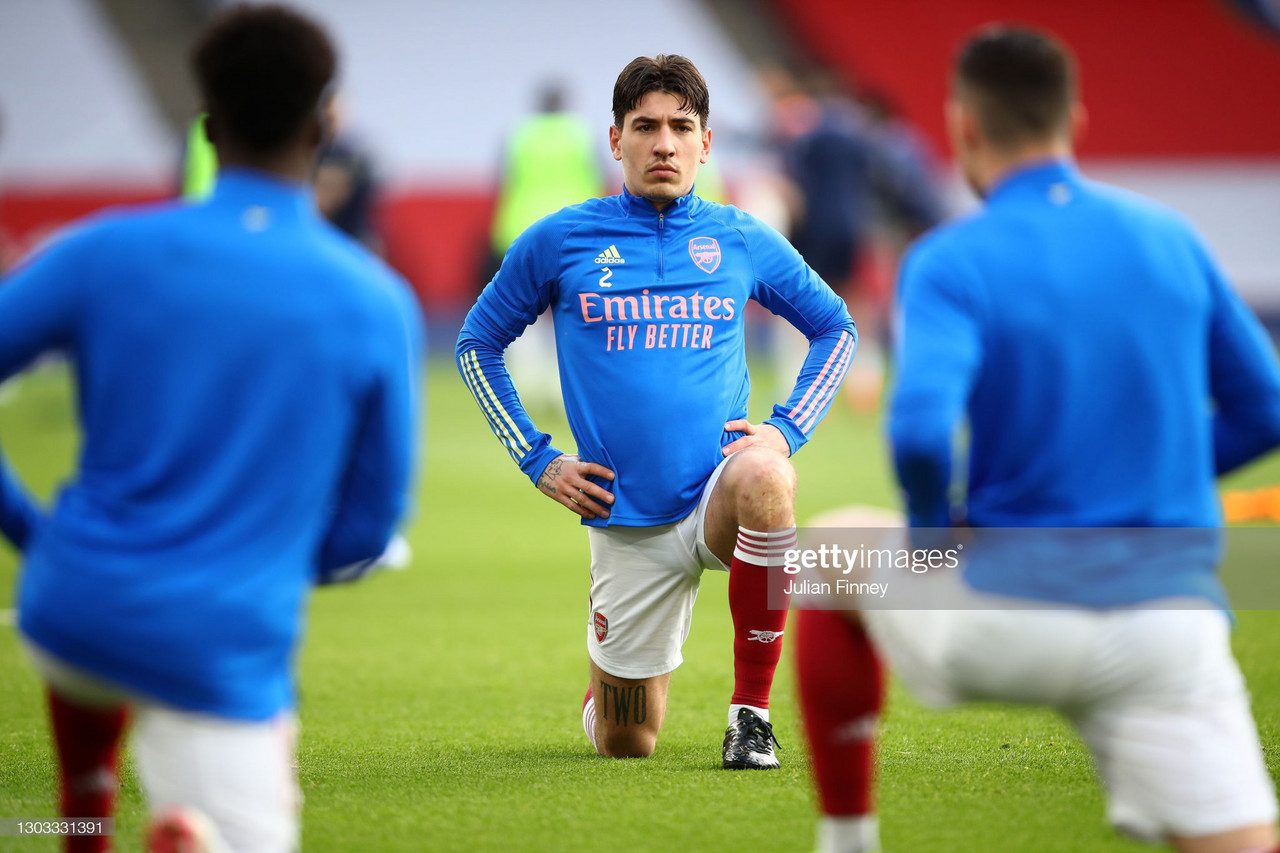 With Arsenal finding themselves amongst mixed form in recent weeks, the discussion needs to be had about who would best fit into Mikel Arteta's defence in the right back position.
Hector Bellerin and Cédric Soares have both been given regular game time in recent weeks, showcasing ups and downs.
Left-back Kieran Tierney has returned from a significant calf injury and started in the back four in a 2-1 loss against Manchester City on Sunday, leaving Bellerin and Cédric to both fight for the right-back spot as Cédric had been playing out of position at left-back to fill in for the scott.
Whilst squad rotation has shown to be important due to congested fixtures and Arsenal's Europa League run, Arteta needs to recognise that finding his strongest defensive selection will lead to more clean sheets and chemistry amongst his side.
Bellerin must perform to keep his spot
Hector Bellerin regularly comes under scrutiny from fans and pundits alike, but stand out performances and refreshing signs of attacking flare from the Spaniard have impressed his manager since the boss's arrival, seemingly solidifying his spot as the first choice right-back.
Bellerin scored last week in the Gunners 4-2 home victory over Leeds United on Valentines day and has two assists in the Premier League this season.
Cédric hasn't settled fully into the Arsenal side as of yet and made an obvious mistake leading to a goal in his team's 1-0 defeat to Aston Villa two weeks ago.
However the ex-Southampton player is regarded for his overlapping runs, and tendency to sprint back and recover the ball from oncoming counter-attacks. Similar to Bellerin, pace and alertness are the outstanding strengths of the Portuguese national.
If Arteta wants to get the most out of the right-back spot, he should play his first choice with a strict and cut-throat policy - if Bellerin fails to do the job in games he should give Cédric and opportunity in the next match.
This technique is sure to increase the application exerted by both players. As the old saying goes - "Healthy competition"
Arsenal must go back to their roots
Arsenal Football Club is built on an attacking philosophy - scoring more goals than the opponent has always been the motif of the team over the years.
On the subject of this, the Gunners rely on overlapping and attack minded fullbacks in order to overwhelm opposition defences. This is potential reasoning for why Arteta sticks to picking Hector Bellerin as his starting right-back each week.
With the club's attacking powers heavily outweighing their defensive ones, between Bellerin and Cédric the player who impresses more in the attacking department is likely to claim the spot.
However, what Arteta as a manager demands most from his group of players is desire...
Players who go against his methods or seem to not be putting in sufficient effort have known to have been dropped by the Gunners boss, an example of this was Matteo Guendouzi, who is now on loan at Hertha BSC after a fall out with the manager.
Above all else, if either of the two start to find a good vein of form, Arteta will reward them with a solid spot in his Arsenal project, Bukayo Saka, Emile Smith-Rowe and Rob Holding to name a couple have all solidified their places after buying into their managers philosophies.