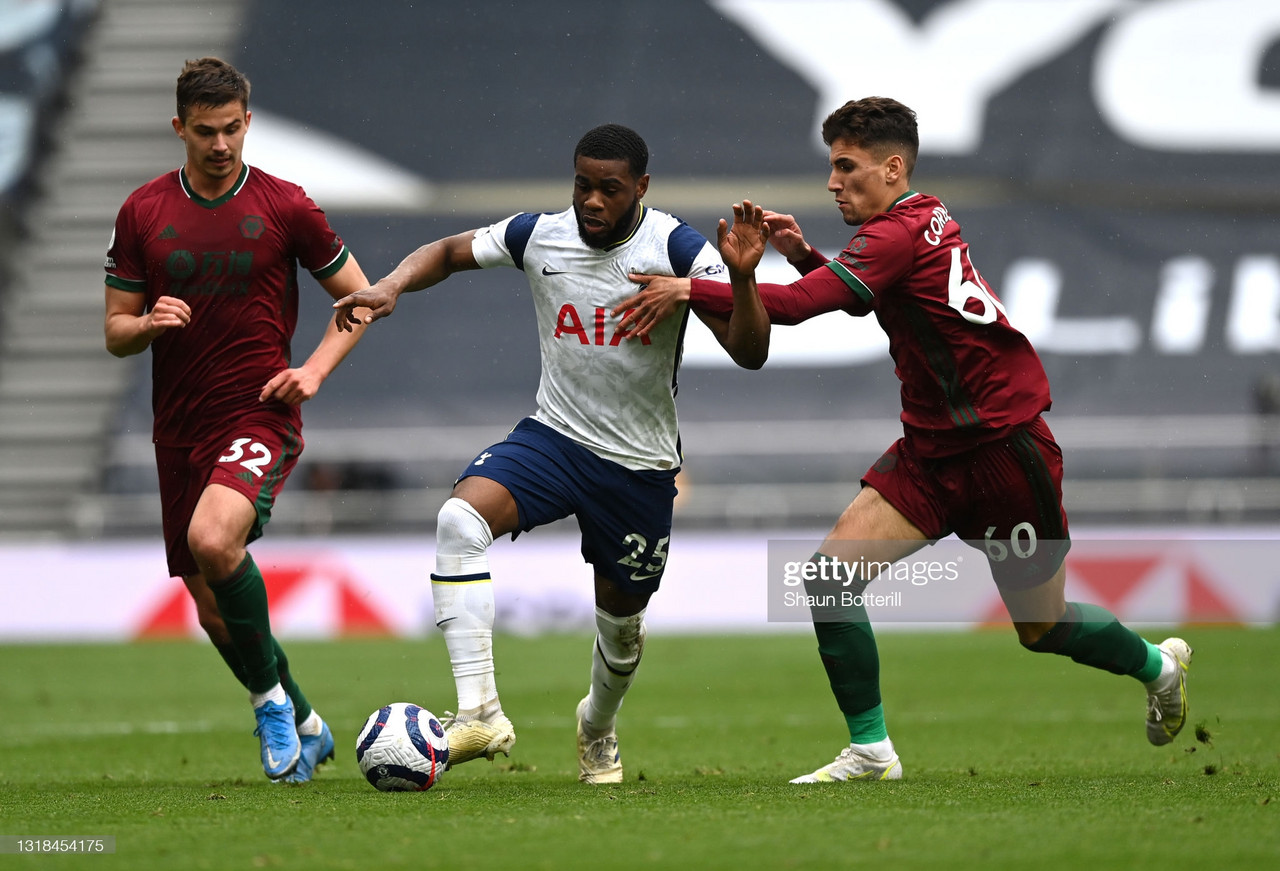 Japhet Tanganga has often been labeled a youth prospect by Tottenham Hotspur fans. A prodigy and heir to the throne of the great Ledley King.
The reality is that Tanganga is now 22-years-old, and youth is no longer an argument that can be made by fans in defence of his lack of game-time.
At the same age as the likes of Kylian Mbappe, Mason Mount, Trent Alexander Arnold, and Declan Rice, Tanganga is at a period in his career in which his future at a club like Spurs is hanging in the balance.
The England under 21 international has only featured five times in the Premier League this season and has been cursed with injury for large portions of the campaign.
There is a distinct feeling that the 2021/22 campaign will be pivotal for his development and future in north London, as the apparent departure of Serge Aurier opens up a potential gap for Tanganga to really challenge for that right-back spot.
Having said that, many pundits and fans make the argument that the best position for the Hackney-born defender should be featuring at centre-back, rather than on the flank.
There is certainly an argument to suggest that Tanganga could have an impact as a centre-half, as he possesses all of the traits required to thrive there.
We can briefly consider the arguments for Tanganga's best position, and whether his future lies away from his boyhood club in the near future.
On the one hand, there is an argument to suggest that Tanganga would be more effective as part of a centre-back pairing.
Those who watch Spurs on a regular basis will be aware of the fact that this was his original position when he emerged into the first-team squad.
Notably, his attributes and style of play are well suited to that position. His ability to launch himself into the air is hugely beneficial when it comes to winning aerial duels. This season alone he has won nine aerial duels against his opponents.
As well as this, Tanganga has made eight clearances this season, another essential trait in the game of a centre-back.
Former Spurs boss Jose Mourinho handed Tanganga his Premier League debut last season, in a defeat to Liverpool. He lined up on the right-hand side of a back three and impressed in this more versatile role.
This could be a system in which Tanganga thrives, but there is still clear room for development. There were a few instances even as part of the back three where Tanganga was unable to stick with him man, and he was beaten one on one by the likes of Sadio Mane.
Overall, there is certainly potential for Tanganga to fulfill the centre-back role. In his five appearances this season, he has helped keep two clean sheets, a promising stat.
His presence in the team is something that does still appear weak, as he comes across as a quiet player who keeps himself to himself, whereas to fit that role, you need to be commanding and dominant.
On the other hand, Tanganga's more recent role has seen him make the full-back role his own.
He has demonstrated an ability to drop his shoulder and burst past players with his raw pace, which is significant in that particular role.
Furthermore, his powerful running ability makes it difficult for players to get past him, or pish him off the ball. This season, Tanganga has a 75% tackle success rate, demonstrating that difficulty to pass him.
As well as this, he has won 26 duels and nine 50/50s. This proves he is willing to put his body on the line even in a wider position. Alongside making 23 recoveries, Tanganga only has a 33% cross success rate. As part of the modern game, it is the job of the full-back to support attacking players and provide dangerous balls into the box, which the young man has struggled to do.
We cannot forget that Tanganga had a notable performance against Manchester City earlier in the season. He kept Raheem Sterling quiet for the majority of the game and really demonstrated his potential in that area of the pitch.
Finally, Tanganga has more probability of being able to break into the first team at right-back. With Spurs looking to recruit up to two centre-backs in the summer, and with Aurier departing, Tanganga will only have Matt Doherty to compete with, another player who has had a poor season.
To conclude, the evidence reviewed strengthens the argument that Tanganga should play in a full-back role.
His versatility would allow him to do both, however, if he is looking to cement his place in the Spurs side in the near future, his ability and the likelihood of game time are going to come in that area.
That being said, there is no ruling out that Spurs may look to bring in a well-established right-back to replace Aurier should he complete his proposed move to Paris-Saint Germain.
Should this be the case, Tanganga may benefit from being sent out on loan, or even a permanent move away, in order to really kickstart his career at the top level.