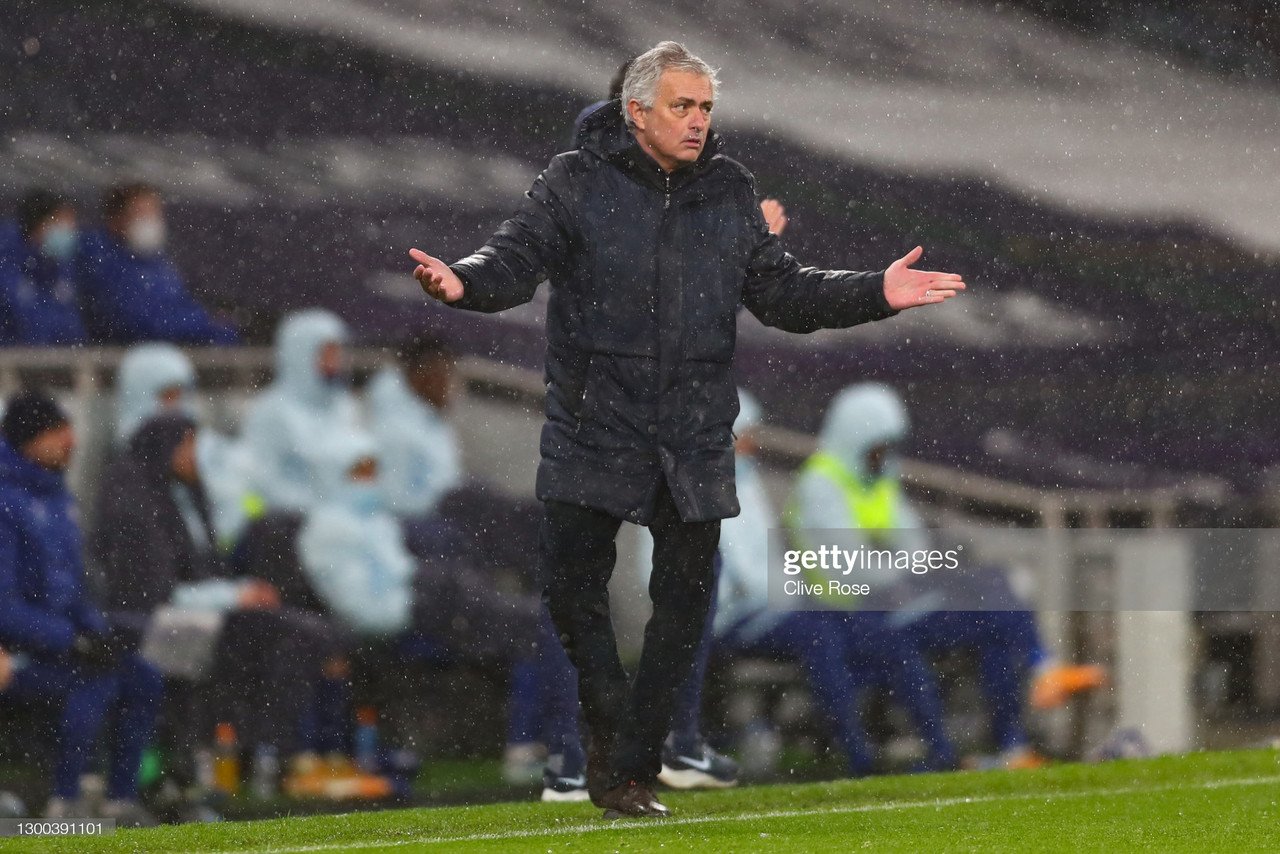 13th December 2020.
Jose Mourinho's Tottenham Hotspur are top of the league – well aware with the knowledge that they play Liverpool in three days, a clash which, at the time, was hyped as the early battle for the league title.
Spurs looked so well tuned in Mourinho's pragmatic counter-attacking style that they were put in genuine contention for the Premier League title.
Only 54 days later, Spurs are in the middle of a crisis off and on the pitch.
And it doesn't feel like a crisis where a win would make them suddenly start dancing with the flowers again.
No, it's a crisis that feels deep-rooted to the club's core.
Tottenham are 8th, 14 points off top of the league Manchester City.
But, in all honesty, they should be looking behind their shoulders with newly-promoted Leeds United, for example, only four points behind in 11th.
Spurs' three most recent games – Liverpool, Brighton, and Chelsea – were so void of any positives it's hard to even put in words.
Just when it seemed, at one point anyway, that Mourinho had all of his wicked charm back – there is suddenly a tidal wave of pressure on him.

Many fans are calling for his head.
So, what's going wrong at Tottenham?
Let's go through the latest game against Chelsea, as many of the themes from the game also translate into problems in their previous dismal results against Brighton and Liverpool.
The approach of the game was clear: defend deep with structure and resilience, and then when the time comes – hit Chelsea quickly with fast transitions.
It's an approach that has previously won titles, Champions Leagues and countless big matches, but one that increasingly feels ineffective when tried against top modern coaches.
However, Tottenham's best run this season came when they adopted this system.
Specifically, the three-game run in which they got seven points out of Manchester City, Chelsea and Arsenal without conceding a goal.
But it's not working. And it certainly hasn't worked since that run.
No attacking intent
Spurs' attacking game plan was embarrassingly non-existent — this was a side entirely set up to stop Chelsea.
It comes across as fear, rather than designing your side to hurt the other team.
Son Heung-Min and Carlos Vinicius didn't combine once.
Tanguy Ndombele tried to evade some midfield challenges and inject some life, but he couldn't command the centre of the pitch on his own.
On the rare occasion the ball was comfortably in Tottenham's grasp, the lack of intent and energy to do anything meaningful with it was alarming.
No one showed for the ball, made a clever run, or even tried to advance the ball into a good position.
Chelsea's high-press became more intense as they realised this, and this often resulted in the ball lazily tossed up in the air in an attempt for Vinicius, or a turnover in possession.
Spurs' half-time XG was 0.15 and even that felt extremely generous.
Son had a weak shot that went straight into the clutch of Mendy, and Serge Aurier had a header from a free-kick go wide. Both were half-chances.
Mourinho's side showed considerably more intent after the break, particularly in their approach without possession.
Having stood off in their own third during the first half, suddenly they attempted to push up and win the ball quickly.
Yet even this was unconvincing — it was shutting down players individually, rather than any co-ordinated structured attempt at a press.
There was twice early on when Matteo Kovacic and Jorginho, who were excellent throughout, danced through this weak pressure with ease and then had acres of yards free to be eaten up.
It felt like the consequence of a half-time telling off rather than a pre-determined tactical plan.
Spurs only showed adventure in the last ten minutes. This was the same at the Amex Stadium on Sunday when they were also 1-0 down.
Somehow, Spurs should've actually drawn the game level. Vinicius' header from Aurier's great cross was inches wide.
But even this felt dishonest. Why should it take the end of the game to some intent?
Harry Kane's stock has somehow risen. Spurs look lost without him. And as explained before, they look unable to launch attacks, let alone creating actual chances.
It feels increasingly like Spurs' good early season run was purely pinned on the partnership between Son and Kane.
This feels like an obvious statement when you look at their numbers, but the point is that this is the entirety of their attacking design.
Praying Kane and Son combine with individual brilliance isn't a sustainable plan, as shown. Son looks lost.
The reverse fixture at Stamford Bridge was equally as uninspiring in the final third.
But the difference: they were defensively sound. Spurs' defence had a great run during the time, but all the good work has been un-done.
Defensive woes
Spurs' defensive approach didn't work either.
Thomas Tuchel's system was actually 3-4-3 since Mason Mount played more of a false nine than a No 10, so Spurs found themselves alarmingly open between the lines.
The amount of space in between the defence and midfield was astounding.
Callum Hudson-Odoi's partnership with Reece James caused Spurs a lot of problems, with James sometimes moving inside and Hudson-Odoi going wide, while Cesar Azpilicueta also involved himself in attacking moves.
He pushed beyond Son who was fielded as a narrow inside-left wing-back by Mourinho rather than a pure left winger, which also has the knock-on effect that he couldn't get in behind quickly enough when the transition did present itself.
Also, individual calamity haunted Mourinho again.
Eric Dier this time gave away a needless penalty for the only goal of the game. A really bad moment for him, it has to be said.
Mourinho has to take blame for this. He's not setting up Spurs to score goals, and also not looking secure in defence.
Spurs are an awful watch right now. For the casual football fan, Come Dine With Me represented better entertainment.
There are big problems off the pitch that when you put with the performances on the pitch, doesn't shed Mourinho in the greatest light.
After Liverpool, there was a big bust up in the changing room: Aurier left the stadium and was clearly banned from Brighton trip.
It's not a coincidence he was all of a sudden in the starting line-up against Chelsea.
The Dele Alli situation is getting a bit tedious. Is he actually injured? Have they fell out? Who knows?
Well, the players do. And recently, their body language is very telling. Very slow, very disinterested.
Through all of the tactical failings, there is a clear lack of desire and a burning passion to turn the game in their favour.
Maybe Mourinho has lost the dressing room.
After the game, a reporter asked why he didn't bring on Gareth Bale, he responded:
"Good question, but you don't deserve an answer."
That is not great, at all. It is quite rude actually.
This feels like the evil side of Mourinho, the one that tore down everything around him at Manchester United, not the new-found funny, Instagram loving Mourinho.
He has so many problems to conquer, but Mourinho has climbed many a hill in his time.

This one, however, may be the challenge where he comes tumbling down.