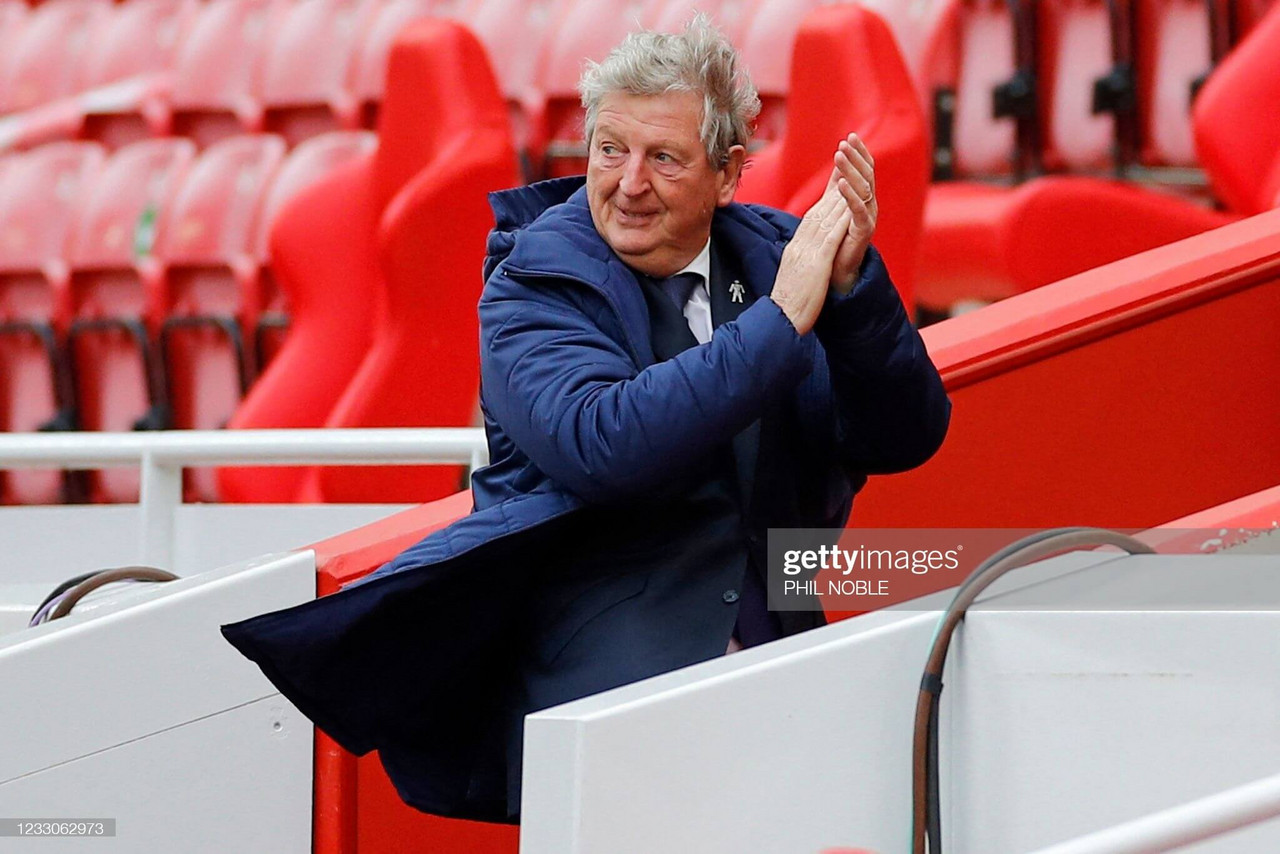 When the final whistle was blown on Roy Hodgson's top-flight managerial career he spun on his heels and shook the hands of each of his fellow Crystal Palace coaches before walking over to Jurgen Klopp, the Liverpool manager, for an embrace. That was Hodgson down to a tee: a people's person.
Across four decades, Hodgson has seen it all. He is the elder statesman of the game but this was his final match, as Palace manager and at this level. It is typical of the 73-year-old that he could not even bring himself to say that this may be it in terms of management for him, such is his innate nature that he wants to be around the sport in perpetuity, he wants to keep the fire burning - perhaps one day he will return, but not to the Premier League.
"I really am stepping away from football for a while, but who knows what the future will be? It is a never-say-never moment," he said when announcing his retirement last week. "I've seen so many people retire with all the fanfare blazing, only to surface again somewhere in a fairly short period of time. I'd prefer not to do that"
Managing Palace, his boyhood club, is a nice way for Hodgson to finish. He has coached 16 teams in eight different countries, he will say that his time in Sweden was probably his best, guiding Malmo to countless titles, but there was also Inter Milan, Fulham and, of course, England. But finishing it all in south London in Croydon, a few miles from his childhood home, brings unparalleled symmetry.
Despite this 2-0 defeat to Liverpool on his final outing, he has guided Palace to yet another season of Premier League football, finishing in 14th place. Every player he coaches seems to have no bad word to say about him.
"Everything I would like to say about the team I will say tonight. It's quite incredible what the players have done," Hodgson said after Sunday's farewell. "It's been a wonderful time. I would like to pay a tribute to the coaching staff I have had around me in the last four years. They have been so good and have made my life so much easier. I was able to step back more and more and they stepped up. I owe so much to them.
"It has been a whirlwind four or five days [since announcing his retirement] with so many fantastic moments. I've now got to come to terms with the fact my last game has been played and I'm pleased it was at Anfield, one of the temples of football."
There was a lovely moment when most had departed Anfield apart from a group of about 50 Liverpool supporters in the Main Stand who remained to clap Hodgson after he had given a final television interview on the pitch. Ever the gentleman, the former Liverpool manager acknowledged their applause by raising a hand, a wave goodbye to the top-flight.
Wijnaldum leaves Liverpool after five years
Only 20 minutes earlier had the 10,000 supporters in Anfield also waved goodbye to Georginio Wijnaldum who will leave this summer following five seasons at the club. The Dutch midfielder has been instrumental in Liverpool's run to domestic, European and global success but was unable to thrash out a new contract with the club and so is able to move as a free transfer next month, possibly to Barcelona.
"I'm fighting against tears right now," an emotional Wijnaldum said at full time. "The people in Liverpool have shown me love during the five years. I hope to have played many more years for the club but unfortunately things went different. I have to start a new adventure."
Liverpool players and coaches formed a guard of honour for the midfielder after the game and he was presented with a framed picture of the trophies he has won with the club by CEO Billy Hogan. It will not only be Wijnaldum's playing ability that Klopp will miss but also the leadership and positive character that he brought to the squad.
"Where can I start? I met this wonderful player in my living room at home and it clicked between us from the first minute," the Liverpool manager said of his departing midfielder. "It is very emotional for me because I lose a friend and I will miss him but it is normal in football these things happen.
"Each club who is interested in him should call me because I couldn't be more positive about what he did. He was always available and he played 90 percent of the time really good. From the young kid who was an offensive No. 10 to a winger at Newcastle to here as a controlling midfielder is a massive step and you can only do that if you understand the game.
"He scored some important goals, the goals against Barcelona. Now it looks like the time is over but nobody can take our memories from us. We will have them forever. I said before goodbye would not be tough if the time you had together was not worth it."