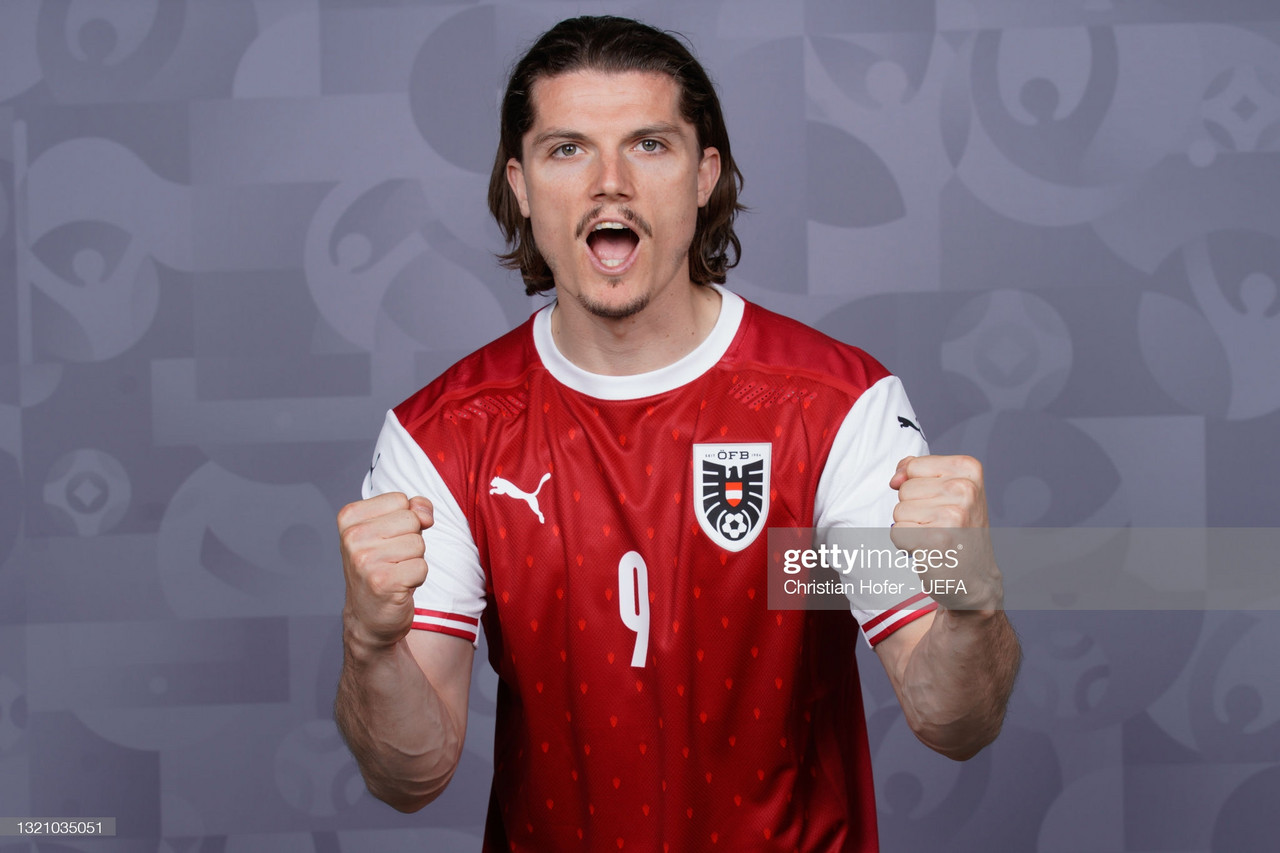 RB Leipzig central midfielder Marcel Sabitzer has recently quashed rumours linking him with a move away from the German side.
The Austrian captain will line up against England for a Euro 2020 warm-up game on Wednesday night and will be looking to impress any potential suitors that may seek his services in the Premier League next season.
Tottenham Hotspur and former Spurs boss Jose Mourinho were reportedly keen on the 27-year-old as a potential summer signing following the conclusion of the 2020/21 Premier League season.
Sabitzer has eight goals and four assists in the Bundesliga this season and was a crucial part of a Leipzig side that finished second in the league behind Bayern Munich and who made it to the DFB-Pokal final, losing to Borussia Dortmund.
Should Sabitzer perform well in the summer tournament, Spurs may re-ignite their interest in his services. Of course, this could also attract other clubs who may enquire about a potential price for the Austrian, which could cause problems for Spurs.
Sabitzer remains tight-lipped
When asked about his future in an interview recently, Sabitzer refused to comment on any speculation and insisted that his focus was entirely on the Euros.
Asked whether he would like to play in England, Sabitzer said:
"I can't really say, I am focusing on the task that I have here with the national team.
"Everything that has to do with the club and future has zero importance for me at the moment if I want to be successful with this team at the European Championship.
"I am not going to give any updates before the end of the Euros."
As is the nature of the Austrian's words, it is very difficult to extract any hints or clues about a potential move in the summer.
However, when asked about his opinion of Spurs talisman Harry Kane, Sabitzer had nothing but praise for the England captain.
"Lewandowski is just the best in the world in the centre forward position, but Harry Kane, I watch a lot of Premier League and you can see how good he is and what he can do," Sabitzer said.
"He scored over 20 goals and over 10 assists, so I do know what qualities he has and he can get something out of any situation.
"We have to be ready against him. He is one of the best strikers in the world."
The possibility of Sabitzer linking up with Kane in the same team is seemingly still a long way off. However, the respect and admiration the Leipzig midfielder clearly has for the Spursman is evident.
Nonetheless, most players, if asked, would likely heap praise on Harry Kane, so it is difficult to extract any meaningful information from these quotes.
A realistic signing for Spurs?
Sabitzer is 27 and has just one year left on his contract. Normally, this would appeal to many clubs as the sellers may well accept a cut fee due to the risk of potentially losing the player on a free transfer when their contract expires.
However, it is reported that Leipzig would demand at least £35million for the Austrian's services. This may be a fee that not many are willing to pay for someone who is unproven in England, has one year left on their contract and is 27-years-old.
Having said that, Spurs may use funds raised by the sales of players already at the club to fund a potential move.
Should they decide to pursue a move for Sabitzer, they would be acquiring a player that could offer a new lease of life in the heart of the midfield at the north London club.
Furthermore, Sabitzer could be an ideal replacement for Harry Winks, who is said to want out of his boyhood club due to a lack of game-time.
The midfielder also impressed against Spurs in the Champions League a few seasons ago. The Austrian scored as Leipzig eased past Spurs in the knockout stages in a season that would see them appear in the Semi-final of the competition.
Despite all of this, a move would still be tricky to pull off, due to the complexity of the situation of Sabitzer's contract and the regular difficulties when it comes to dealing with Spurs' chairman Daniel Levy.