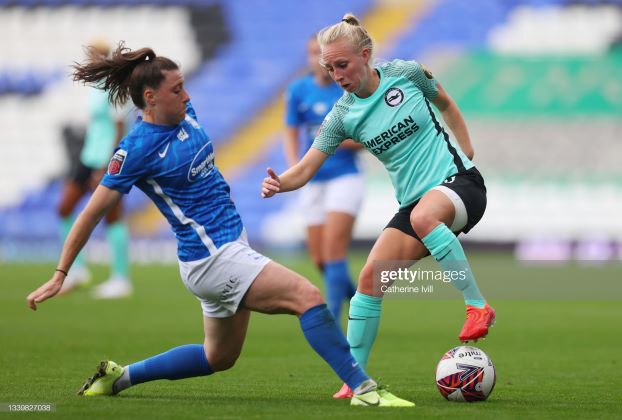 Wonder goals from Danielle Carter and Kayleigh Green helped lift Brighton & Hove Albion Women to a massive win over Birmingham City.
Carter's goal came first, with the striker finding Emily Ramsey off her line and lobbing the ball over the 'keeper from a tight angle. Green's completed the rout for the Seagulls. The winger capitalised on a missed kick from Louise Quinn and lifted the ball over Ramsey from 30 yards out. It was a worrying performance for Blues who continue to struggle in the Women's Super League.
Story of the match
Brighton got going at lightning pace. The Seagulls won a corner inside the first minute, which Emily Ramsey failed to deal with. It seemed a simple catch for the Manchester United loanee, but she spilled the ball. It fell to Brighton skipper Victoria Williams who graciously smashed the ball home. It was a difficult start to the game for Blues and it didn't get any easier.
The visitors asserted their control with the quick opening goal and their iron grip on the game remained unchecked. Throughout the opening exchanges, Williams and Danielle Kerkdijk spent as much of their time in Birmingham's half than in their own. Blues tried to use Sarah Ewens as an outball, firing long passes for her to hold up, but it was largely to no avail.
Birmingham had their first chance of the game after 12 minutes. Lisa Robertson ran behind Williams and Emma Koivisto and looked to cut inside. The Scottish international looked to sneak a shot in at Megan Walsh's near post, but the 'keeper was able to parry it clear. However, the ball was played straight back into her hands and the referee awarded an indirect free kick.
Despite the hosts seeing more of the ball from there, they failed to carve out any further chances. Rebecca Holloway had a sighter from range, firing narrowly wide, but that was about it for Blues. Instead, the half got scrappy. Both Ewens and Lee Geum-Min went down with knocks to the head in the first half. Thankfully, both were able to carry on.
The visitors doubled their lead on the stroke of half time. Shortly after Ramsey had done well to deny Danielle Carter, Aileen Whelan was brought down in the area. Despite only limited appeals from Brighton, the referee blew immediately for a penalty. The Seagulls' penalty specialist Inessa Kaagman stepped up and fired her shot straight down the middle.
Blues made a bright start to the second half, but it was soon snuffed out by Brighton. Carter scored her fine lobbed shot five minutes after the restart and soon played a key role again. The powerful striker cut inside Louise Quinn and played the ball back to Kaagman. The Dutch playmaker chipped in a perfectly weighted cross for Koivisto to head home.
Scott Booth's side hammered away at Brighton's defence to try and find a consolation goal, but it wasn't to be. Veatriki Sarri was able to force Walsh into making a fine save with ten minutes to go, but no goal was forthcoming.
It was a wake-up call for Blues as their struggles from the last few years continued. If they are to survive at this level, they have to start improving and fast.
Takeaways from the match
Underestimate Brighton at your peril
While not always thought of in the same way as teams like Chelsea, Manchester City or even Everton, Brighton have again shown their class. Against Birmingham, they displayed a ruthless efficiency in front of goal and held an iron grip on the game throughout.
Hope Powell's Seagulls beat both Chelsea and Manchester United last season and they will be out to claim big scalps again.
Birmingham are in deep trouble
It might seem cliche, as everyone saw this coming, but Birmingham already look set for the drop. For the second game in a row, they showed little to no threat in the opposition half and never looked like getting a result.
Now it must be said that this is by no means Scott Booth's fault. Yet again, the vultures have circled around Blues and many of their best players have left. Only three of the players that started this match were there last season. It is difficult to turn an already crisis-hit club around, let alone one with an all-new squad.
If Booth can turn Blues around, then he deserves the Manager of the Year award.
Stars of the match
It is difficult to praise any Blues player given their performance. However, Sarah Ewens played well on limited service. The powerful striker held the ball up well when she could and used her strength and size well.
As for Brighton, it is between Inessa Kaagman and Victoria Williams. Kaagman scored the penalty and provided another, while Williams was also on the scoresheet and led excellently from the back. On this occasion, we will give it to Williams as she also went on marauding runs forward to start attacks on her own.