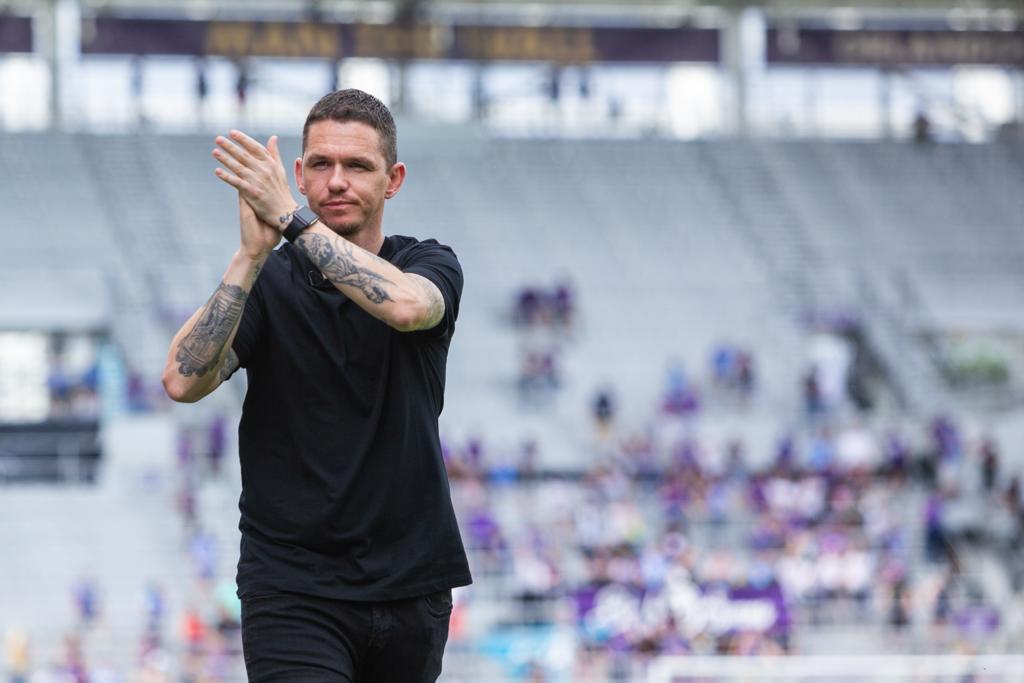 The red half of Manchester had seemed to be a ship headed on the wrong course. First they struggled with injuries, then a lack of support, and finally – perhaps the most difficult nail in the coffin to overcome – Casey Stoney departed.
Stoney was Manchester United, and replacing her would always be a task fraught with hurdles. But now a new leader is here, and in turn a new era for the club. It is Marc Skinner who will this time attempt to break into the Women's Super League's top three.
As has become customary, it is over Zoom that Skinner gets his first chance to introduce himself to this country's media. Passionate and excited ahead of a pre-season camp in Scotland where the Reds will face Rangers (on Thursday 19 August), he conveys a strong sense of ambition.
"I think there are so many wonderful coaches in the FA WSL," he says. "It's going to be a wonderful challenge anyway, and I must stress this, there's nobody, there'll be nobody; good results, bad results, finals, results where we need to get into Champions League places, all of this that will put any more pressure on me than myself.
"If you don't know my partner, Laura [Basset], she was an aggressive footballer. So she would tell me the honest truth so I kind of get that everywhere I go, but I've kind of been tempered in what it means to feel the pressure.
"That's a part of the reason a coach takes a role like this, where you want expectations otherwise, what am I here to do my life, if I'm just to exist? I kind of want to make sure that we create something special for good people here."
There had been new additions at both Manchester clubs last year, but the message which kept being repeated by all was a frustration at the inability to soak up Mancunian life amid pandemic restrictions.
With them now having bean eased across the country, Skinner has already been able to mix with the locals.
He continues: "I love already being from Birmingham, growing up in Birmingham feeling part of Manchester feels almost pretty similar in terms of really honest people and even when I've gone to coffee shops and bumped into people – socially distanced, of course – I feel that they're normal people that really love that club and that's so special, I want to do the best for them. But the pressure all comes from internal anyway so I'll manage that."
"Nothing but love and support"
Previous head coach Casey Stoney had been at the helm since the women's team was refounded in 2018, but left under a cloud earlier this summer; there were rumours of a lack of support from the men's setup and poor training facilities.
So has this continued under new boss Skinner? He says that it isn't the case, with "love and support" from the hierarchy the prevailing feeling.
"You hear stories and you hear these things and I always judge things on my own experience of them," he adds. "Since I've been in, I've seen nothing but love, energy, commitment, drive, ambition towards our women's team.
"Part of my job is that we wouldn't expect anything less than that when coming into a job like this. I've felt at home from the off and I feel like this club, this team, even the staff around are just so supportive towards driving this women's team towards success.
"We will continue to grow. We're only three years old in terms of our women's team and we're going to continue to grow. If we make some things along the way that are good, bad, [or] indifferent, we're going to manage them internally, make sure we have this togetherness.
"We've always got the drive and ambition to improve not only our women's team but help the growth of women's football here. I think we have a platform to do that and I have been nothing but impressed with everything I've seen hear, everything I've heard.
"Even the players suggest that. Since I've been in with them, they can see the growth and they can see what the club wants to do to support its women's team. Whatever the stories were I can assure you now that there's no truth in that aspect because we're moving forwards and I feel nothing but love and support from this team."
Recruiting for the long-term
One area of interest is recruitment; there have been signings, but there have also been a number of outgoings which some may argue haven't yet been properly replaced.
Questions were asked when players joined without a head coach being at the club, but football has changed and transfers are not only the realm of those who are in the dugout. For United, there is a plan in place which sees moved planned which could work in the long-term, rather than an attempt to bring people in on an as-and-when basis.
"This club has the ability to plan ahead," reveals the 38-year-old. "We probably recruited in the moment at Birmingham. In Orlando, it's a totally different policy. Here already I've seen plans for players that are maybe two years down the line that would suit this club and the growth of the club.
"There's a structure in place. That of course means we will look to add players of the right calibre but it's about getting the right people. This club will look to recruit and support us in that but it's important we get the right people. We will add the right people to this group at the right times. I've been so impressed that we have a plan and we have the ability to plan long term. Yes, we are looking to add the right people to the group."
So how exactly does communication between Skinner and those in the club hierarchy operate? He tells the media that he meets with those above him twice a week, while Footballer Director John Murtough, who works across both the men's and women's teams, has made sure to see the side in person.
"I think a lot of people have been on this progressive list of development for the planning process which is brilliant as it's something I've not really had the chance to experience before," the reds boss continues.
"It's a contingency plan based on different moves in the market because now it's so competitive in the market that you've got a plan A, B, C and D.
"The one thing I'll say is that I have direct lines to Julie Ferguson, Steve Baddiel and John Murtough and I think we've met twice a week, I have constant conversations.
"John's come out and visited us on the training field, watched our training sessions. I feel nothing but support from there so that, too, is going to be part of our recruitment.
"Also, I've found the staff I've inherited here to be wonderful and really insightful and really progressive.
"There's a real love for the women's game here and that's where we'll continue to be and that will continue throughout my tenure here, no doubt about that. They've already shown that from the off."
Murtough being able to see the players in person is one of the benefits of United's daily operations being moved to Carrington, the same base as the men's team. They made the switch from Leigh Sports Village to the complex last season, something which many fans had clamoured for.
Support from Solskjaer
And the merits of using the same base are wide-ranging. Across the city, Manchester City's women's players have in the past trained with men's youth sides while everybody at the club shares the same spaces. For the new United head coach, it means a planned encounter with men's gaffer Ole Gunnar Solskjaer.
"I emailed him [Ole]," Skinner recalls, an air of admiration evident. "I think it was five o'clock on a Friday and literally I think within 20 minutes he emailed me back and just said 'I look forward to meeting you, welcome to the club and I'll wander across and grab a coffee with you at some point so we can integrate ideas'.
"I've met all of the staff because obviously we're based at the training ground. I've met all of the staff coming in.
"They've been nothing but friendly, want to help support in any way that they can, so I just think that it's going to be a team… and this is part of the reason I came to Manchester because I knew it had a heritage of supporting its own and growing from within and looking after each other so that was so important for me.
"As I say, that's part of the support I'm talking about. This club has done nothing but support us.
"John Murtough is a very keen link to that and he's been nothing but supportive and that growth is going to continue to be there."
In everything that Skinner does during the first season of his tenure, the aim will be to better last season's finish. The reds may have missed out on Champions League qualification, but much of the downturn in form which saw them go from topping the table to an eventual fourth-placed finish can be attributed to the injury crisis which hit the club.
"To go on the run that this team went on was so commendable," he adds when asked about the last campaign. "For us, whenever a team gets an injury you have a challenge. What we have to do is to make sure we support everyone in that position, so when they come in there ready as best as they can be to take on the challenge of that position.
"What I'd suggest is that the team can always be tactically innovated in a new coach's eyes. That doesn't take away from anything that they did, they were excellent. I really enjoyed watching some of their games myself as a fan of the WSL. When I was at Birmingham we grew youth team players into the squad so they understood the DNA of the club. It's a Manchester United identity. As we add in the star players that we obviously want to attain here and retain here, we have to continue to grow the culture of the club.
"Once we do that, we will get to a point where we have all of these gaps filled. That's going to be my aim here. I think that this is going to be a wonderful challenge for everyone, we will take on these challenges as they come".
When the players walk out at Leigh Sports Village on Friday 3 September to the sound of the Stone Roses, it will signal the start of a new era not just for Manchester United but the entire WSL.
The game won't just be a season-opener, but a historic moment for women's football in this country; the fixture will be live on Sky Sports Premier League.
Such is the pace of the growth of the gamer that it seems to be only every couple of years that we see a new era of the division arrive. United's arrival coincided with the revamp of the pyramid which saw the inception of a fully professional top flight, now they will be there for the start of the Sky era.
But for those in the stands, TV won't be at the forefront of their minds. The most important thing will be the performances, and that will be the real test of Skinner.
For now, the talk has been encouraging, but the true test will come on the pitch.
COMMENT: Optimistic outlook for United this season
UNITED fell short of European qualification last season, but supporters should be optimistic that things will be improved this time round.
A renewed squad free of injury concerns could lead to the sort of form we saw which led to the reds sitting first last year, although there are still problems to be ironed out.
Speaking specifically about what would be needed for a transfer, Skinner said: "If we identify the right candidate, the right player, the right person that will fit, something that we don't have."
He makes the point of only needing to recruit for roles that aren't already filled and the return of Alessia Russo is an example of a player from within being just as good as a transfer.
Whatever happens, goals (or a lack thereof) will define the campaign and ability in front of goal will be make or break. Russo is not the only person who will contribute, with Leah Galton, Ella Toone, Kirsty Hanson and Martha Thomas being highlighted by the new head coach, but it is yet to be seen whether this will be enough to match the potency of the rest of the top four.
Skinner has ambition, but it will be a waiting game to see if he is the right man for the job. Has he got the right mentality? Without a doubt. Will the on-pitch performances reflect that? We'll have to see.
There is another factor worth mentioning in the debate over this season: the lack of support the reds seemingly had last year. The hope must be that the Glazers and others at United have seen the errors in their ways and will give the women's team the necessary backing. Skinner says it's fine at the moment, but that needs to be the case forever going forwards.