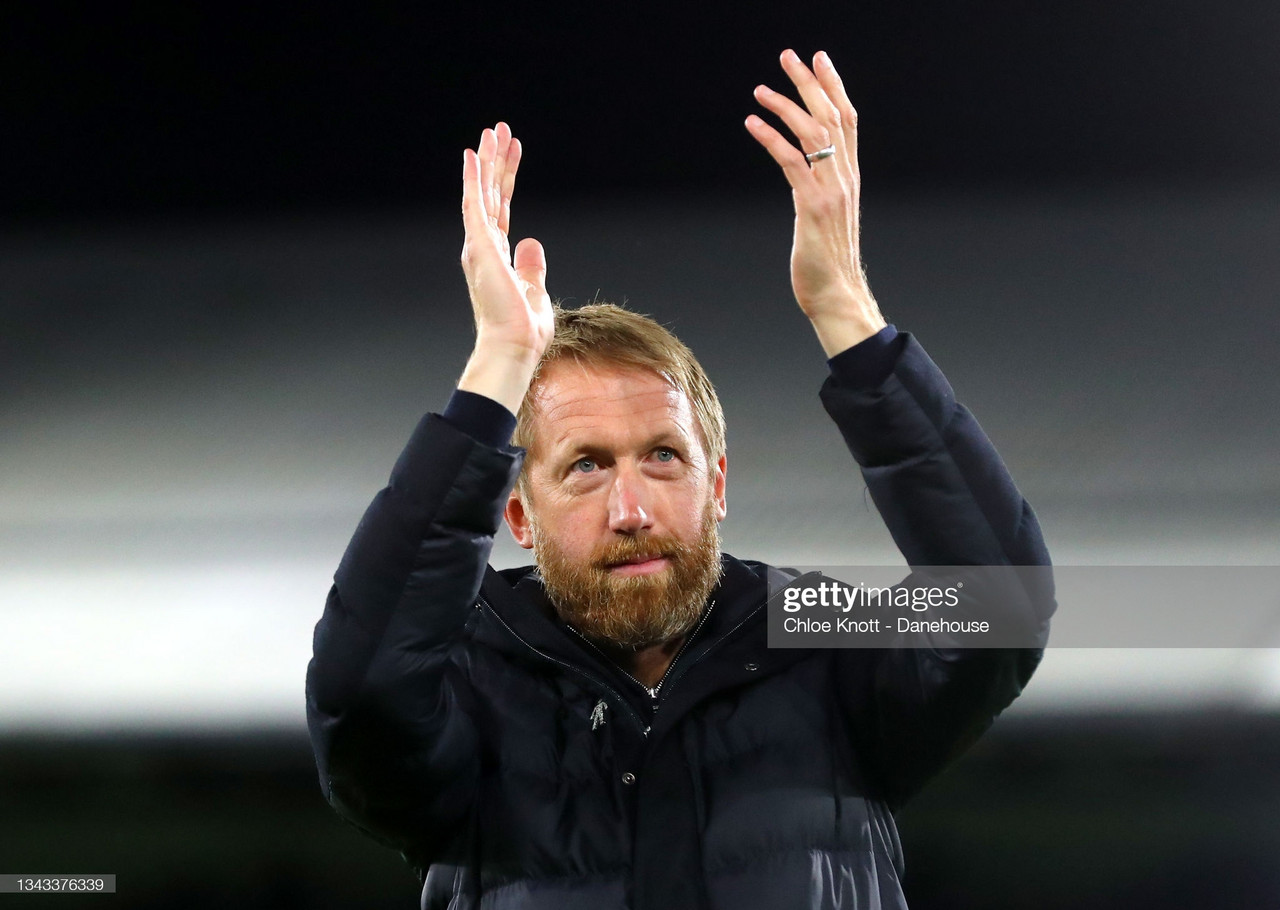 "Graham is one of the best English managers I have met in the country…He is and will be a successful manager because I have noticed how he is as a human being and as a manager," a well-informed Pep Guardiola once proclaimed to The Argus.
As recently as October 23, Brighton and Hove Albion were whizzing higher than many of England's most decorated. Justly parked within that gloriously revered Champions League bay for an unforeseen duration, few who flock in support to Falmer would have scarcely envisioned a start this exotic, a team this rousing, and a manager this adroit.
For some added flavour, in the four seasons since the Seagulls' return to the top-flight they have failed to finish above 15th position. That's a whole lot of BPM. Survival has been the cornerstone of the Sussex club's ideology from the moment referee James Linington sounded his whistle around a vociferous AMEX following their 2-1 win over Wigan Athletic in 2017.
Just like that, Brighton were up. Chris Hughton had coalesced a city, providing it's herd of those clad in blue and white with their first taste of England's premier division in 34 years. But in this industry things don't always last: Hughton was sacked, he had carried them as far as possible.
And with it arrived a sagacious mind, it's cunning wisdom spluttering across each passing technical area that his fuzzy beard graces. Full of audacity, full of eminence; Graham Potter has stomped his footballing philosophy down on the south coast with harmonious authority.
Well, it's certainly a unique style. Defensively they are robust, organised and intelligent. Offensively they are nimble, fluid and in-sync, and Potter's favoured 3-4-3 formation provides this balance. But that's not where it ends. Upon a decorative array of trademarks lies his system flexibility where football meets freedom.
The implementation of wing-backs are a striking asset to Brighton's approach, alongside a structurally formidable midfield. And whereas their recent lineups have bore no pure striker with Leandro Trossard leading from the front, he persists on generating grief to opposing defences with his viciously high press and speed, as Neal Maupay also does so well.
Take Liverpool, for example. On few occasions has 'Potterball' been so lucid as when Brighton journeyed long to England's esoteric cathedral: Anfield. Here the Seagulls were immaculate (well, for the remaining 50 minutes at least). Few sides dare stomp on this blessed turf and play with such belief.
Trossard at it's heart, Yves Bissouma at the base - oh, how his presence has been richly missed. They took the contest to their opponents, preying on a myriad of defensive vulnerabilities that are scarcely exploited even by the most formidable of sides. They will rarely overpower opponents on the scoreline — goals scored have never been a feature of theirs — but the 46 shipped last season were the joint-eighth lowest, conceding fewer than West Ham, Everton and Leicester. You'd be pardoned for forgetting they finished 16th.
A two-goal deficit with the interval looming overhead, Potter's paladins would cast a celestial beam over Anfield with a boldness most would relinquish. They would fight back to 2-2, earning a splendid point at a time when all seemed lost. Not with Potter at the helm.
With eyes fixated on the Premier League's usual suspects, Brighton came quietly frothing out of the traps, prevailing in four of their opening five league fixtures. Potter's side were set up in their usual way: resolute at the rear, clinical when they needed to be in attack. Talk of xG thrown into the Channel, goals have not been as much of a quarrel this time around.
But things have cooled of late. Water draped over the AMEX to cease the powerful blaze, it came in the absence of Bissouma. Whilst the increasingly naive and disregardful onlookers may see this recent stretch as 'winless in their last six', those true and loyal to Brighton will see it as 'one defeat in their last six'.
Perception, it's a marvellous concept. Brighton are a modest side, content with little else but the status to which they currently hold. For Potter, this is his first time seated sweatily within the inferno of success. Most are engulfed by the flames, caught up in the fantasy of it all. So, as we all justifiably revel in an outsider's early season prosperity, perhaps it's wise if we leave them to play their beautiful game just how Potter insists.