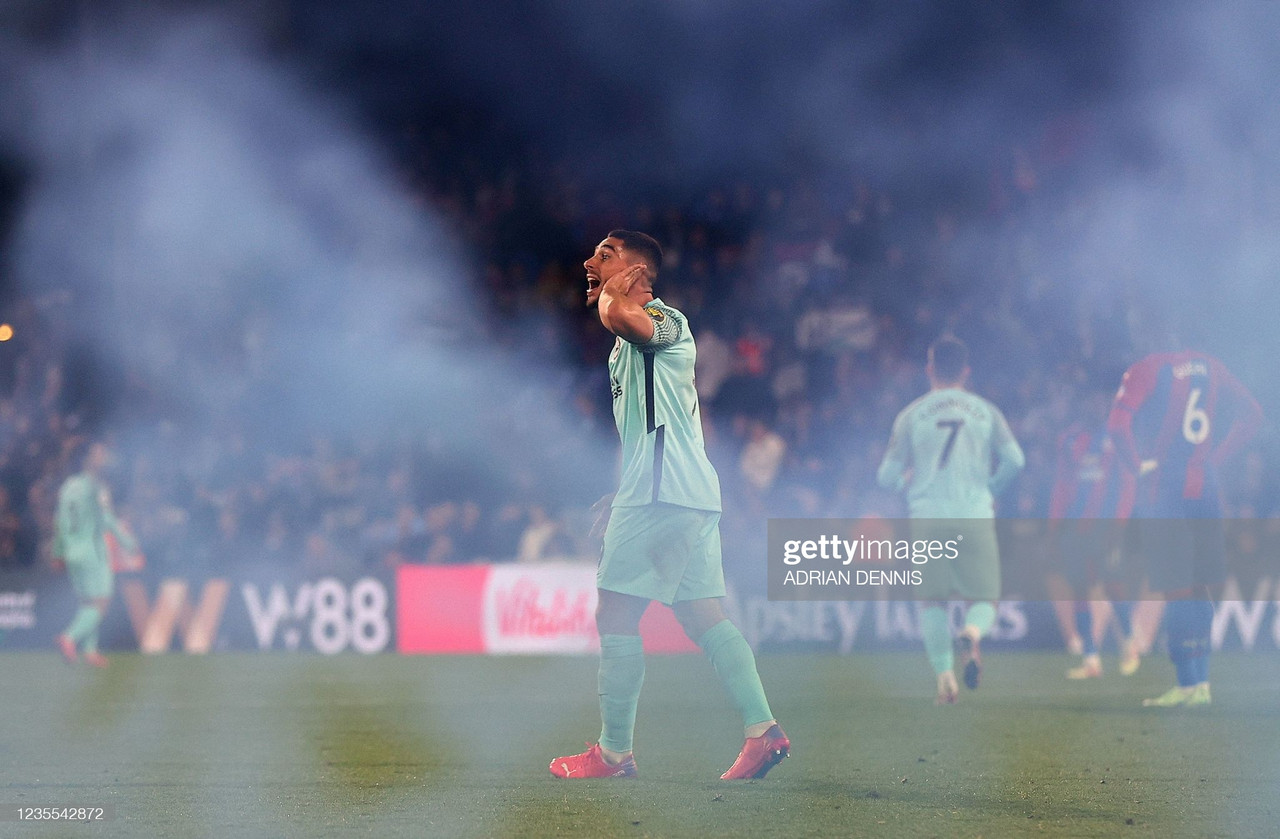 A vibrant '5' can be seen from all corners of a fidgety Selhurst Park. Crystal Palace are a matter of seconds away from sealing a famous victory over their southern rivals.
With a mighty heave of Joel Veltman's right-boot the ball is sprayed into the path of the onrushing Neal Maupay. A deft stroke over Guaita's flailing arms sends the travelling Brighton fans into euphoria. They know just how crucial it was.
Under the towering white lights on Monday evening Wilfried Zaha racked up his 400th appearance for the south London outfit. The forward was zippy, threading passes into Odsonne Edouard and Jordan Ayew with pace and precision.
Brighton & Hove Albion's defence wilted under immense bombardment. They were rarely in the game. As the half ticked ever closer to the interval the predictable occurred: Zaha opens the scoring, Graham Potter's party are punished.
The Seagulls weren't outplayed — a similar number of attempts and more possession validates this — but Palace resembled that of a side who looked voracious, though hindered by their own front-line arrogance.
'He has to score there'. Ah yes, the old cliché. It's not always a missed opportunity carries such regret, such head in hand but Ayew's wayward effort in the 77th minute was the epitome of such action.
With Brighton pushing hard in the closing phases it opened those usual galactic gaps in defence. Ayew was in. Directly ahead he could see a shrinking passage of air at the near post. To his left there was Christian Benteke, waiting with the patience of a predator ready to feast.
He went for goal. The ball fizzing wide of the white post, Selhurst in disbelief. But still nothing changed. Nothing until the final kick of the game.
Brighton keep pace with top-four
So there it was. The Eagles had fought so valiantly until a long-ball over the top would be their own demise. Indeed, had Guaita's goal-kick not been struck so flatly, Veltman never would have lumped the ball back with such ease.
Maupay latched onto it in a fiery flash. The net thoroughly billowed, Brighton had rescued a point. That's now 13 in just six games, further bolstering their best-ever start in the top-flight.
Unbeaten in three league fixtures, they are just one point behind league-leaders Liverpool as they host an improving Arsenal side on Saturday. Those wild dreams of being amongst the once impalpable top-four are not so inconceivable after all.