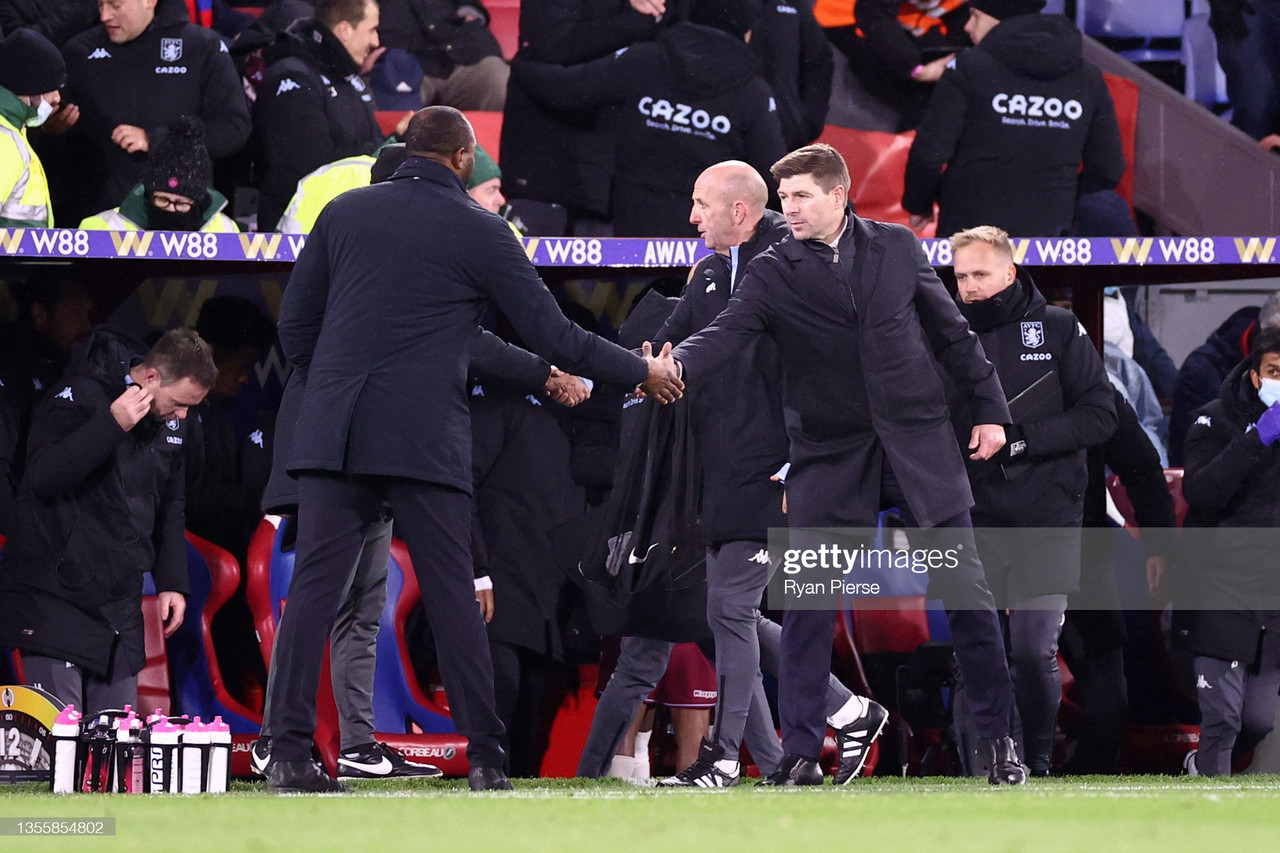 Steven Gerrard was keen to publicize his admiration for Patrick Vieira after he watched his Aston Villa side extend their 100% record under his supervision, condemning Crystal Palace to their first home defeat of the season.
Although Marc Guehi got himself on the scoresheet for the second time in a week for the Eagles, two brilliantly crafted goals from Matt Targett and John McGinn ensured that the home side would run out of road in their seven-game unbeaten streak.
Coming into the fixture, the headline stories were centred around the two managers in the dugout. Seeing two Premier League midfield powerhouses stand side by side in a new role was surreal for the Selhurst Park crowd.
While Steven Gerrard graced the top-flight with his loyalty to Liverpool, having been known as one of England's most complete players of all time, Patrick Vieira captained Arsenal to a golden Premier League trophy.
"He's a great man," Gerrard told Match Of The Day when asked about sharing a touchline with Vieira. "I had many brilliant battles with Patrick and it was a pleasure to stand alongside him.
"You could see when we were leading today that he's a winner – he was pushing his players all the way. At times we had to dig in and suffer, we expected that from him – that's his mentality. But certainly, I've got no bruises down my legs as I used to when I've gone up against him before!
"The important thing was to back up last weekend [a 2-0 home win over Brighton]. I've only been doing it [the Villa job] for two weeks and it hasn't been perfect in the two games. But we've done enough to get six points from six, which is a really big step for us."
Patrick Vieira's thoughts
As the case would perhaps expectedly be with a professional who has seen the highs and lows of football in both a player and manager capacity, Patrick Vieira's thoughts juxtaposed that of Steven Gerrard's.
Taking a more placid approach to the situation, the Frenchman insisted that coming up against a former Premier League rival from a managerial standpoint was no different.
"I don't think there was any difference from playing him as manager today," Vieira told VAVEL.
"He is like any other manager in the premier league, I was more concerned about how we wanted to play the game and he was probably the same for himself and his team.
"Villa played really well this afternoon, they were really compact and made it really difficult for us. We were unable to play our normal game, we were too slow to cause them any real problem, but yes, we made it comfortable for them today, especially in the first half."