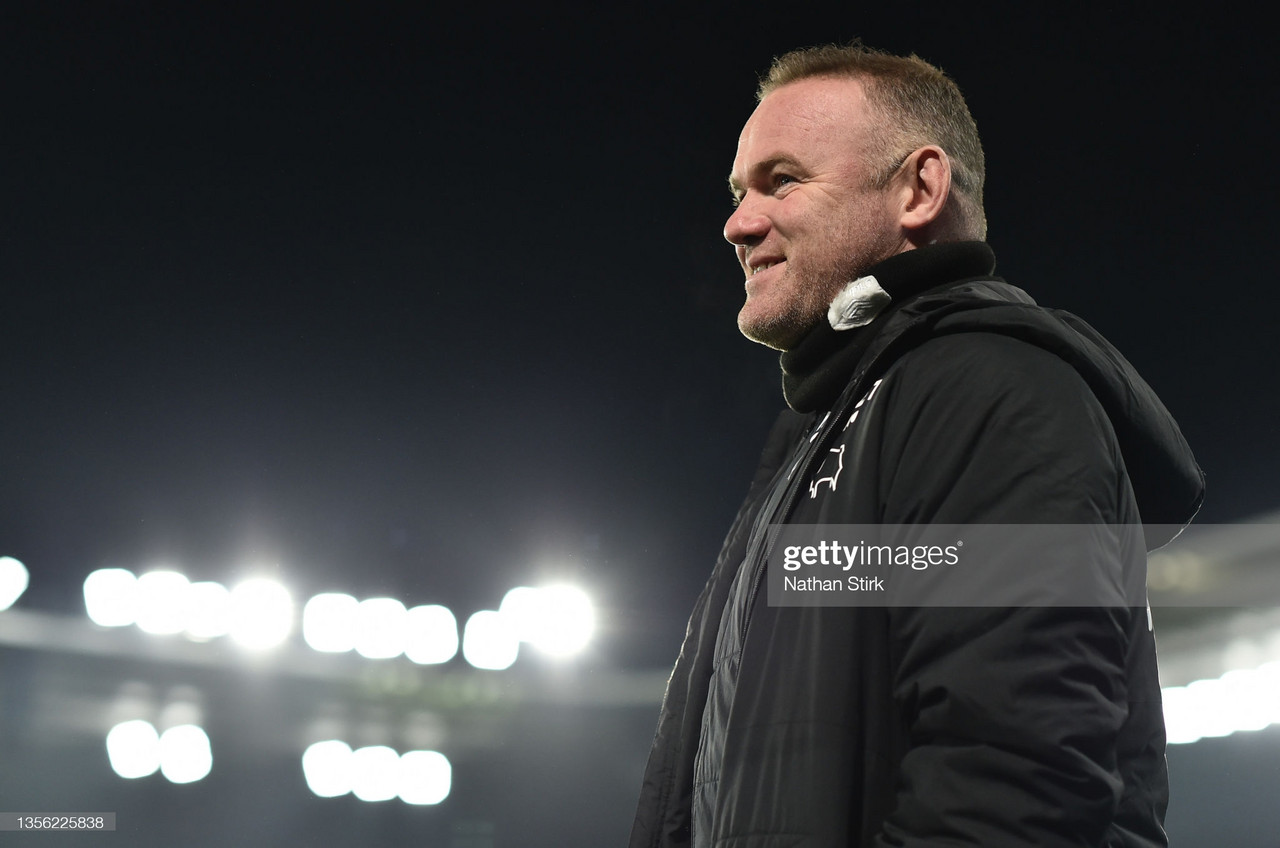 Wayne Rooney's spirit was still intact after a defeat to Queens Park Rangers that saw Andre Gray score late to give the visitors all three points.
The loss ended Derby County's impressive run that saw them beat Bournemouth and draw away to Fulham.
Captain Tom Lawrence put them ahead in just the tenth minute after a brilliant pass from deep in the midfield played skipper through, allowing him to rifle it past the keeper.
However, two goals from Chris Willock and returning substitute Andre Gray put an end to Derby's positive run of form.
Rooney was modest in defeat and thought the result was fair over the 90 minutes of football played this evening.
After the early opener for Derby, the hosts let themself slip with the visitors holding more possession and controlling the game, which Rooney recognised when he said: "I think QPR deserved to win, I thought we started really well on the front foot. The goal we scored is exactly what we worked on. We felt if we can get them to play into the middle of the pitch we can match their energy, press them in there and win the ball back and we wanted runners off that."
However, the goal was not enough and the resolute QPR side made it more difficult for the Rams as the game went on.
"We were sloppy with the ball tonight. I could see it coming, the warning signs were there. I said to the boys at halftime we need to wake up, we had moments in the second half but certainly weren't good enough to win the game and I felt the result was a fair result."
"A week in this league can make a big difference"
It was always going to be difficult for Rooney to keep Derby up and the sheer amount of points being deducted by the club has made it almost impossible to imagine Derby in the Championship next year.
However, stranger things have happened in football and Rooney remains positive about the club's situation.
"A week in this league can make a big difference so we have to keep fighting, keep pushing we have a tough game Saturday, and we will be ready.
"I said to the boys the other week we will lose games so let's not get carried away when we win, when we lose it's a setback. We have to go again Saturday we'll prepare in the same way we always do for the game, as I said it's a setback, but we'll keep fighting and pushing to do everything we can to stay in this division."
The Rams now sit bottom after 20 league games with just one point, 19 points off safety. However, outside of the top ten Derby have the fewest losses in the league and their form, without points deductions, would have them sitting mid-table.
It is likely though that the points deducted are just too much no matter how Rooney's side perform. On the difficult task Rooney said: "It's a very difficult task but if there's a chance we can do it, we'll keep trying."
"I've shown his commitment, he's shown his commitment"
Chris Kirchner, the American businessman in line to take over Derby was at Pride Park to watch the club's defeat to QPR.
When asked about the potential takeover, Rooney explained: "I've shown my commitment to the club, he's shown his commitment, of course, I understand it's difficult and there are obstacles to get over, but I think for everyone's sake the quicker this can get done the better. It will make my job easier and allow me to start putting things in place so I hope it can get done as quick as possible."