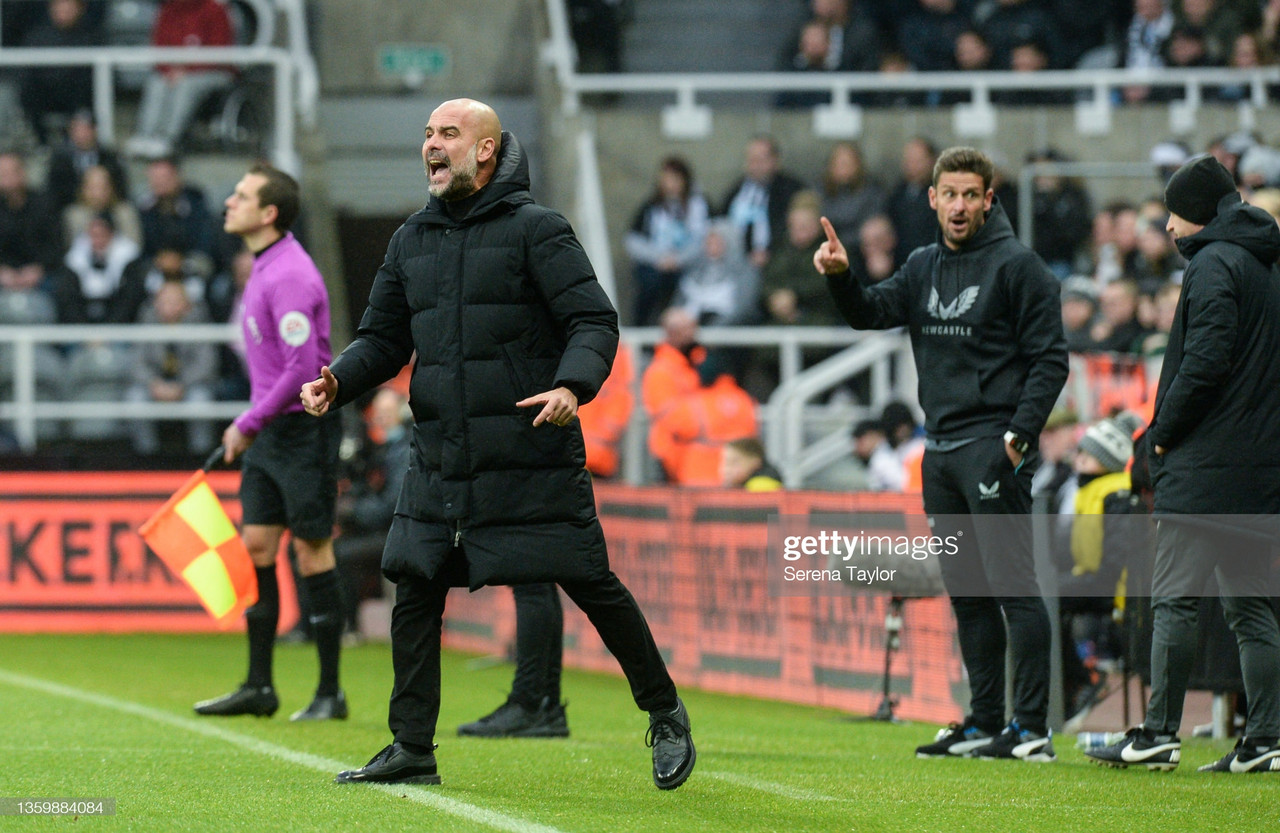 Manchester City manager Pep Guardiola described his side's performance in the opening 45 minutes of their 4-0 win at Newcastle United as 'the poorest of the season'.
The Blues sealed top spot for Christmas after a dominant display at St James' Park, with the goals coming from Ruben Dias, Joao Cancelo, Riyad Mahrez and Raheem Sterling.
But despite being comfortably in front at half-time, Guardiola was unhappy with what he saw from his players prior to the interval.
"It was a good result, an exceptional result, and a very not good performance at all, especially in the first half, when we were lucky," said the City boss in his post-match press conference.
"The action from Joao was brilliant, but the way we played in the first half was one of the poorest of the season.
"I realise we have to be a better team, the first half was a dangerous position and every player played without complete focus, the second half was much better."
'You can't be brilliant all the time'
For most managers, a 4-0 away victory would automatically rule out their players being criticised.
But Guardiola believes his City players are capable of much better.
He said: "During the season this can happen, it's normal you can't be brilliant all the time."
The Spaniard did recognise the importance of this afternoon's win, however.
"We more than deserved the victory but we know we can do better and better.
"To take a result is so important in this long season ahead of us."
On Newcastle and their supporters
Guardiola's men were simply too good for their relegation-threatened opponents this afternoon, but his message to Newcastle was to remain 'positive', despite them being rooted in the bottom three.
"They have exceptional players and a really good team, but now they are struggling," said Guardiola.
"It is still a long season to play for those who look to win the Premier League, get to the Champions League or Europa League and the teams at the bottom.
"There are many, many games to play and many things are going to happen.
"So I would say be positive and anything can happen."
The City manager knew that Newcastle's fans would get behind their struggling team and make it as difficult as possible for his players.
He said: "I had the feeling having travelled that the people in the stadium would react and support the team."
Looking ahead to the next three games
The festive period brings many matches in quick succession, with The Blues set to face Leicester City, Brentford and Arsenal in their next three games.
On the hectic run in of fixtures, Guardiola said: "The issue is now we get one or two days off then we will prepare the toughest part: Leicester, Brentford and Arsenal.
"At the end of season we will look at our level."