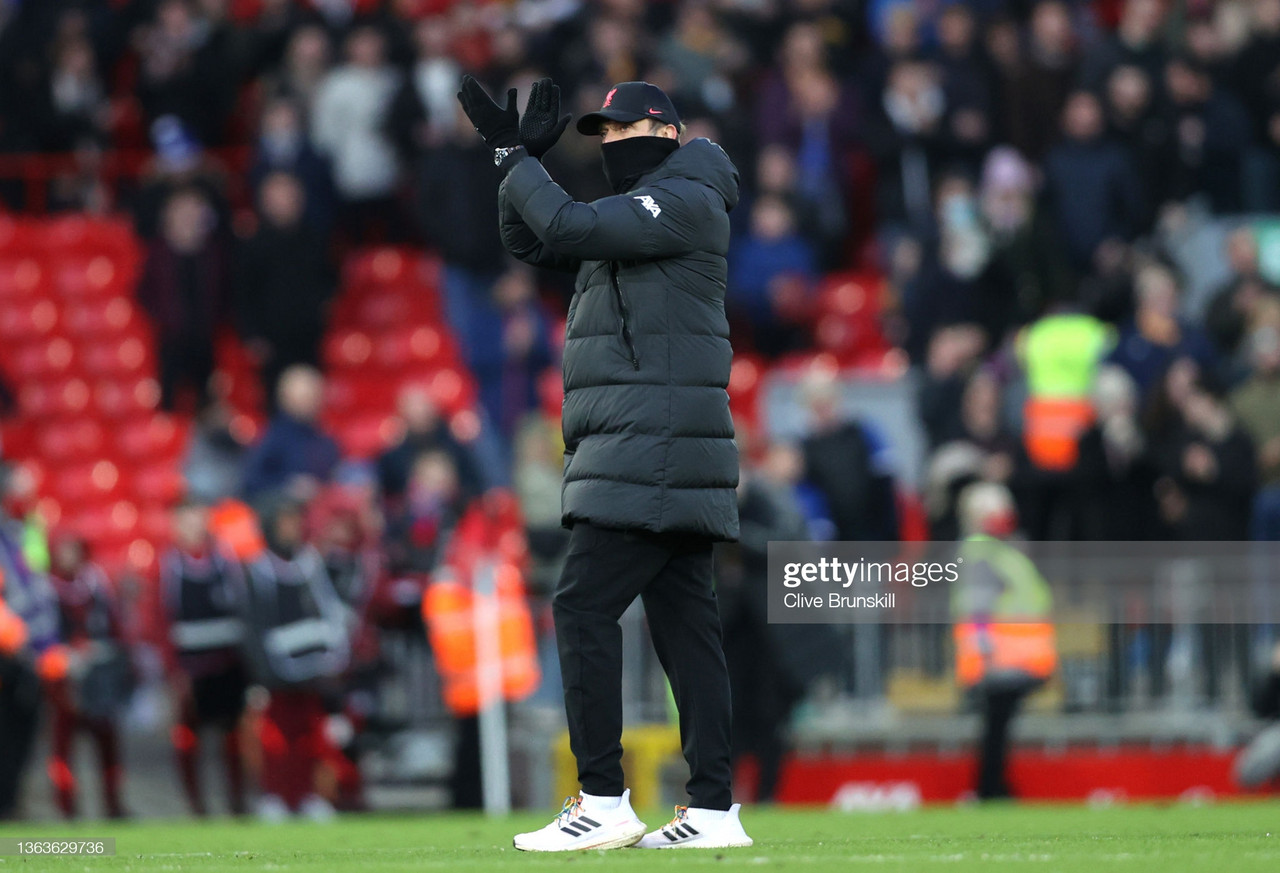 Jurgen Klopp addressed the media following his side's 4-1 over Shrewsbury at Anfield in the FA Cup third round.
Klopp talked on a host of topics including the Reds' recent Covid outbreak, the absence of Sadio Mane and Mohamed Salah and the performances of Kaide Gordon and Conor Bradley.
The German spoke publically about the Reds' recent Covid-19 outbreak that caused their training centre to be closed on Wednesday morning following a surge of positive tests.
Though, Klopp confirmed that some of the results that were shown on the Lateral Flow Tests were actually confirmed as false postives, although those players affected by those were not involved in Sunday's game.
"It showed up last week that we had a lot of 'false' positives but we had to follow the rules. They weren't involved today, we decided. The only extra case is Trent Alexander-Arnold."
He also confirmed that Takumi Minamino only trained twice since his injury while Roberto Firmino only returned to training yesterday.
Impressed by Kaide Gordon and Conor Bradley?
Klopp spoke highly of Gordon, 17, and Bradley, 18, who linked up superly down the Reds' right-hand side all afternoon.
Despite being impressed, the Liverpool manager insisted there is far more to come from the duo.
"I am delighted but I know they can do so much better because they are such huge talents.
"The first goal was their goal. So many nice little stories today."
The Reds' boss went heaped further praise on Gordon who became the club's second-youngest ever goalscorer with his first-half strike.
"That's Kaide, in these situations he is so calm. I can't say he will score every one of these situations in his career but more times than not he will. People told me he was the second-youngest [scorer] which is exceptional."
Big month ahead of Minamino
Minamino was introduced as a half-time substitute for the Reds and impressed with an eye-catching cameo and Klopp insisted he has a big role to play over the next month in the absence of Sadio MAne and Mohamed Salah.
"Taki was injured, nothing serious but serious enough to mean he couldn't play. Very, very important for us especially since we have games coming up and our two main guys up front aren't here. I liked Taki a lot when he came on, he was in good shape."