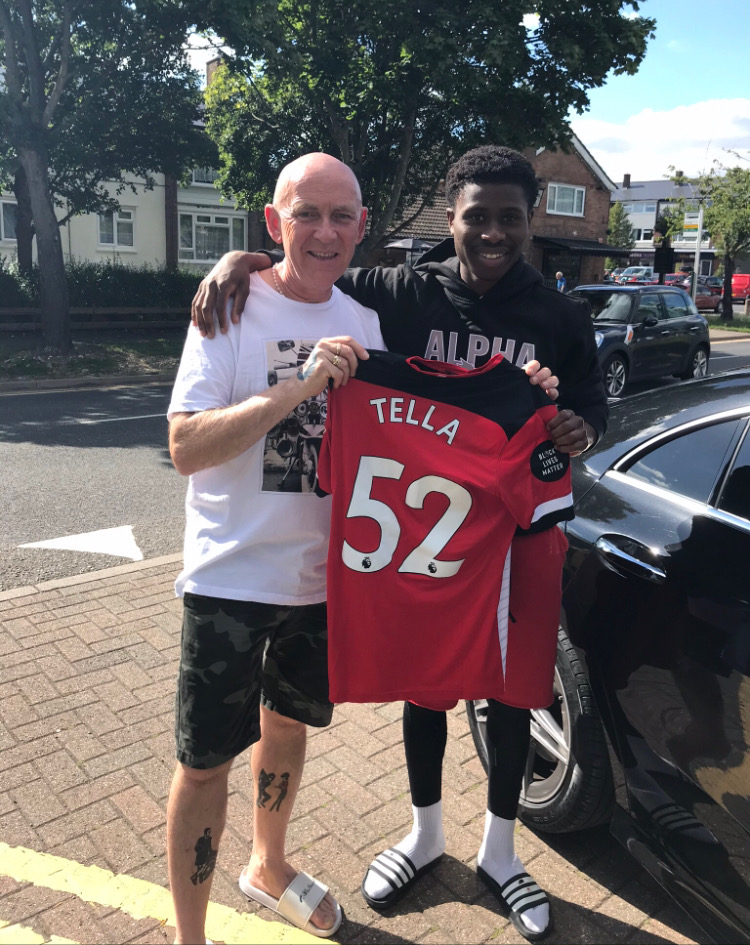 Brian Stapleton first started scouting for Arsenal Football Club 16 years ago after being approached by Senior Academy scout Shaun O Connor, who still remains there today.
Nathan Tella was one of the first "boys" he took in to Arsenal, bringing him to their Hale End academy straight away after being seriously impressed watching him play. Even though Tella was only seven years old, the Arsenal scout claims that he was amazed by the unbelievable work rate and ability at such a young age.
"I first spotted Nathan playing for a club called Bedwell Rangers. The first thing I spotted was that he was the quickest player on the field, he was rapid but took the ball with him. He could finish as well, he was clinical, even at that age, we are talking about 7 years old. He was everywhere, he was like a little Theo Walcott on the pitch at the time. He was up and down and his work rate was unbelievable for a kid at that age."
Key Attributes
When Stapleton scouts, two of the key attributes he looks for a player to have is a good first touch and if the player has a "brain". These two things sometimes make the excellent stand out from the good and ultimately, if they are good enough to make it into the Arsenal Academy and sign a deal.
Nathan Tella had more than just these attributes however in the Arsenal scout's eyes.
"He had everything, he had a bit of character about him as well, worked hard and even that smile you see now, he had that smile then when he was seven. I took him into Arsenal straight away."
Tella unfortunately didn't make it at Arsenal as he was released before signing for Southampton in 2017 and then graduating from their academy. The now 22 year old had trials at Reading and Norwich but was keen to join the Saints and has recently put pen to paper on a three and a half year deal, keeping at the South Coast until at least 2025.
What a way to start the year! Delighted to have signed a new deal. Hard work continues!
Thanks for the continued support❤️ pic.twitter.com/9BSWZzEoMi

— tella (@NathanTella_11) January 6, 2022
Upon signing his new deal, he spoke to The Athletic and was excited to focus on what the future holds.
"Moving forward I want to repay the faith they (The club) have in me. I want to play more games, be involved in more goals and help the team progress."
Brian Stapleton is also incredibly optimistic that the player he scouted is going to go on to have a fantastic career and remains in contact with Tella, often being invited to watch him play for Southampton.
"I've said this to Nathan in a conversation we had, I said he could be another (Raheem) Sterling, The only thing is he needs to add more goals to his game. That will come, the more chances he'll get, he'll take them, that's the only thing I'll say he needs to add to his game."
This Season so far
The exciting forward has made 15 appearances in all competitions this season, getting on the scoresheet in the Carabao Cup alongside scoring in a Premier League Two game. His ten Premier League appearances this campaign are yet to be marked with a goal contribution however, still at the age of 22, there is plenty of optimism that Nathan Tella will go on to have a fantastic career and be a key player for Southampton.
In what position is Tella at his best though? Stapleton was quick to praise the forward as being incredibly versatile. He can often be found on either wing. Blessed with blistering speed and one of the quickest players in the Premier League married with neat footwork and trickery, as a wide man he can often be effective, creating and finishing chances for his team.
"I don't think he is an out and out forward, I think you could play him even behind the front two or you could play him on either side. To be honest with you, he could even do a job at right back because I look at him and I look at (Tariq) Lamptey at Brighton and I see a lot of similarities between the two of them, they're the two quickest players in the Premier League."
See ya! 🥜

Who's been impressed by @NathanTella_11's performances? ✨ pic.twitter.com/ws1uh9jPcm

— Southampton FC (@SouthamptonFC) December 17, 2021
Alongside his obviously fantastic footballing ability, Stapleton reiterated time and time again just how much of a good character Tella is and describes him as having a fantastic attitude, being incredibly grateful and appreciating of his position and situation.
Despite him being a "good lad" however, Stapleton describes him as a winner and the second he steps on to the pitch, someone who wants to do they best they can.
When asked if he has the right attitude to succeed in the game, his response was "Absolutely".