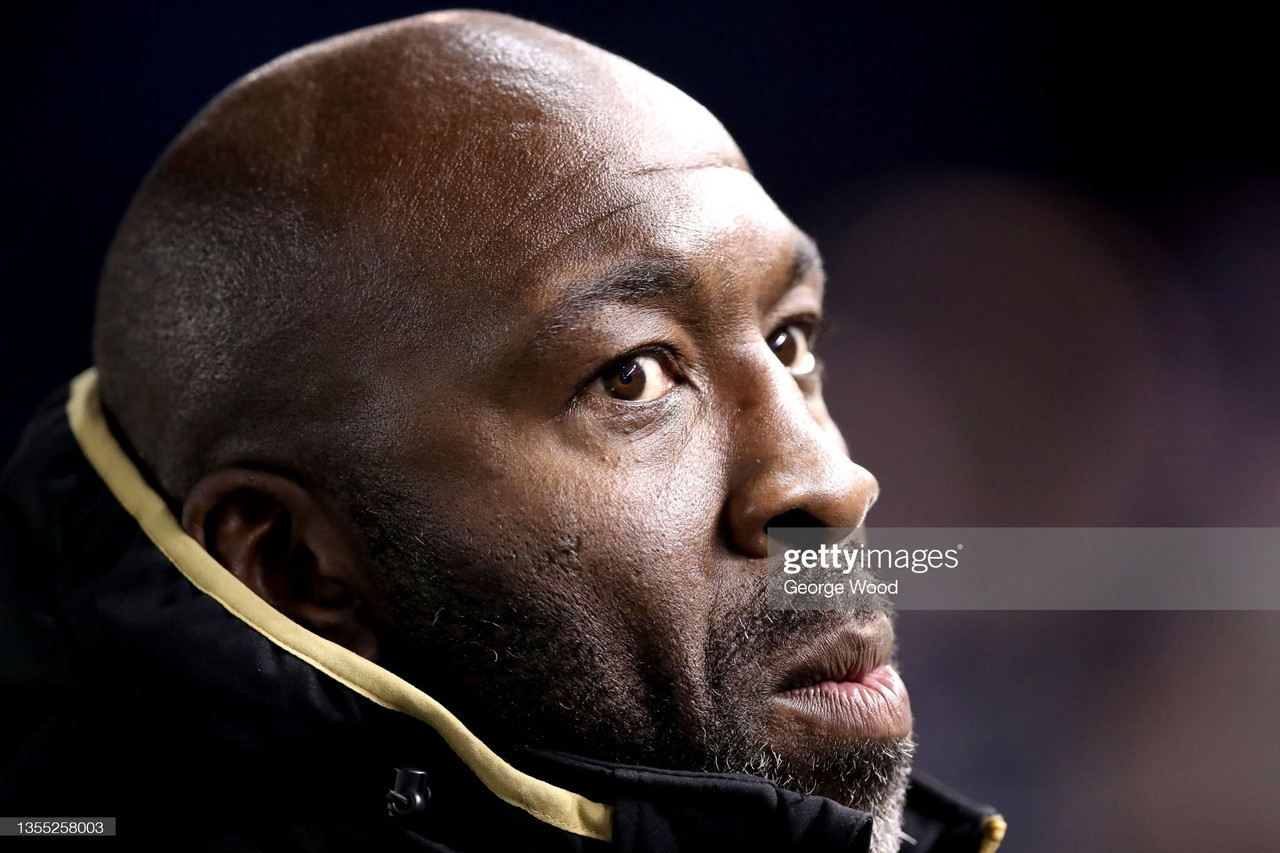 Sheffield Wednesday manager Darren Moore says he is setting up an "inquest" as to why several peripheral players did not perform well during their 3-0 defeat to Hartlepool United in the Papa John's Trophy.
Moore made eight changes to his side, allowing players such as Sylla Sow, Lewis Wing, and Jaden Brown a platform to try and force their way back into the 47-year-old's plans ahead of a midweek trip to Portsmouth.
However, it was a pitiful display from the Owls, with only Theo Corbeanu being a slight bright point on a dreary evening.
And Moore expressed his disappointment with the performance.
"In recent weeks it has been a step forward but in terms of tonight it was a step back," said Moore. "The performance wasn't good enough.
"What I will be saying to them is that if they put on a Wednesday shirt again then I don't want to see that again, and the fans certainly don't expect to see that again.
"There was one or two that didn't seize their opportunity tonight to take forward and why that is, is an inquest for me and my staff in terms of the performance and where we were at and why it was so bad tonight.
"I don't want to take anything away from Hartlepool, but the performance was self-inflicted more than anything tonight and that is the most disappointing thing.
"It was static; there was no real movement; no real penetration; no breaking the lines with our play; we were going backwards and sidewards and there was none of the forward play that has set us apart in the last few weeks in terms of creating chances.
"At the back, we sort of chipped in and gave them a couple of goals and we never really recovered in the second half, but the damage was already done in the first half.
Moore wanted the win
It could be argued that exiting the EFL Trophy at this time could be a good thing due to the Owls' injury list and heavy schedule.
Wednesday are currently unbeaten in 10 league fixtures and are five points off leaders Rotherham United, meaning avoiding further games in this competition could be a positive, in hindsight.
However, Moore explained how he wanted his side to go deep into the knockout stages of the trophy, stating:
"I wanted to go far in this competition, so it is a disappointing result for us tonight and a missed opportunity to progress and go further and we didn't seize it.
"Having worked so hard to finish top [of the group], which is what we wanted and was the aim, we wanted to win the game and make no mistake about it, it is disappointing.
"Do I see it as a positive going on with the league? At this moment in time, I don't because we have lost a game and I am disappointed.
"We're out and we cannot cry over spilt milk and we must get back on the training ground and work."
The absence of Mendez-Laing
Nathaniel Mendez-Laing made his first appearance on Saturday during the two-all draw against Wycombe Wanderers as he replaced Jack Hunt at right wing-back.
Most were tipping the former Cardiff City winger to make his full debut on Wednesday evening and get some much-needed minutes under his belt.
However, he was missing due to an illness which Moore says the whole squad will be getting their flu jabs to avoid this issue going forward.
"He was down to play tonight," Moore admitted. "He has an illness that started 24 hours ago.
"It's that time of the year where people get all these colds and flu. All the squad are going to get their flu jabs because people come in with the sniffles now.
"We see it as a time now with the current break to get this done."
Moore on Portsmouth
Sheffield Wednesday travel to the South Coast on Tuesday 7 December to face fellow promotion rivals Portsmouth in League One.
Pompey are nine games unbeaten, winning eight of those fixtures, and have only conceded four goals over that period. They sit ninth in the table, and they are two points away from the top six.
Moore believes it is going to be a mouth-watering affair.
He said: "It is probably two heavyweights in the division going head-to-head. It's live on TV and it is a great advert for League One football, and it bodes well for a neutral to watch.
"For us, it is about refocusing the team and getting ready for the game and making sure that the momentum and resilience that we have built up in the league continues.
"It is a real cat-and-mouse game because both teams are in great form, and it'll be a great atmosphere down there because we will take a good away travel and they have good home support.
"Both teams have solidity and resilience in the league and are hard to beat. Both are picking up results and are in the ascendency with where we're at."