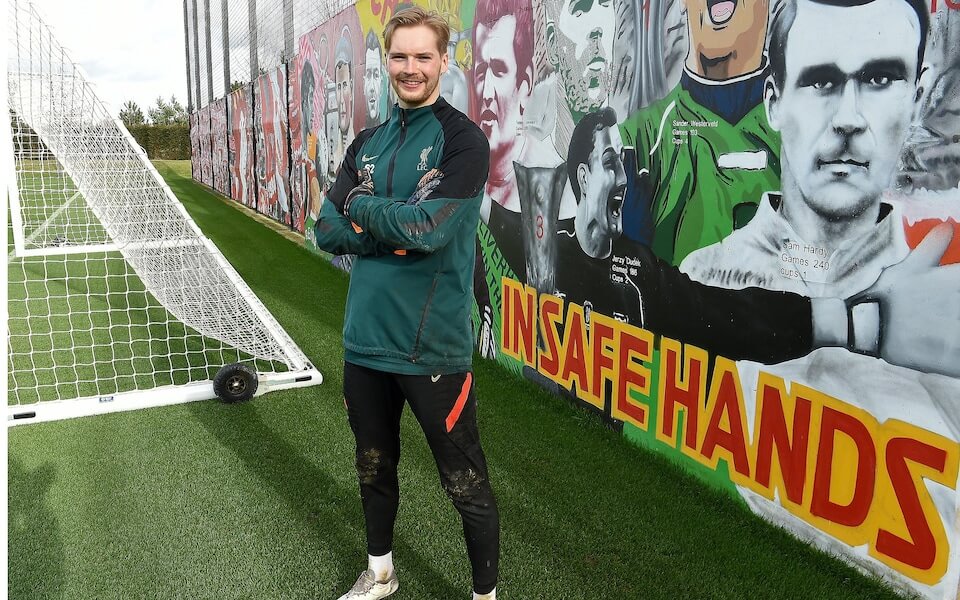 'In safe hands' is writ large and in bold red letters. Behind the pitch at Liverpool's training complex in Kirkby stands a wall emblazoned by a colourful mural featuring depictions of a collection of the club's great goalkeepers and the trophies they won. It's a constant reminder for those who now keep goal of the history associated with such a revered position.
Come Sunday evening, Caoimhin Kelleher hopes that his face will be added to local artist John Culshaw's masterpiece. "Maybe I can get myself on there as well," says the 23-year-old 'keeper, dreaming of victory in Sunday's League Cup final against Chelsea. The Republic of Ireland international will make his eighth appearance of the season, and 17th of his Anfield career, when Liverpool attempt to win their first domestic cup in a decade.
"It is nice when you go training to be having a look at that every day," he continues. "It is a good inspiration for us when we are training every day in front of it. It would be quite cool and special [to be on it]. There are absolute legends up on that wall so to be up there would be an honour for me."
John Achterberg, Liverpool's long-time goalkeeper coach, commissioned the artwork and is also responsible for building the current squad's strong goalkeeping reserves; most notably, the development of Kelleher as a capable deputy to Alisson.
"Ever since I came here he has been brilliant with me," Kelleher says of his coach. "He saw something in me since I came into first-team training and he brought me on in leaps and bounds. I know for sure I would not be here if it was not for him.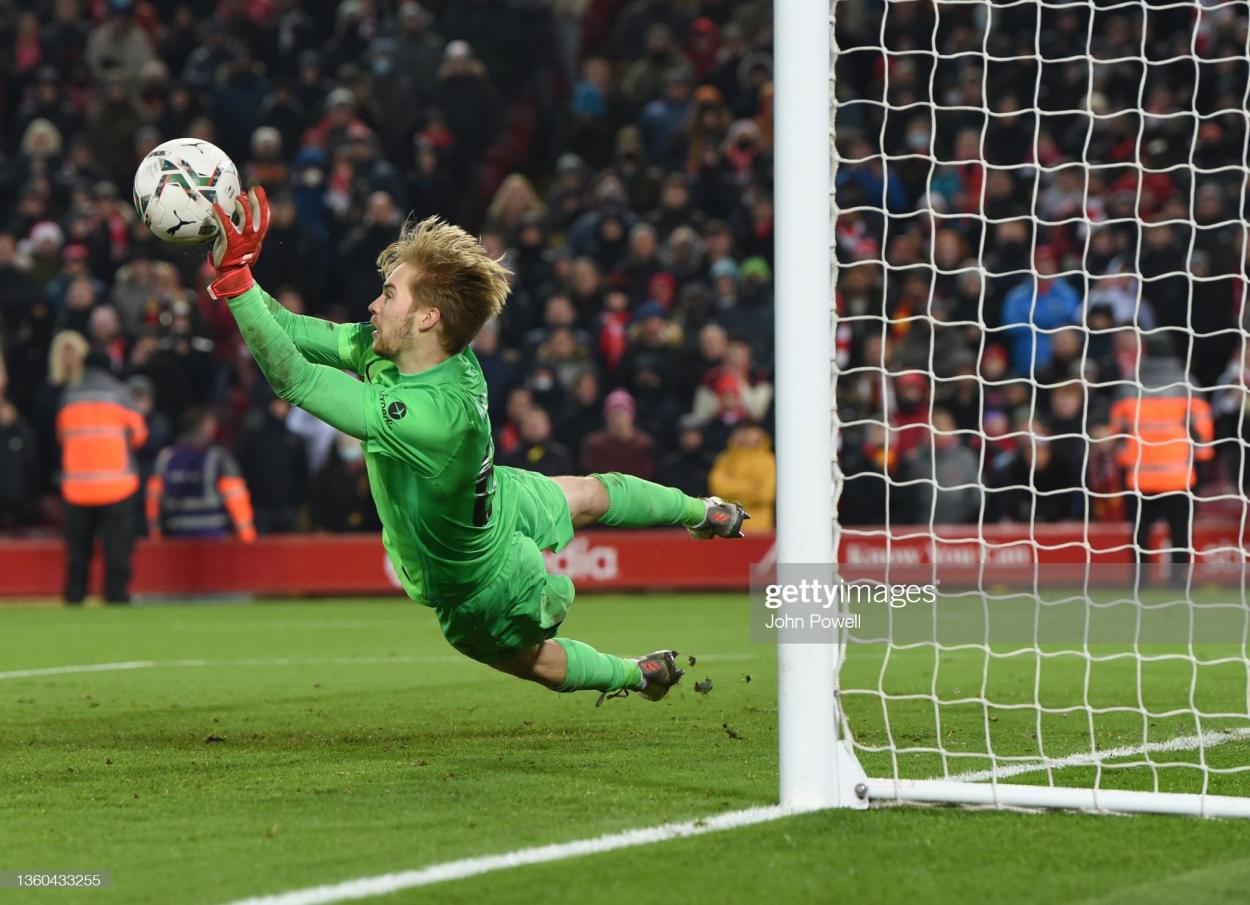 "Coming over obviously I had some talent but everything needed to be worked on and John worked really hard to develop every aspect of my game. He wants a goalkeeper, and especially a goalkeeper for Liverpool, who is very good in every area so he has developed every aspect of my game and tried to get them to a good level. All the goalkeeper coaches have, to be fair. I have a lot to thank Jack Robinson for, too, and now [Claudio] Taffarel. It is a top level of coaching I am getting every day.
"I have had belief in myself since I came over that I can do it, but it has taken a lot of hard work and a lot of coaching sessions to bring me on. I am nowhere near the highest level yet. I think I have a long way to go if I want to reach that, but I've always had belief in myself that I can play here and obviously playing games for the first team and performing relatively well gives you the extra boost of confidence that you are good enough. Now I need to push on and keep going."
'I always had belief'
The League Cup is Kelleher's dedicated competition this season and has shown why he deservedly overtook Adrian as Jurgen Klopp's No 2. Two crucial saves were made in the penalty shootout to advance past Leicester City in the quarter-final and then he was equally as reliable in the semi-final second leg win away to Arsenal. Klopp admitted that Kelleher had "brought the team here" and so would start the final.
"That was nice to hear," the young goalkeeper recalls. "I didn't know if I would be playing the final, not even when I was playing most of the games. I would never want to take anything for granted. I was obviously very happy. It is an honour to represent Liverpool in a final. I always had belief that I could get up to the first team but this is still a really nice moment for me."
It's quite a turnaround for a player who began as a prolific striker back in Cork and remained at that end of the pitch until he was 13-years-old. The boyhood Liverpool fan thought about following three of his brothers into hurling but decided that football was his true love. "It's obviously worked out well," he says with a smile.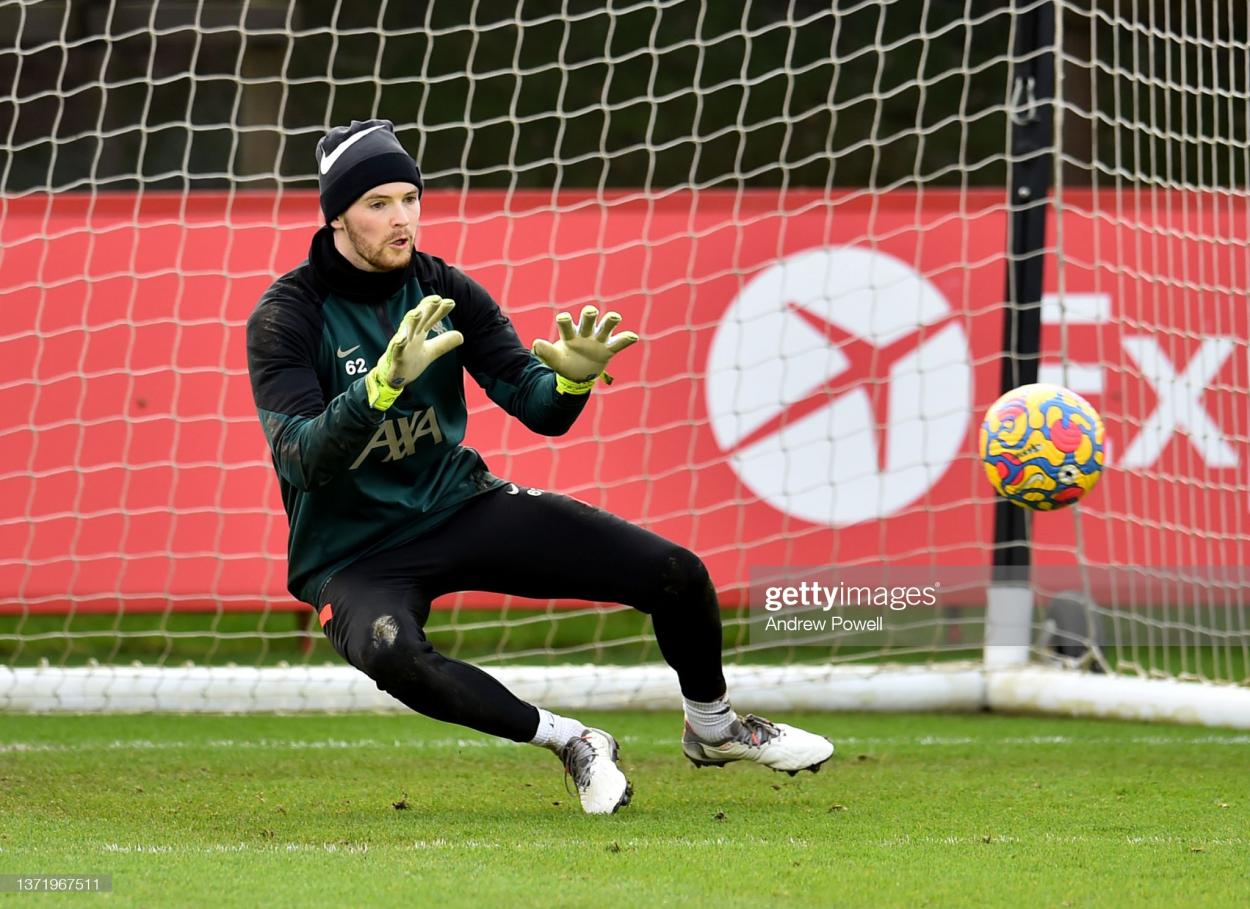 Sunday represents the biggest moment in Kelleher's career to date and, although he has visited Wembley once before as part of Republic of Ireland's squad for a friendly with England in 2020, he has his manager's backing. "If it works out, then it's all about Caoimhin. If it doesn't work out, then it's all about me. It's as easy as that, and I take it," Klopp says. "It's just a thing we have to do because of the quality Caoimhin has.
"We want to keep him as long as somehow possible knowing that, from our point of view, the best goalkeeper in the world is our No 1. Caoimhin is an exceptional goalkeeper and we want to keep him here. And for that, he needs games. These games are his competition, and there's no chance of him not playing."
If things go well, there will be a fresh-faced Irishman on that mural too.