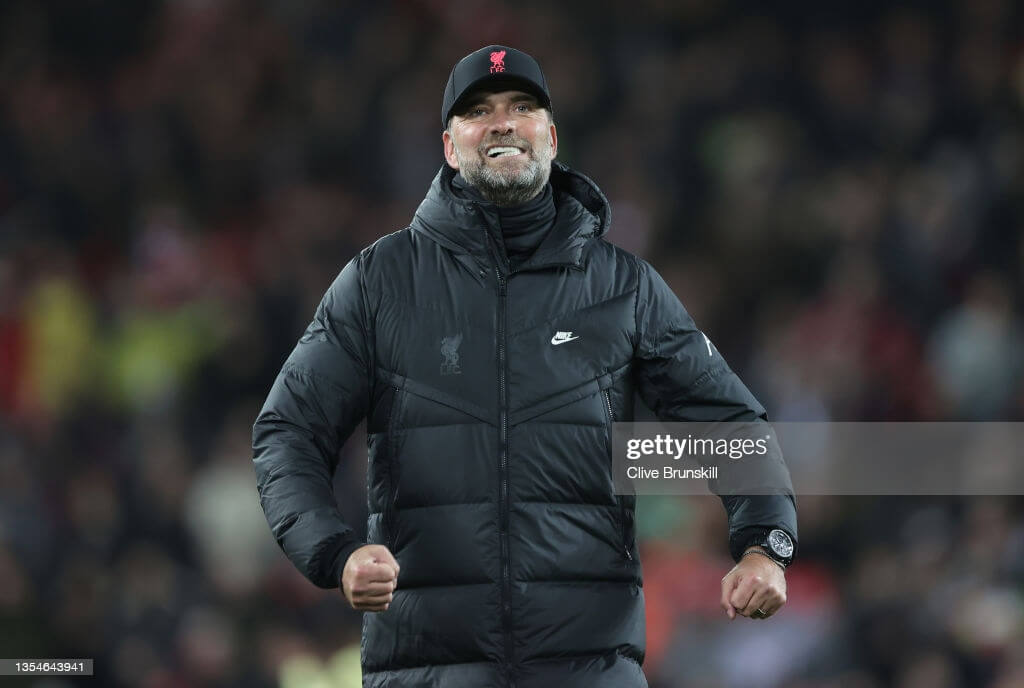 Jürgen Klopp discussed a variety of topics as the Reds aim to make it three wins in three this weekend.
Alongside the traits of Ralph Hasenhüttl and his team, he discussed having more players fit and available, offered an update on those who remain out and the publishing of the fan-led review on English football earlier this week.
He also discussed fellow German Ralf Rangnick – who is credited with having significant influence on the coaching careers of Klopp, Hasenhüttl and several others – as the 63-year-old seemingly moves closer to becoming interim manager at Manchester United.
Squad situation
Klopp was asked if he was feeling better about his the level of availability in his squad than a week or so ago. It seemed he is, but he was quick to emphasise that the context tends to be very changeable in that regard.
"Yes, the only problem we have is it's just for now but, for now, yes, it's much better because a week or 10 days ago we had pretty much two-and-a-half midfielders and now that looks different. We could use the Porto game to give some some minutes, to give some some rest and so now we have, first time for a while, I have to make decisions – which is actually cool. But that's for one game and then the rest is coming up so but, for the moment, yes that's right. It's better than it was two weeks ago, definitely."
"Ralph is obviously organising a proper team there for each game and especially when they expect themselves to probably have the majority of possession they are really well organised, I have to say. It's a 4-4-2, or at least they start very often in a 4-4-2, from time to time to change obviously to five at the back during the game but really well organised – very, very well drilled team and that's the problem you have so you need to be creative but to break them down is really tricky.
"They don't concede a lot of shots on target. That's one of the issues we have to find solutions for but that's exactly why we meet at Saturday afternoons – that we find solutions for these kind of things and it will be again, thank God then not for a while, but the last home game for a few days – for 10 days or so, or longer but it is a home game and I hope we really use that and enjoy that and create the right atmosphere because that will be essential.
"We need to be ready to lose balls in tricky moments against Southampton because of their organisation. Then, in an ideal world, you win them back immediately – if not, then you will face a counter attack or whatever but they are not only a counter attacking team, with the possession they do some smart stuff. Really active full-backs. Good footballing wingers who come more or less inside, play in the half spaces. Whoever will be the strikers but, all of them, good on the ball, a proper threat and that's it.
"It's a good football team I have to say but the Premier League is that strong that, even if you are good football team, you are not then in the top part of the table. You still have to fight for each point, but that's what Southampton is doing and so yeah we know about the job we have to do.
"And the big advantage they obviously have is that they didn't play midweek, we did. And we always said Wednesday-Saturday is not the best rhythm but it's the rhythm we have, so we need to be as as refreshed and as recovered as somehow possible and then be ready for a proper fight."
With Rangnick thought to be closing in on the interim role at Old Trafford, Klopp was asked about the influential thinker – who he is familiar with through his own coaching experiences in Germany.
"Usually, we don't talk about things that are not confirmed yet but if you tell me that will happen then I might believe you. Yeah, unfortunately a good coach is coming to England. So, that's how it is, to Manchester United.
"Ralf is obviously a really experienced manager. Built, most famously, two clubs from nowhere to proper threats and proper forces in Germany with Hoffenheim and Leipzig. Did a lot of different jobs in football but his first concern was always being a coach actually, being a manager and that's what his best skill is obviously.
"United will be organised on the pitch, I think we should realise that and that's obviously not good news for other teams. But, all coaches in the world, we need time to train with our teams, and Ralf will pretty quickly realise he has no time to train because they play all the time. So that makes it a bit tricker for him but, apart from that, a really good man and an outstanding coach – if it happens – will come to England."
Fan-led review
Klopp offered some thoughts on the current context of elements of English football after the publishing of the review earlier this week.
"In general, I like that these kind of things get reviewed. I heard this morning really, properly, about it. Not properly – I heard it's 170 pages, so I had no time to go through that yet but in general I understand the issue, I understand the desire to change something but I think there's a lot we could change to improve lower league or even Non-League football.
"Especially, I think, in the professional part English football is in a really good place. Incredible amount of talents coming out of the academies, really incredible amount of talents. We see it here but we see it at other clubs as well – the players get much better much earlier in comparison to the past. We had always an 18-year-old who was really a standout talent but now we have more of these kinds, so there's a lot of good work done but of course for grassroots or Non-League football there's for sure a lot to do or even for League One and League Two.
"I'm not too much in the subject but I can imagine there's a lot of help needed as well. Yeah but, how I said, I need a summary. I probably will not read the whole 170 pages but I only heard this morning about it."
No fresh injury concerns
The German was then asked if there was any progress with the fitness of ongoing absentees Joe Gomez, Naby Keïta, Curtis Jones, Harvey Elliott and Roberto Firmino. It seems little has changed on that front for now, but there are no new injury concerns either.
"That's it. There's nothing happened since. At least, my phone didn't ring this morning about any kind of issues. So, the players who were involved in the squad [for the] last game against Porto should be available again."