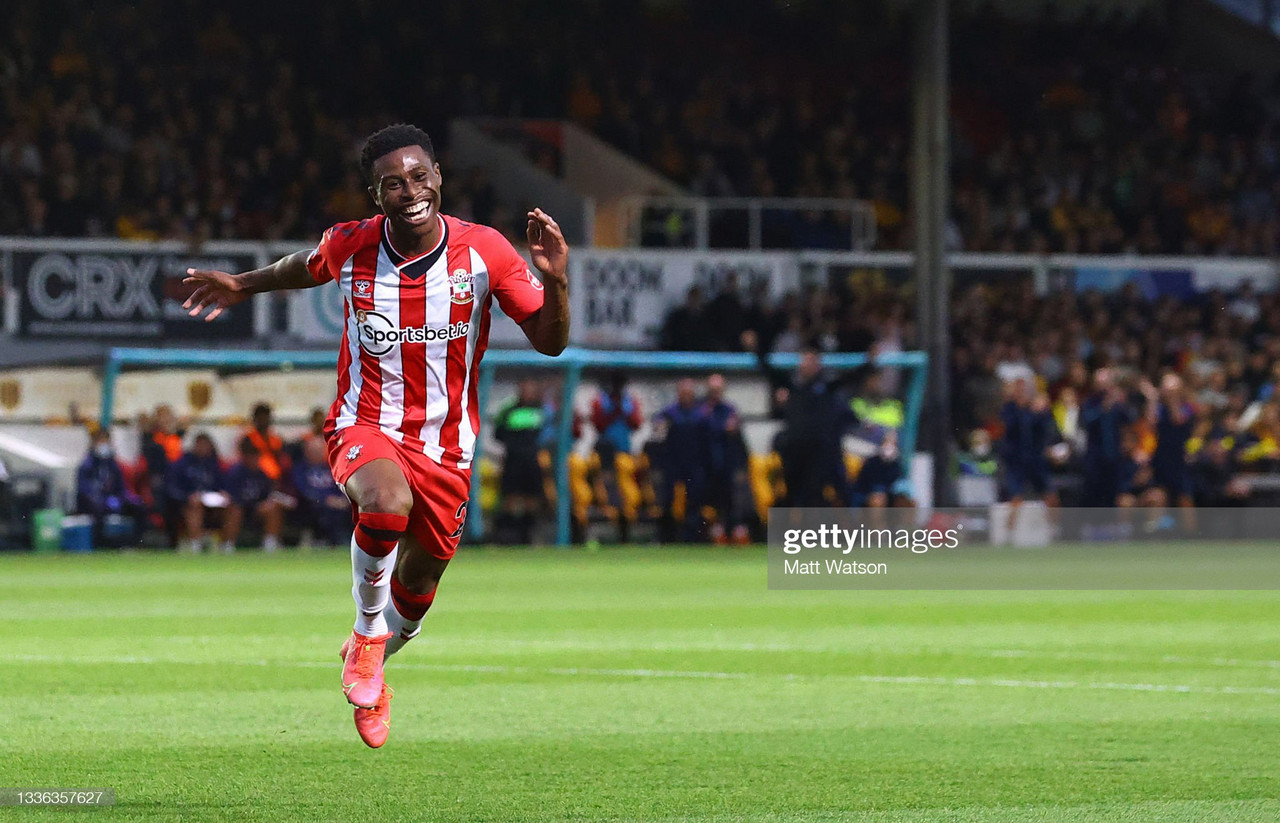 Tricky feet, electric pace and a creative gene, just some of the top class attributes possessed by Southampton forward Nathan Tella.
Tella was spotted at the age of six by Arsenal scout Brian Stapleton at Bedwell Rangers in Stevenage. Stapleton was in his earlier scouting days when he first stumbled across a six year old Tella, impressed with his pace and clinical finishing, even at that tender age.
"The first thing I spotted was that he was the quickest player on the field, he was rapid but took the ball with him," he said.
"He could finish as well, he was clinical, even at that age, we are talking about 7 years old.
"He was everywhere, he was like a little Theo Walcott on the pitch at the time. He was up and down and his work rate was unbelievable for a kid at that age."
Arsenal agony
Despite the 23-year-old's recent success, things have been all but easy going with some frustrating injuries halting progress in so many aspects of his early career. Being released from Arsenal's academy in March of 2017 is another set back the young forward has had to overcome.
Arsenal's U18 were bursting with talent at the time and Tella had the worst possible introduction to the season, he was let go in 2016, side-lined with injury and consequently lost his place in the U18 starting XI.
The North London club then informed Tella that they would not be offering him a professional deal when his scholarship expired at the end of the season, with The Gunners opting to give contracts to 'elite talents' at the time, including the likes of Reiss Nelson and Emile Smith-Rowe.
Arsenal wanted to avoid overcrowding the U23's set-up, hence taking the difficult decision to let Tella go.
"I couldn't believe it, Arsenal was all I knew from the age of 6 when I got scouted," Tella admitted.
"For me it was a bit of an embarrassment because I didn't know how I was going to tell all my friends and family that I was leaving Arsenal.
"It was tough because I didn't know what I wanted to do. Maybe stay at Arsenal, try force their hand and make another decision, or if I was to go out on trials."
"I spoke to my family, I spoke to my agent they said its best to go trials to see what I can do and get out of my comfort zone.
"I had trials at Reading, Norwich then ultimately Southampton and it's good now, I'm really enjoying it."
New beginnings
Tella joined the Southampton academy in 2017 after being released from Arsenal's Hale End, having been a part of the set up since he was seven.
Trials at Norwich and Reading followed before settling for his new home on the south coast, and beginning the next stage of his development under Radhi Jaidi, former Saints U23's manager.
Current first team boss, Ralph Hasenhuttl, then handed the winger his full first team debut vs Norwich in a convincing 3-0 victory over The Canaries in the Premier League.
Tella said: "He [Ralph Hasenhuttl] has helped me a lot, working under him has shown me how I should stand, how i should move the ball, different runs I should make.
"He is on to me about my finishing but i know that as well, as an attacker you've got to be able to do that.
"He's helped me a lot throughout the past 18 months getting me to where I am, he's given me the chance to play and make my debut against Norwich and my first Premier League start and I just want to keep working under him and enjoying working under him."
Being called 'Star boy'
'Star boy' is the nickname that forward has picked up since his arrival at St Mary's.
Claimed already as one of their own, the supporters at Southampton have taken to Tella, highly optimistic as to what he can achieve in those red and white stripes throughout the duration of his stay on the South Coast.
"I've always been an energetic young lad and I'm living the dream, playing in the Premier League with very good teammates, working under a very good coach and being able to play against world class opposition," he said.
"I'm the same as what I've been since I was six, enthusiastic, energetic, and just happy to be around.
"It honestly makes me happy. Of course, everyone's going to say being a footballer and saying having support makes them happy, they don't mean it but I actually mean it.
"I really am thankful to the fans for how they've welcomed me in and giving me the nickname the 'Star Boy' – and it's nice to have that but I know there's still so much to do, more to impress."
Playing for an in-form Saints
In recent months Southampton have had some fantastic results, beating Champions League contenders West Ham, winning 3-2 at the Tottenham Hotspur Stadium and getting a point away at a Manchester United.
Saints boss Ralph Hasenhuttl has got his side playing some fantastic football, currently ninth in the Premier League with safety all but confirmed and just five points off Wolves in eighth place.
If the Saints finished in the ninth place that they currently occupy, then it would mark their most successful campaign since the 16/17 season, when Claude Puel lead then to an eighth place finish.
This good run of form for Southampton means competition for places and now as Tella is just days away from returning to full training, it won't be as straight forward to get back into the starting XI at St Mary's.
"I want to play football, he said.
'"I know of course when the team's winning it's very hard for a manager to change it and I understand that. If I even get the opportunity to be in the squad and come off the bench I'll be happy.
"I don't want to ruin the dynamic of the team, they're all starting to click, you have to put the team first.
"The guys have been getting the results and I want to see how I can add to that, if it's me coming off the bench for 10 minutes or if I'm starting."
Tella added: "Whatever I'm in the team to do or I've been trusted to do, I've just got to perform and hope the run continues and I'm able to be a part of it.
"It's nice watching the team and the players do well, we're like a family here, we all want to do well but now, in a selfish aspect, I want to be involved and I want to play well and be celebrating with the fans in the stadium on the pitch.
"It's been tough being injured but I'm raring to go when I'm back."
Southampton's success so far this season have been achieved as a collective however one man has been grabbing the headlines, on loan from Chelsea striker Armando Broja.
Broja has joined the Saints on a season long loan and already has nine goals and an assist to his name across all competitions.
Tella recalled the moment it clicked, in his opinion, for his teammate in a Saints shirt.
"I remember speaking to him before the Newport game saying this is our chance, our chance to show something and then he's gone and scored the two and I've scored and since then, come on in leaps and bounds," he said.
"I think that was the bit of confidence he needed as I believe that was the first game he played in where the players were able to witness what he is actually about".
"He's looked a threat all season and it doesn't matter if he plays for five minutes or 90, you're going to be up for a tough time against him, defenders are going to have to bring their A game.
"You can see what he's done to many defenders, he's made them look silly."
"I think he's a very, very good player, he's talented, he's young and if he keeps going like this the sky's the limit he can probably do whatever he sets his mind to."
Many Southampton fans want to see this loan turned into a permanent transfer and, with the new ownership at St Mary's, many fans don't think that it's completely out of the question.
Tella admits it would be a big boost to have him beyond May.
"That would be great for the team," he said.
"It wouldn't be like he had to fit in again, straight away he knows what he's here to do, we know what he's about.
"It feels like he's settled, he would have had a full season here, he's got on with all the players, all the boys and if he stayed it would just add to the team."
"You can see when he plays he adds a lot to the side so of course if we got him on a permanent basis, I think it would add even more."
International football aspirations
Despite being born and raised in Stevenage, both of Tella's parents and the rest of his family are Nigerian so he is eligible to play for both Nigeria and England at international level.
When asked about his future in international football, without hesitation Southampton's number 23 expressed his desire to represent the Super Eagles.
Tella said: "I've grown up in England my whole life but I've always grown up in a Nigerian household.
For me, as much as England is my home, Nigeria is what has raised me.
"The way that I believe, the way that I act, I feel that's from a very Nigerian background so yeah, I would say that my future probably is with Nigeria."
He added: "It was a bit disappointing to see Nigeria go out [of AFCON] but I was giving [Mohammed] Salisu some stick because Ghana didn't get out of the group!
"It would be nice to go to that tournament one day and play for Nigeria. Right now, however, it is not on the cards for me.
"I've not spoken to anyone, I've not been called up, so my focus is on getting back fit, playing for Southampton and making a name for myself here."