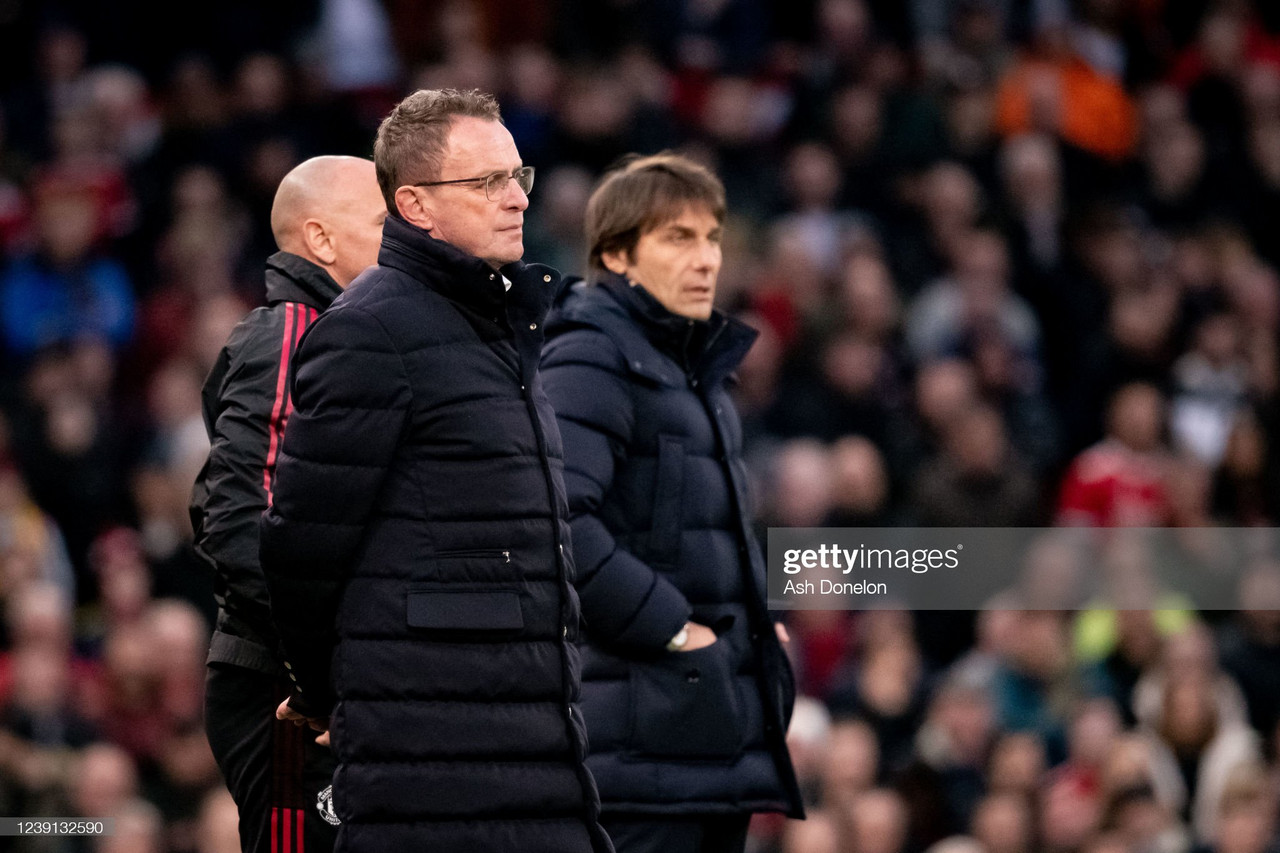 Ralf Rangnick has been level-headed and honest in his press conferences since he arrived at Old Trafford and Saturday evening was no different despite Cristiano Ronaldo's hat-trick.
The Portuguese forward was sensational against Spurs as he bagged the winning goal with a superb header past Hugo Lloris.
Rangnick praised his striker and described his performance as the best since he became interim boss in December.
"He made a difference, for sure, with his three goals but not only because of the three goals, it was the best performance from him since I arrived, on and off the ball.
"The whole team showed exactly the kind of reaction we expected to show after the poor second-half at the Etihad. Coming back after two equalisers showed also the mentality of the team today."
Ronaldo missed the Manchester derby last weekend due to a hip flexor injury and despite only training twice before the game against Spurs, Rangnick still started him.
Rangnick: Maybe we should send him to Portugal for the rest of the season
"We were just joking that maybe it makes sense to send him to Portugal for three days then have him not train for two days. He performed on a similar level in training on Thursday. Why I decided to start him.
"Maybe we do that for rest of the season," the German joked.
"Today he showed for sure he's physically capable to do that but we also have to admit it hasn't always been like that the past couple of weeks and months."
On Atletico on Tuesday
With the second leg of their UEFA Champions League Round of 16 tie with Atletico Madrid set for Tuesday evening, Rangnick highlighted Ronaldo's importance for the clash.
"Today, it was really important he showed exactly that, that he's in the physical shape for that kind of level and this is what we need for the next nine games in the Premier League but also on Tuesday against Atletico.
"It's a challenge with a player like Ronaldo, but he showed today that he still has the quality to play for a club like Manchester United. He also has the quality to be part of the team, and if we want to be successful at the end of the season that's what we need," Rangnick said.