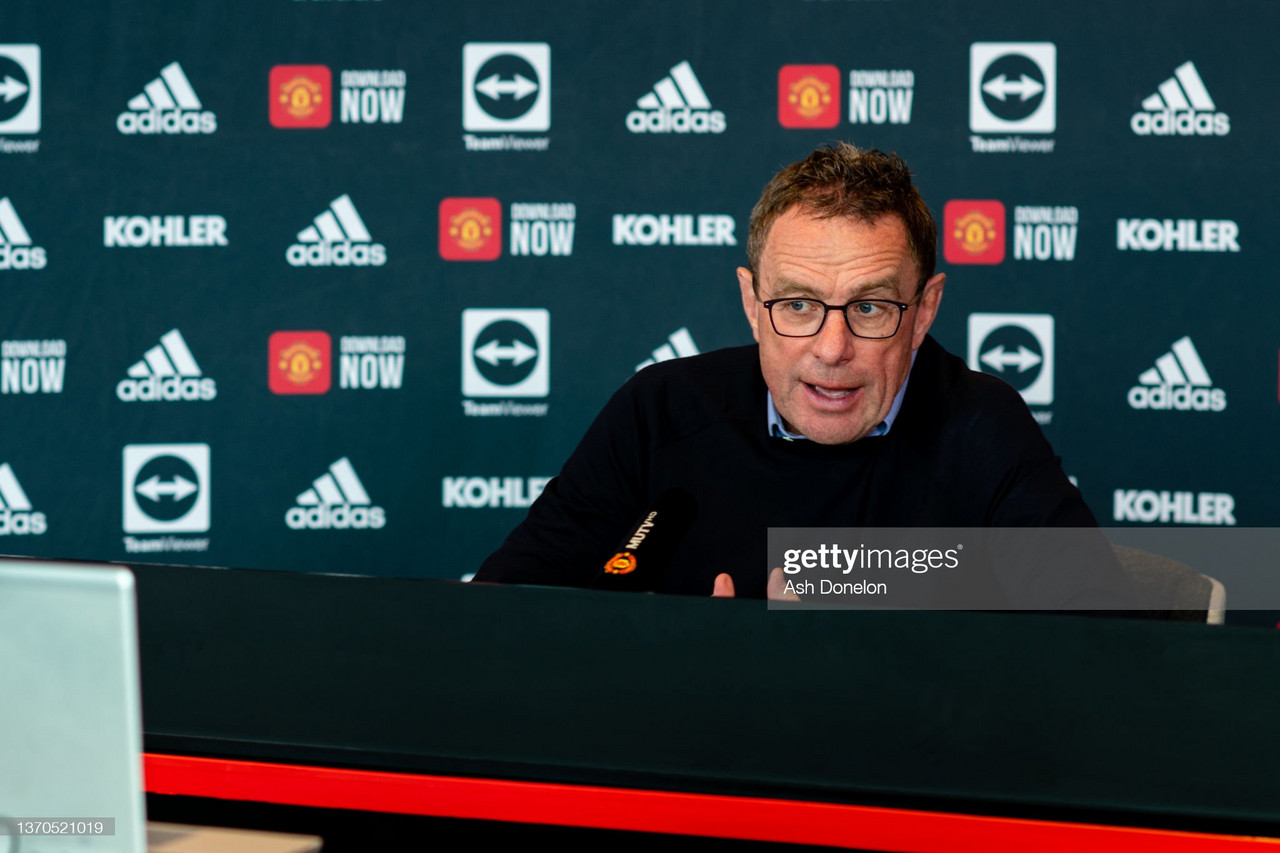 As Manchester United prepare to return to Champions League action on Wednesday, Ralf Rangnick spoke to the press ahead of his side's match against Atletico Madrid.
Although both sides are considered to be European giants, United and Atletico have come up against each other just twice in European competitions.
And The Red Devils didn't fare too well, with the Old Trafford outfit failing to win either of the games.
Both matches occurred in the UEFA European Cup Winners Cup in 1991. Atletico Madrid were 3-0 victors in the first leg, whilst United could only hold the Spanish side to a 1-1 draw in the second.
Both sides have endured underwhelming domestic seasons thus far, but the Champions League is an entirely different proposition and serves as an opportunity to make this season a successful one.
Here's what Rangnick had to say during Tuesday's press conference:
This will be the first time that United come up against Diego Simeone's side, but the Old Trafford faithful are no stranger to his qualities as a manager.
In a league dominated by Real Madrid and Barcelona, Simeone has picked up two La Liga titles and has been seconds away from lifting the Champions League trophy on a couple of occasions.
The Argentine is an emotional manager that gets the best out of his team, and Rangnick could only speak positively about his opposite number:
"In those 11 years he has won trophies with a clear identity and with a recognisable playing style, and I don't think this has changed in the last years.

"There is always an emotional side and this also reflects the character of the manager - Diego Simeone is probably one of the most emotional managers in Europe," he said.
"The style and the way that his teams have always performed reflects those emotions that he tries to bring into the team, and this is what it's all about. We need to match the levels of energy and emotions in both games and this is what we have to be aware of.

"I will try to prepare our team, my team, for exactly that kind of challenge. It will be physical, it will be emotional. We have to be mentally strong in both games, even more so when we play away," Simeone continued.
"We haven't played against each other as of yet but I have always admired what he has achieved. In 11 years with Atletico, I think he has changed that club completely into one of the most respected clubs in Europe. As I said, I am forwarding to the two games."
This will be the first knockout Champions League tie for United since Solskjaer's side were knocked out by Barcelona in 2019 after dramatically defeating PSG in the round before.
It has been a while since this group of players have prepared for such a match, but Rangnick knows that his team must perform to their best:
"In the Champions League, you need to perform at the highest level in all those areas that you have mentioned. We have made sure the players could recover in the last few days and maybe we will have some fresh legs on the pitch, we will see tomorrow.
"Mentally we need to prepare for a very emotional, if not hostile, atmosphere tomorrow. I don't think the game or the fixture will be decided tomorrow, it will be decided in the second leg at Old Trafford," he continued.
Confidence has grown from the last two results
Bruno Fernandes scored two goals and also assisted one in the last two outings, and he joined Rangnick in Thursday's press conference.
He was asked if the last two performances have built confidence within the dressing room, and the Portuguese was quick to point out that he feels the side have been performing well for longer than just the last two matches:
"I think the team has been playing well even in the games we didn't win. Obviously when you don't get the result, it's not perfect. Winning games, you feel more confident.
"Going into this game, which is an important one, obviously we know that having that confidence of winning games gives you something more to be prepared for the game. If we stick from the plan from the first to the last minute, we can win the game," Fernandes said.