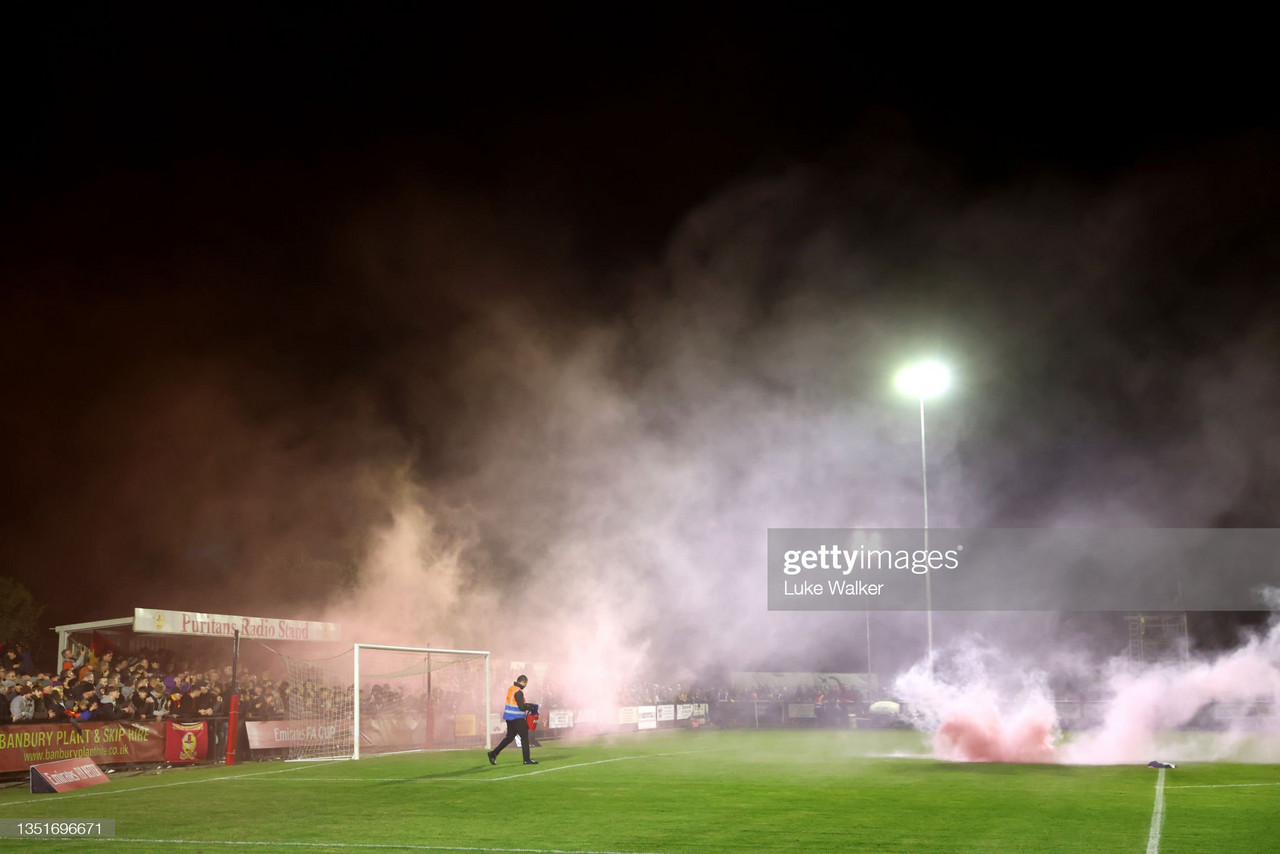 Banbury United were finally able to celebrate a successful season as promotion to the Vanarama National League North was confirmed with a 1-1 draw against Tamworth at The Banbury Plant Hire Community Stadium.
The Puritans may have thought they would have to wait to be crowned champions as Shaquille Whittingham opened the scoring for the visitors with a volley in the first half.
However, Jack Stevens had read the script of a fairytale league win at home as he slotted past Jas Singh in goal, that point being enough to crown Banbury as Southern Premier League Central champions.
No words pic.twitter.com/Y4Yn51N2AJ

— Banbury United FC (@BanburyUnitedFC) April 2, 2022
As always when a team from the midlands gets promoted into the National League North/South the debate instantly gets focussed on which league they will head into.
It looks almost certain that the Puritans will be in the Vanarama National League North next season, with King's Lynn Town being the only northern side in danger of the drop in the National League - three sides going down.
Banbury also sits more northern than two current National League North sides, Gloucester City look to be edging closer to securing their position in the league next season but there is still chance the other more southern team could get promoted. Banbury's local rivals Brackley Town sit joint top of the National League North with a game in hand over Gateshead.
Welcome 👋

See you next season, @BanburyUnitedFC https://t.co/hdOKgKgev7

— The National League (@TheVanaramaNL) April 2, 2022
Dominance turns into celebration
It has largely been a matter of "when not if" Banbury would get promoted this season, and they have finally got the title secured with four games left.
The Puritans are now twenty points ahead of second placed Coalville Town and with a close to impeccable record. Out of 36 games played, 28 of those have seen the Oxfordshire side claim three points with six draws and only two losses.
Those losses came to Redditch United and St Ives Town who both sit in the bottom half of the table. Banbury have been clinical in their big games this season doing the double over current play-off place holders Peterborough Sports, Rushall Olympic and AFC Rushden and Diamonds.
The only side currently sitting in the play-offs that the Puritans have not been able to do the double over is second placed Coalville, with the sides drawing 1-1 in Leicestershire in November before Banbury put three past the Ravens in the return fixture less than a month later.
Setting up some tasty clashes next season
Discounting a potential clash against Brackley Town who sit ten miles away, Banbury will have plenty of games to look forward to in the National League North next season.
The local derby if the Saints do get promoted will be Leamington, one station down on the station map. The two sides last faced off in the FA Cup Second Round Qualifying in 2020, Banbury pulling off a shock win at Your Co-op Community Stadium. There is history between the Brakes and Puritans with games going back into the 20th century between Banbury Spencer and Lockheed Leamington.
A game against Kettering Town will also get Banbury fans excited. The two haven't played each other since Kettering won promotion from the Southern League Premier Central and an Oxfordshire vs Northamptonshire game always excites.
The race for who joins them builds speed
One other team from the Southern Premier League Central will join the Puritans in the National League North and one of those sides has already booked their play-off spot.
Coalville Town are that club sitting second and will definitely get a chance to play for National League North football next season. The Ravens drew 0-0 with Hednesford Town today to secure their play-off spot.
The team sitting in third are Peterborough Sports. The Sports are currently six unbeaten and are twelve points clear of sixth placed Alvechurch meaning they only need a point from their last five games to book a play-off spot.
Rushall Olympic currently occupying fourth place are in a similar position to Sports. They are eleven points ahead of Alvechurch with four games left for both clubs meaning a point in any of the Pics' last four games would secure a play-off spot.
The battle for the last play-off spot is between AFC Rushden & Diamonds and Alvechurch. Diamonds currently sit in the better position, five points off the Church but have only won once in their last five. The Worcestershire challengers are unbeaten in their last six and have an outside chance of sneaking in.