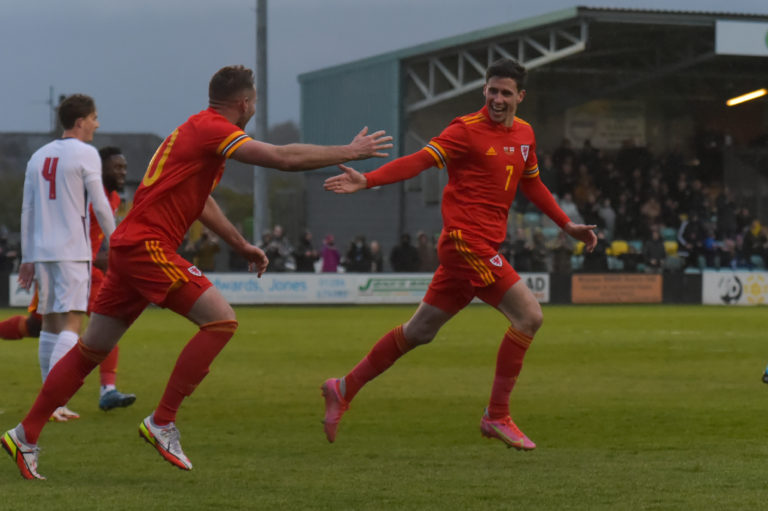 Caernarfon Town's Oval ground hosted this long-awaited International Challenge friendly between select squads comprising native players from the eligible divisions of Wales and England, the first such exhibition since before the pandemic unfolded.
Anybody plying their trade beneath the Football League was available for England, while their Welsh neighbours could delve as high as the Cymru Premier for their talent, with both groups ultimately granted the rarely-afforded opportunity of representing their country.
Despite some Wrexham and Stockport players withdrawing amid a congested domestic schedule and others pulling out through injury, the non-league Three Lions' manager Paul Fairclough nonetheless seemed to have a strong cohort at his disposal, especially as the parameters were expanded to incorporate all ages whereas previously it was restricted to only u23s.
In actuality, though, the team looked disjointed and lacking coherence as they sank to a hugely disappointing 4-0 defeat, with impressive duo Will Evans and Aeron Edwards each registering a brace during a first-half goal blitz that rendered the game irretrievable for the shell-shocked visitors.
It didn't take long for the excitement towards England C's first international fixture in three years to transcend into uncomfortable frustration, despite Notts County's Cal Roberts showing promise early on as drifted beyond Dion Donohue before testing keeper Alex Ramsay from a tight angle.
This proved a false omen, though, because the hosts swiftly took the lead with their first shot of the evening. A brilliant one it was too, as striker Will Evans trapped a long ball on the turn superbly before rifling into the far corner with similarly outstanding precision.
England's response, albeit very temporary, came through the predictable source of Roberts. Once again his trickery outwitted Donohue but the run was derailed by what he perceived as a blatant foul, however the referee didn't concur.
The moment became even more significant when their deficit was duly extended due to catastrophically poor defending all round, with Ash Palmer making an uncharacteristic error as his slightly misguided pass sold Will Wright short enroute to 34 year-old Aeron Edwards pinching the loose ball and curling underneath Loach.
Having whet his appetite, the above-mentioned Connah's Quay man then doubled his individual tally just six minutes later by once again profiting from some generous defending. Evans held off his namesake Wright, engineering enough space to put Lewis Harling through on the overlap. He squared low and there was Edwards to tap home at the near post.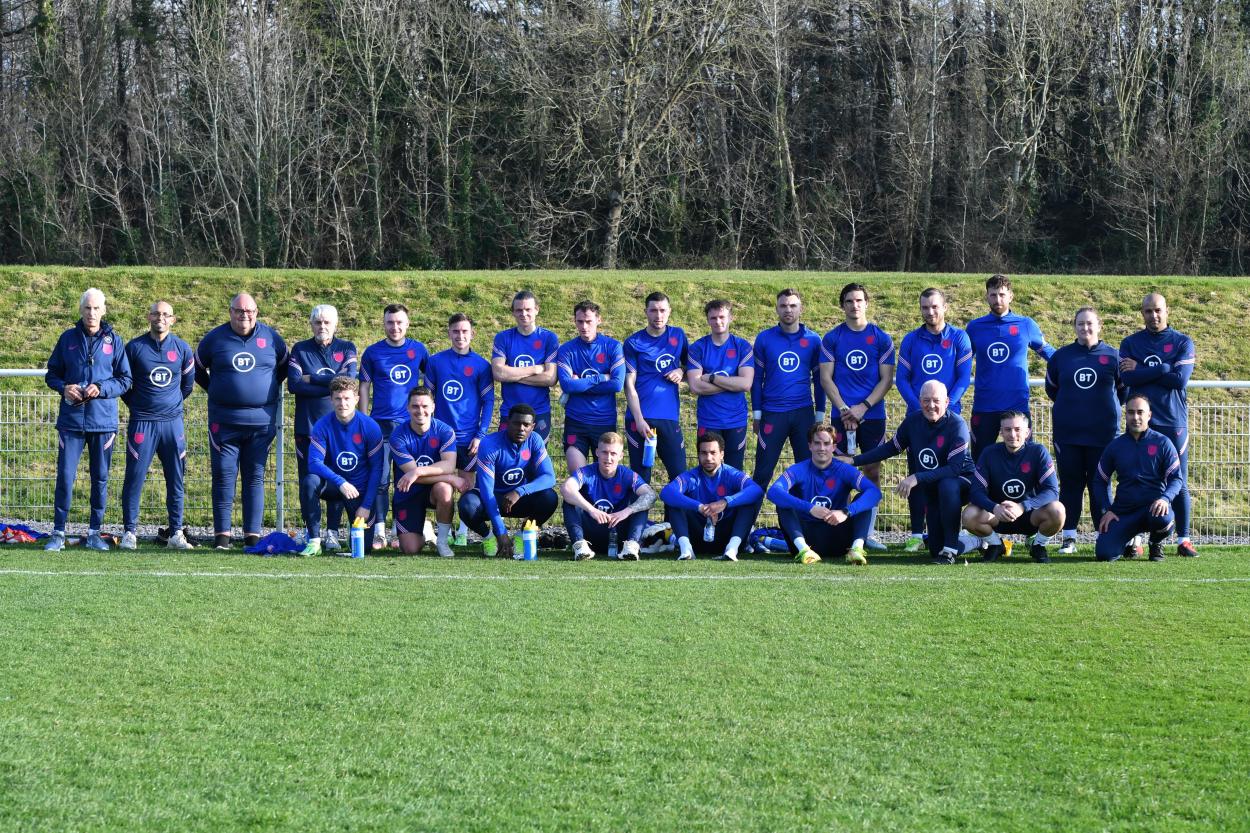 It was a massively disappointing night for England's non-league representatives, though they will rightfully still take pride from pulling on the Three Lions shirt. (Image: @ChwaraeonBangorSport)
That made it 3-0 after not even half an hour, and the Dragons were in no mood to relent as they continued to go in for the kill. Emlyn Lewis nearly made things even worse when he was found unmarked at the far post after managing to get the wrong side of Wright from an inswinging free-kick, but bundled narrowly wide.
Respite lasted barely thirty seconds, with the non-league Three Lions relinquishing possession straight away at the cost of a throw-in. Mael Davies launched it into the danger zone and what happened next was simply superb, Evans demonstrating exceptional close control within a congested area to turn and fire a beauty in off the left-hand post.
The away side couldn't get down the tunnel quickly enough when the half-time whistle eventually reverberated around the Oval, against a backdrop of rapturous applause from the predominantly Welsh crowd, signifying the end of a surreal 45 minute period.
It wouldn't be nearly as exciting when the contest recommenced, although the National League players were vastly improved in comparison to the very low bar they'd set. Michael Cheek spurned two opportunities inside a minute, first being denied from a tight angle by Ramsay after a long ball penetrated the Dragons' backline.
From the ensuing corner, Cheek was supplied again and, despite beating the keeper this time, was left dismayed by a last-ditch clearance on the line. It was the closest they would ultimately come to a consolation.
Fairclough shuffled the pack around the hour mark by bringing on Ryan Boot, Joe Sbarra and Ephron Mason-Clark for Scott Loach, Liam Mandeville and Michael Cheek respectively. Lewis Baines and Matt Palmer would also join the action a short while later.
There wasn't much action thereafter and 4-0 is how it ended, though the result won't lessen the players' justifiable and thoroughly-deserved pride at pulling on the fabled white jersey.
Meanwhile, all credit to Wales for commendably representing the Cymru Premier with a superb all-round performance characterised by organisation, a ferocious work rate and quality.
Relive the action below:
WALES C: Alex Ramsay, Kane Owen, Dion Donohue, Emlyn Lewis, Danny Davies, Mael Davies (Jake Thomas 71'), Aeron Edwards (Darren Thomas 80'), Clayton Green, Lewis Harling (Tom Price 85'), Will Evans (Nathan Wood 85'), Kayne McLaggon (Leo Smith 89')
ENGLAND C: Scott Loach (Ryan Boot 58'), Sam Beard, Ash Palmer, Will Wright (Lewis Baines 75'), Ben Wynter, Armani Little (Matt Palmer 74'), Matt Robinson, Liam Mandeville (Joe Sbarra 58'), Billy Waters, Michael Cheek (Ephron Mason-Clark 58'), Callum Roberts
Referee: Tim Marshall | Attendance: 1402
Will Evans (Wales C) | There were many candidates for this accolade but it had to go to one of the goalscorers, and in the end the quality of Evans' swung it. Two exceptional left-footed finishes that wouldn't look out of place in any international category.