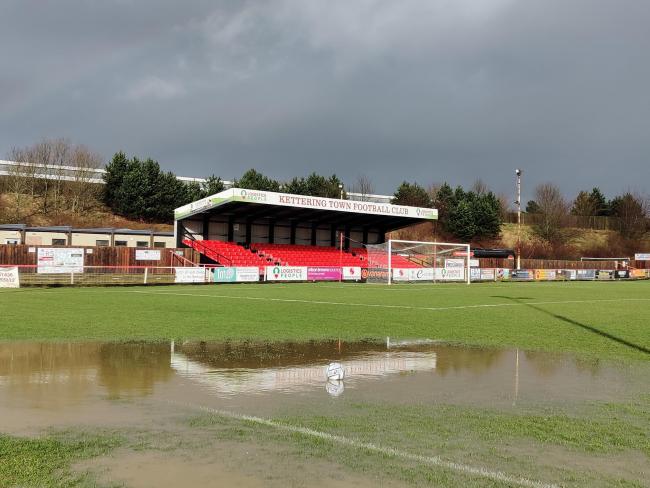 11th placed Kettering Town have recently regained momentum in National League North, and an important victory over Southport at the weekend has kept their playoff hopes alive. A Decarey Sheriff penalty just after the hour mark was all that separated the two sides and The Poppies will now look to come out on top in an equally big test.
They face York City, who, on Saturday were denied a place in the FA Trophy final at Wembley. The Minstermen travelled down to Bromley and dominated the National League side in the first half, scoring early on through Kurt Willoughby. However, three goals in the last half hour flattered The Ravens and sent York back home, with the league to concentrate on again.
Kettering Town are almost at full strength, as they continue their search for a playoff place, which they are just three points adrift of.
Captain Connor Kennedy will be back in contention after returning from suspension but it's not at all surprising when he is shown red, given his history.
A few players are carrying a knock going into the York game, most notably attacker Jordan Crawford. However, everyone should be match fit and ready to play.
Also pretty much unscathed are the visitors, York City, who look to gain the high ground on upcoming opponents Chorley and steal their fifth place spot.
Some amazing news for The Minstermen is that classy defender Josh King has recently returned to training following a long term injury which has kept him out for several month.
He is very unlikely to be included in the squad, and the on-loan AJ Greaves definitely will not be playing again this season, also with a broken leg.
Things keep getting better for City fans, as it was announced earlier this week that new signing Maziar Kouhyar is set to make his long awaited debut after joining from Hereford.
Kettering Town: J.Smith Barrett, Brown, Johnson, C.Smith, Stead, Stohrer, Sharpe, Kennedy (C), Crawford, Daly
York City: Jameson; Duckworth, Kouogun, Brown (C), Barrow; McLaughlin, Hancox, Wright; Kouhyar, Donaldson, Dyson
Jordon Crawford
Signed during the 'behind closed doors' season by previous manager Paul Cox, Jordon Crawford has been one of the key players for The Poppies, scoring six goals so far this season.
Crawford has impressed at lower levels before, his goalscoring exploits catching the eye at Corby Town. However, the striker has failed to net since late February and is looking to end his goal drought in a huge game this Tuesday.
Maziar Kouhyar
After signing from Hereford last month, York City fans will finally get to see Maziar Kouhyar make his debut, after it was delayed by international duties and ineligibility in the FA Trophy.
Deemed "the best player in the league," the Afghan midfielder has already scored five times for Hereford in 30 appearances this campaign. Manager John Askey will be hoping his newest recruit can now help fire The Minstermen back into the National League, starting on Tuesday night against Kettering.
It was York City manager John Askey's first match in charge last time these two sides faced off, but Askey couldn't start his tenure with a much-needed three points.
Captain Connor Kennedy gave The Poppies the lead after just five minutes, taking advantage of some poor York defending and sending a driven shot past Pete Jameson to set the tone.
Four minutes before the half hour mark, The Minstermen again struggled to clear the ball out of danger and payed the price as Gerry McDonagh struck Kettering's second from the edge of the box.
Sean Newton did manage to pull a goal back from the penalty spot one minute later to halve the deficit, but unfortunately for York City, it was another defeat.
Tickets and admission are available on the day for the following reduced prices (due to the inconvenience caused by the original postponed game):
Adults: £10
Concessions (Over 60's and students): £6
Youth (Under 18): £1
Other than watching the game live at Latimer Park, there will be no livestream, but commentary is available from BBC Radio York.
Kickoff is at 19:45 GMT.
Both clubs will be providing live updates through their social media channels.