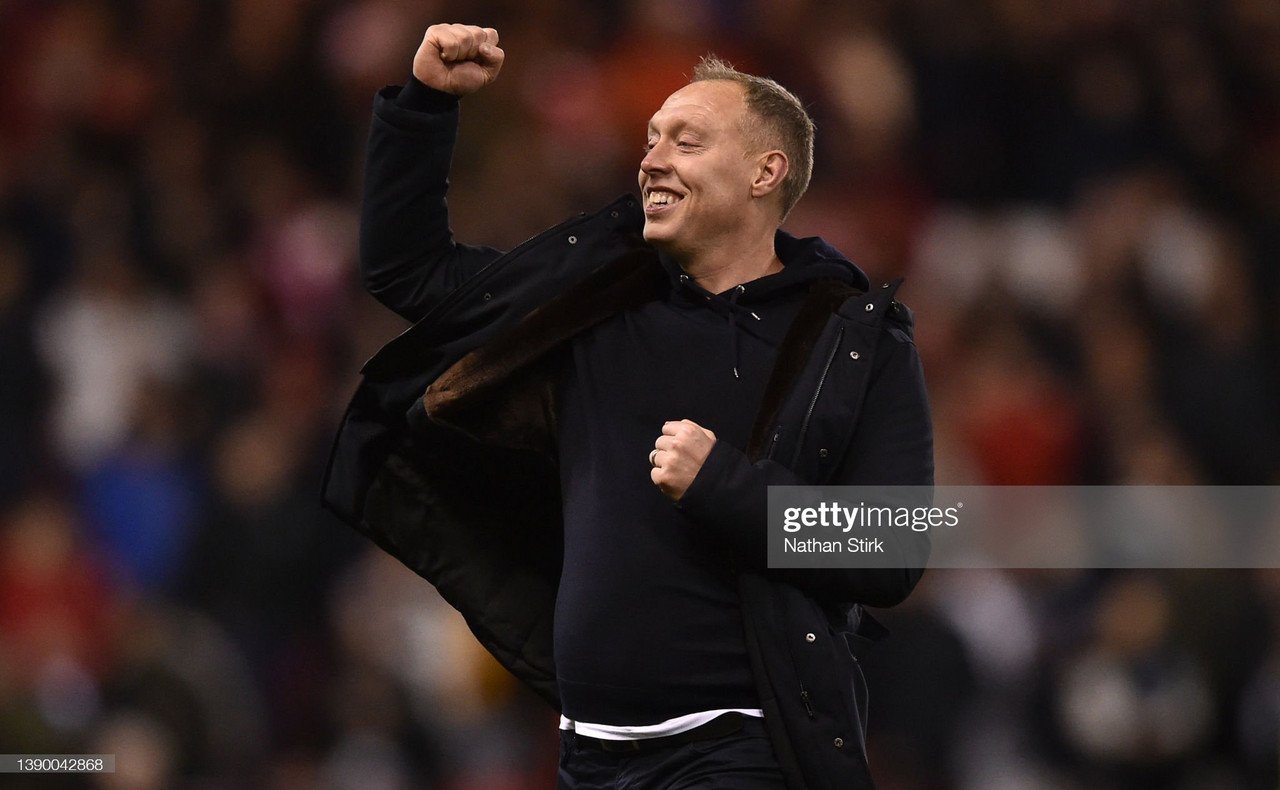 Nottingham Forest head coach Steve Cooper has stressed the importance of staying grounded after the Reds climbed into the Championship play-off places with a 2-0 victory over Coventry City at the City Ground.
Brennan Johnson netted his 14th goal of the season in the first half before James Garner sealed the victory late into the second period.
Forest's fourth win in a row takes them into fifth place in the table, with the Reds hoping that they can use their two games in hand to firmly cement their place in the top six.
And Cooper explained that his side need to just take it one game at a time.
"What is important at this stage of the season is that we don't get too caught up in the results," said Cooper.
"Of course, we want to win, and that is the most important thing, but we need to focus even more on how we play because, in the end, that is how we will win games, so we cannot think too much about the league position going into games.
"We just have to think about being ready for the next game and committing to it with hopefully the right plan to go and deliver it.
"We have eight games left and where you end up after 46 [games] is the important one, so I am just really pleased that we have won tonight and I knew that it was going to be a tough game and it was, but in my head, we have Birmingham on Saturday who have had a free week and had a good win against West Brom last week.
"We have two days to go until we get going and we have to be 100 per cent ready.
"It is easy because the players know that the most important thing is getting back to the training ground and going through their recovery or training depending on their individual statuses and do the best they can – all eyes will be on trying to get more positive results."
A challenging but comfortable win
Forest were sloppy in possession at times, but they were relentless in pressing the ball and winning it back as quickly as possible.
Cooper believes it was a difficult affair for his side.
"It was a really important win and that is the main headline," he added. "It was a challenging game tactically with the way they set up and that box in midfield really does test you positionally and we were aware of it.
"We're a rival but I do have a lot of respect for how they play, and I know they have stuck to it over the last few years as well with Mark [Robbins] and Adi [Viveash].
"We had to be positionally right which we were, but we turned the ball over too much in the first half and we didn't make enough passes and tended to take too many touches and because of that, we didn't get the fluidity in the game because when we did do that we got into good positions.
"The goals were excellent with Keinan [Daivs] playing in Jack [Colback] and Jack flashing it across for Brennan and he does excellently and in a manic sort of moment, he shows great composure.
"I thought we did it fairly better in the second half, and we created enough chances to get the second goal and then saw it out.
"It was a challenging game that was fairly comfortable, and I thought we could have managed the last six or seven minutes better because I thought we made some rash decisions, but I am always going to want more.
"But it was an important win with some really good bits but some bits we need to address as well."
Cooper pleased with the defensive application
Overall, it was a solid display from the back three, who limited the Sky Blues' attacks.
After losing Steve Cook to injury, Tobias Figueiredo stepped into the backline well, making five clearances and two blocks.
Brice Samba also contributed to the clean sheet and made some good saves after being picked ahead of Ethan Horvath again.
Cooper praised the defensive performance and Figueiredo's attitude, as well as stating why he kept his number one the same.
He added: "I would say that even though they got into some good positions, the saves that Brice had to make were comfortable ones and, in the end, our back three, with the support of the midfielders and the wingbacks, did really well with the defensive part of the game but maybe we just let them get in there too much.
"I thought the back three were excellent on the ball and really good off it. With a clean sheet and two goals at home; there are lots of positives, but I am always going to want more.
"Toby is an excellent professional; nobody's happy not being in the team but how you respond to that is the bit that can test people and if there is a way of responding to not being in the team then Toby has done it.
"He comes in on days off, works hard, and is one of the last out of the building every day and when he is ready to be called upon, he has been ready to play and fair play to him.
"Tobias was excellent, and he hadn't done anything wrong before, we just made the change, and you stick with the team, and it is similar to the goalkeeper situation.
"[Samba's inclusion was] just on momentum really. I thought he played good at the weekend, and he had good fluidity against Blackpool, and it was a great result and we just needed to keep going with it."
On Colback's attacking qualities
Colback was superb on the left-hand side, as he helped create the opening goal by getting on the end of Davis' pass before drilling the ball to the back post for Johnson to tap in.
When asked if he had given the wingback more attacking freedom, Cooper answered: "No, not really; everyone has the license to get forward really with the way that we play, it is just about making the right decisions.
"Jack is a really good footballer, and he loves playing in midfield and he does an excellent job at left wing-back.
"Jack is experienced and really has the knowhow to work the game out and that is what we love about him and that adds value to the younger lads as well with that information, so I am pleased with Jack again."