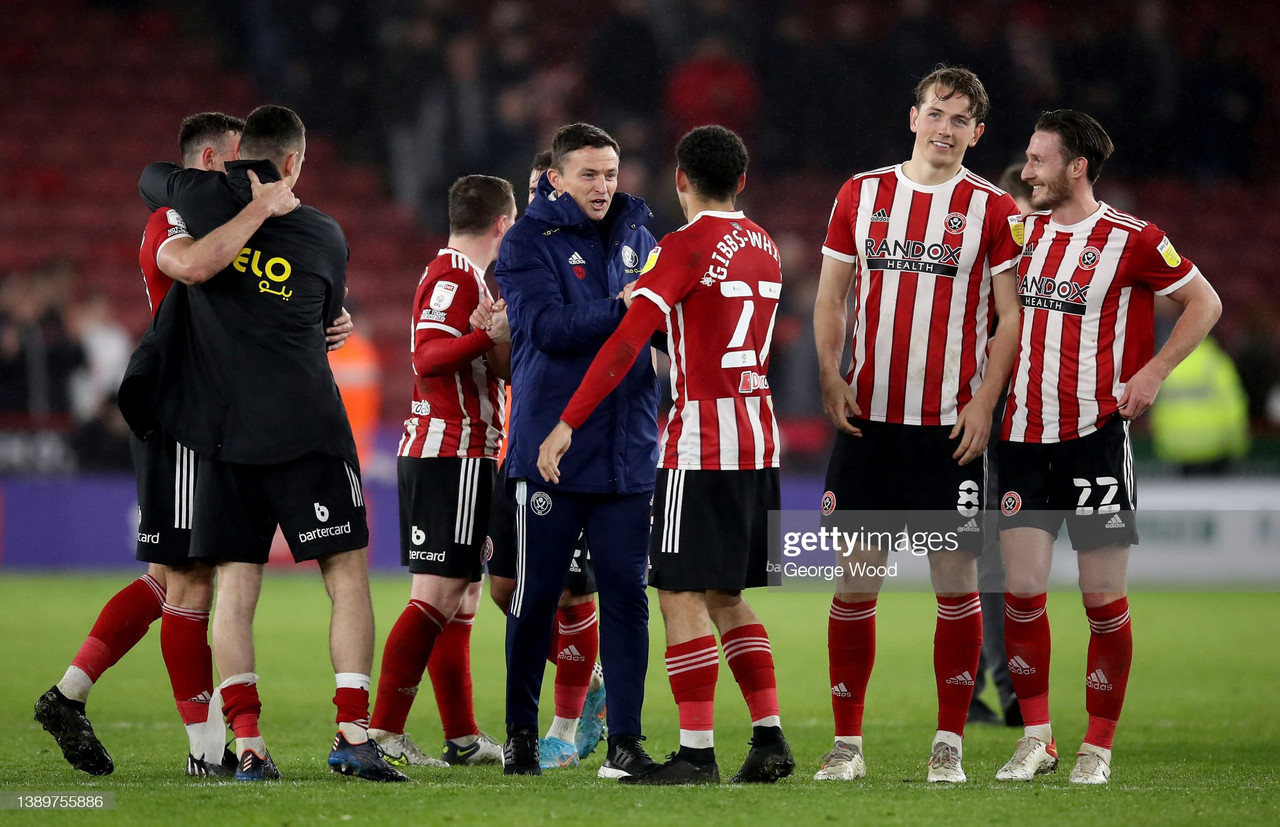 Sheffield United manager Paul Heckingbottom was delighted with the three points and a clean sheet as the Blades pulled themselves back into the Championship play-offs with a 1-0 victory over Queens Park Rangers.
United had a fast start that was rewarded with an Oliver Norwood ninth-minute effort which in the end was enough for the hosts.
QPR held 67.4 per cent of the possession in the final 15 minutes of the game; however, the Blades stood firm and saw out the victory to bounce back from Saturday's defeat to Stoke City and keep their 17th clean sheet of the season - the most in the division.
Heckingbottom stated: "[The clean sheet] feels good because it is something we put a lot of emphasis on not just last season when I took over but those foundations because I thought we played well, and we were good value for the one-nil.
"Clean sheets are important, and we have spoken about attacking play and wanting to create chances and play forward and risk possession to make things happen and it is still the same, but a clean sheet guarantees you a point and the attacking intent guarantees you nothing.
"We want to be strong at both ends and as I said, you don't know at what stage of the game against an opponent that you are going to need that solidity.
"Although I have said that we were strong today, against a strong side you're going to have to stand firm and we relied on that at the end.
"Any win when you're playing teams around you is big and it gets even bigger when you get to this business end of the season and with what's at stake and I was pleased with lots of things I saw there.
"We got into some really good positions as the game went on and started the second half brightly, but my only criticism is that we didn't create enough chances off the back of the good play.
"We had the ball higher and being in and around QPR's box and when that happens with only having one goal in it, you know that at some point you're going to have to weather the storm.
"Teams are going to put bodies on the pitch and go forward more and unless we had capitalised on one of those breaks that we had then the game would have been a lot simpler, but the fact it wasn't, meant we had to rely on that work and defensive solidity and there were lots of examples of it from players in different areas."
Croatian defender Filip Uremović made his first start in red and white on Tuesday night after arriving at S2 on a short-term basis from Rubin Kazan.
Uremović made two interceptions and put in a steady performance before being forced off with cramp on 62 minutes, as he got a feel of Championship football; something that Heckingbottom stressed as their approach to bed him in.
He added: "I watched two games yesterday and he was playing against [Kylian] Mbappe and players like that and playing against direct opponents for Croatia, so he has played against players, who you'll never see play in the Championship, so he has been there and played at a good level and was captain of a good club at 25.
"He has that experience and those mental qualities, but what he's not got is the experience of the Championship and that is what I have been speaking to him about and today I saw things in his game that with tiny adjustments, he can adapt to this league and with how we want to play in this league.
"There's a slower nature with the Russian League and, again, I would have been guessing that before I watched games there but it is a lot slower and there's an emphasis on possession where if you cannot see a forward pass then your first touch is generally backwards which means you're always going to pass backwards; in this league, if that first touch is backwards then you're inviting a press.
"He was cramping. Whilst aerobically he is very good, and we have had him in training the last few days, it was his first game in a month, so we half expected it and the emotion of it as it was his debut in front of 26-27,000 here at a potential Premier League place, so there was a lot on it personally too."
Oli Norwood's man-of-the-match display…
Norwood put in a virtuoso display to lead the Blades to victory, as the match-winner netted his first goal in two years with a beautiful side-footed effort that was drilled through a crowd of bodies and past Keiren Westwood.
He also made one key pass, won two aerial duels, made the most passes and took the most touches of the ball in the United side.
Heckingbottom explained the reason why his re-introduction has been slightly off course.
"He has had some bad luck and he would have been starting at the weekend if it wasn't for a thigh strain," he said.
"He has had these moments where he has been battling through and making himself available on the bench and he was actually throwing up with a stomach bug today but if he declared himself fit, he was going to start, and I'd get out of him what I could – he managed to keep some food down around pre-match time.
"In terms of his performance, I thought he was excellent in leading the line and being a target and I was pleased for him.
"He has certainly been working hard and we have laid out what it is going to take from him to get there, but he missed opportunities due to different reasons and today, he was adamant that there was nothing to stop him today.
"He is a good footballer and I know him well, so I have had some honest conversations with him about it, but I am a fan, and it is alright me being a fan and talking a good game, but you are judged on your actions, and he has to deliver.
"He wanted to play, and he has put in a performance that has helped deliver three points today, so I am pleased with him and for him."