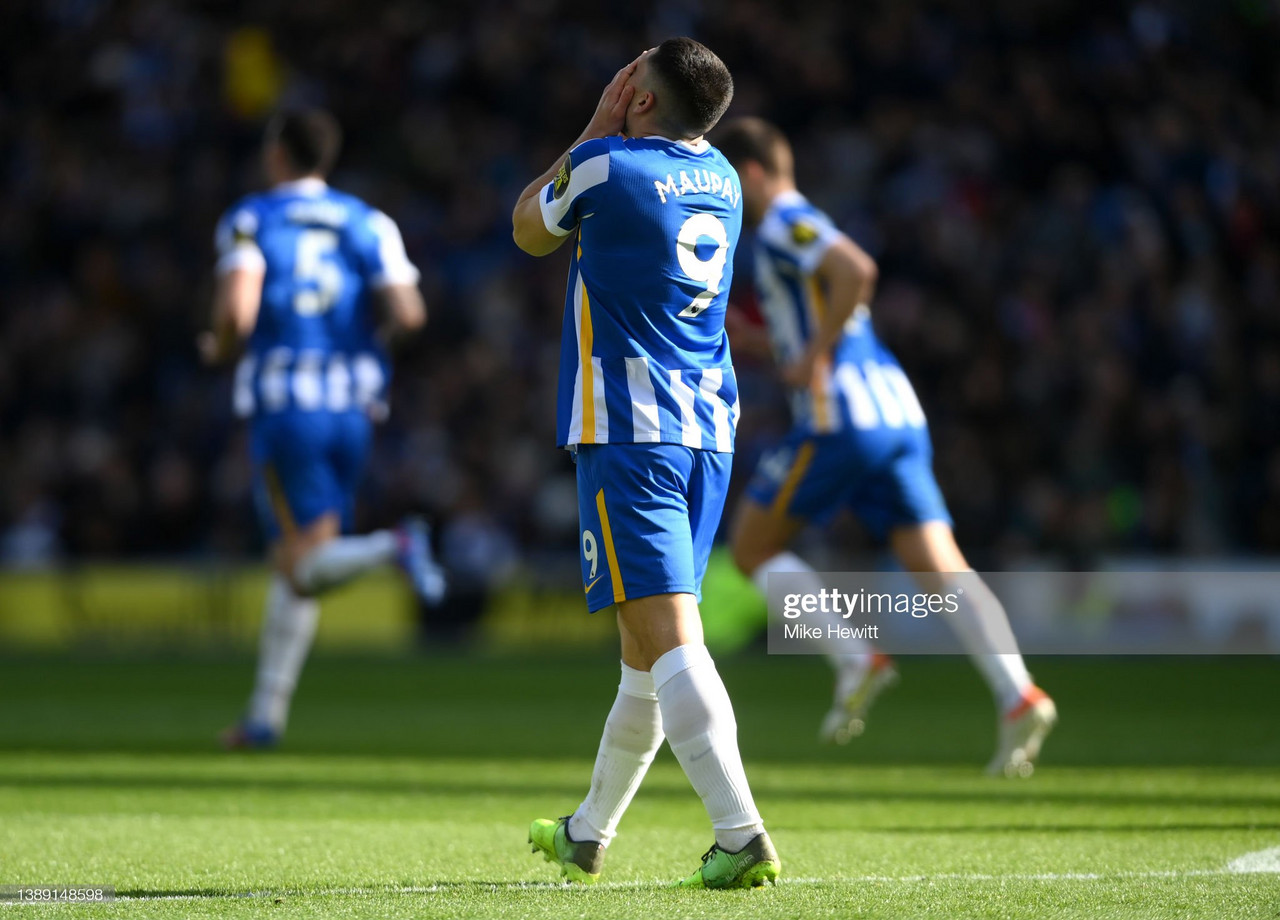 As the A27 meanders through the Sussex slopes it waves to its largest arena. Flapping in fifth as the season moved deeper into October, Brighton & Hove Albion's campaign has slid down the bannister, and slammed clumsily on the hard floor. Maybe they were just overachieving. Maybe they should have acquired a striker. Maybe Dan Burn truly was the finest centre-halve to ever wear the blue and white.
For followers of Brighton this will be no shocking state of affairs, no surprise to weary eyes. 'Just another year'. A comparable parable, for there is never time to recline at the AMEX Stadium when every ending is this maddening. With all having aged significantly since their last victory on both home and away soil it has infused a period of lingering malaise: seats unfilled, mood sour; a once laudable start has paved the way for persistent defeat. Graham Potter starts to feel the heat.
It has been 55 days since Brighton last won a game of football. Since that chilly afternoon in north-west London the Seagulls have played seven times: six defeats, one draw. Not great. Especially when this stretch has spawned just the single Brighton goal, that coming off the noggin of Lewis Dunk. In front of him the fruitless Neal Maupay has scored once in his previous 13 Premier League matches, further underlining the discernible need for a fresh forward. Nothing new, here…
But this recent skid goes further than the supplication made by a dissipating crowd for a different face to augment the attack. As a new dawn rose over the AMEX in August it brought a crackling to the air, a buzz between the bodies. An energy in the stands that was matched on the luscious lawn, it would witness an early triumph over Leicester City, a draw with Arsenal. Soon the wins became draws, and the draws became losses.
Currently Brighton stand with their knees quivering in 13th position, ten points outside the relegation places, propped up only by their joint-league high thirteen draws. Only Crystal Palace have shared the spoils on as many occasions, yet still one victory for the imperturbable Potter could see his moribund side climb as high as 9th. Next they travel to Arsenal, then they revisit Tottenham Hotspur, then they journey to Manchester City. Imminent success seems a distant dream.
When the sun's beams shone with a fiery fierceness at the opening of the season so too did Yves Bissouma, Pascal Groß, Leandro Trossard ... and even Maupay. The latter was ravenous, chasing after every ball with vicious intent that earned the Frenchman four goals in his first six league outings. It would take the forward a further fourteen games to double that tally, and still, seven games on, we await a change.
A severe shortage in the creativity department has catered for this period of stasis and the reduction of rippled nets. The once ubiquitous Bissouma is now a shadow of his former self as he ghosts without purpose, without presence in a midfield that relied on his irrepressible prowess. Perhaps distracted from issues unrelating to football the midfielder's retrograde flow has had an observable effect on those around him.
Idle to the core, this impotence in attack has placed pressure on a defence now devoid of Burn. Sold to Newcastle for £13 million, the towering defender had, albeit somewhat amusingly, reinforced a shaky backline that was still staring at a Ben White-shaped hole. Although sold for the heftier sum of £50 million the salient fact is Brighton have lost two of their best defenders and, despite the imperative issue lying in their dormant offense, it has helped assist this destabilisation.
And so, too, has the departure of the indefatigably working Dan Ashworth who joined Burn in the north-east. Despite only peering through a shiny office window Ashworth had quietly instilled prosperity for many on the south coast with his shrewd, fastidious transfer formula and adept eye for the future. Just have a gander at Tariq Lamptey and White - the royalty in Ashworth's game of chess. Develop until they are worth a fortune. And repeat whilst staying in the top-flight.
There is still time for Potter to work his magic. For Maupay to find the net. For smiles to return to the AMEX. Barring a calamitous change of fortune Brighton will still be a Premier League side come August but, until they re-discover the cog in the heart of their machine, and until they purchase a proven poacher, then this team will need to harness all the spirit of its proud vocalists to ensure the club continues to climb in the right direction.