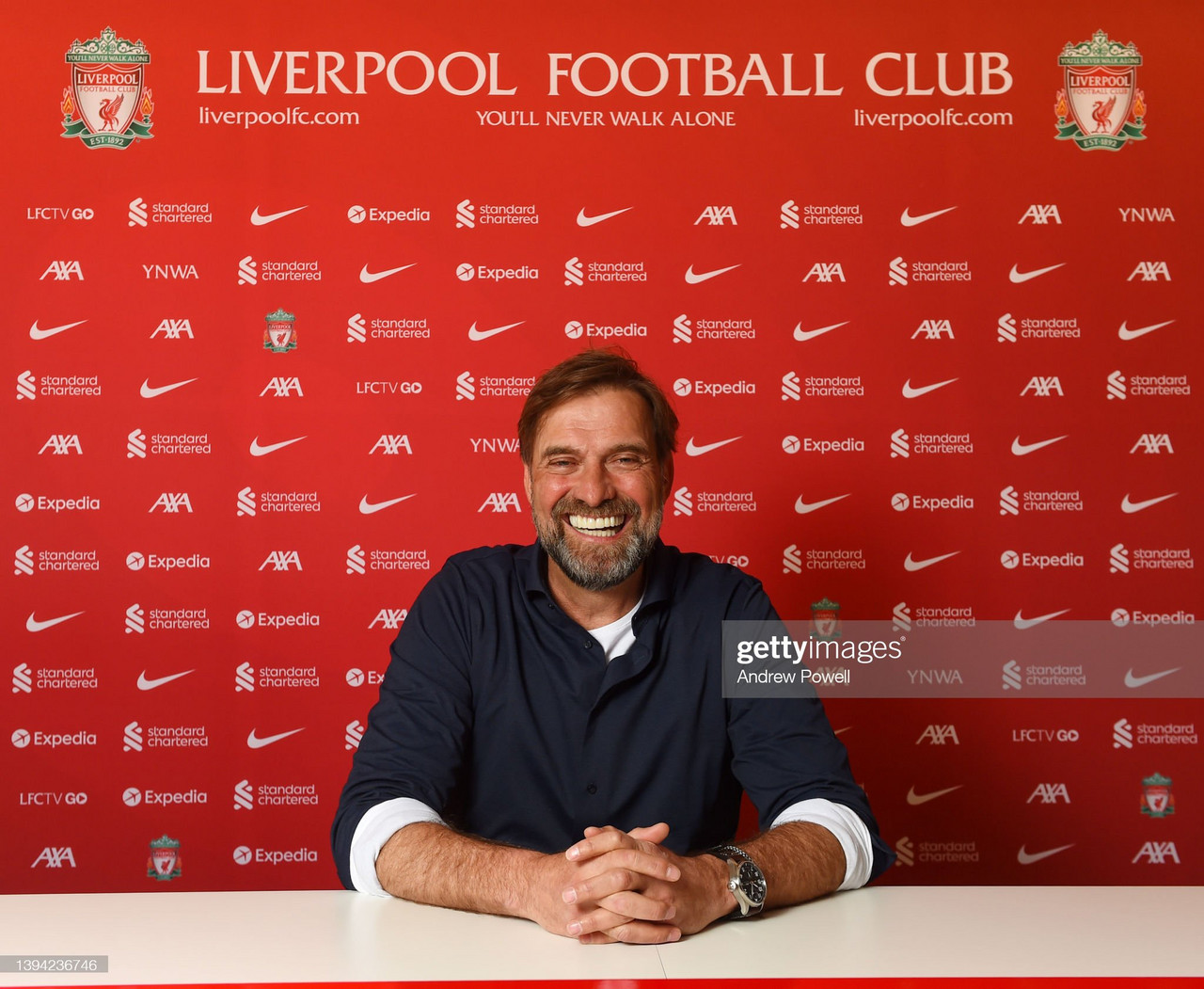 Klopp's reign at Liverpool looked increasingly likely to reach an end in the summer of 2024, but Thursday saw the German extend his stay at Anfield for an additional two years.
Eddie Howe's inform Newcastle side will welcome Liverpool to St James' Park on Saturday lunchtime in a game that could prove to be a tough test for the Reds as they continue to chase down Manchester City to the Premier League title.
The Liverpool Boss was asked about his decision to stay on Merseyside as well as talking about Newcastle United, Mohammed Salah and providing the latest team news ahead of their trip to Tyneside.
Liverpool defeated Newcastle 3-1 at Anfield back in December courtesy of goals from Diogo Jota, Mohammed Salah and Trent Alexander-Arnold after Jonjo Shelvey opened the scoring for the Magpies.
He's here to stay!
Regarding his decision to stay at Anfield, Klopp expressed his love for the club and the city as he explained why he felt it was right to extend his reign as Liverpool boss.
He said: "For me – Liverpool at this moment in time, the place to be. This club offers a lot – we are building a new stand, it's a sign that we never stop trying to develop. We have a team in the best age group. We never stop developing.
"We are in a very positive mood as a family. And also with the coaches as well – it is a great decision for us. We really love being here and we want the club to be as successful for as long as possible, if not forever.
"It makes sense from both sides, and it makes sense to do it now. It's good for transfer windows as well. We can't guarantee success, but we can guarantee stability."
Klopp's contract wasn't the only extension that has been circulating around the club with the Liverpool faithful eager to see duo Mohammed Salah and Sadio Mane agree new contracts.
Klopp addressed the situation briefly in this morning's press conference.
He stated: "That's more of a question for the boys, to be honest. But it's all fine, I really think they are both great. I have a great relationship with both boys."
Saturday's opponents
Klopp was full of praise for Saturday's opponents and recognises the job Eddie Howe has done to guide Newcastle to a position where they're eyeing up a top ten finish.
He said: "They are on an incredible run. Eddie has played a massive part.
"They signed one of our analysts (Mark Leyland) which for sure played a big part. Mark if you see this… we play completely different now!"
He added: "They have brought good players in, really smart. They have stability. It will be a difficult one. It's similar to a few years ago when Origi scored the winner. The whole stadium was on fire.
"It will be tough tomorrow."
Injury updates
Ahead of tomorrow's clash, Jurgen Klopp also provided an injury update regarding Kostas Tsimikas, Roberto Firmino and Curtis Jones.
Kostas Tsimikas is likely to return to the squad following an illness that sidelined him for Liverpool's first leg of their Champions League semi-final tie with Villareal.
As for Curtis Jones and Roberto Firmino, they wont be available for Saturday.
Klopp said: "Kostas and Curtis had a couple of issues. Kostas is back but Curtis is not back yet. Bobby will not be ready for tomorrow either. He hasn't trained yet. But that's it."