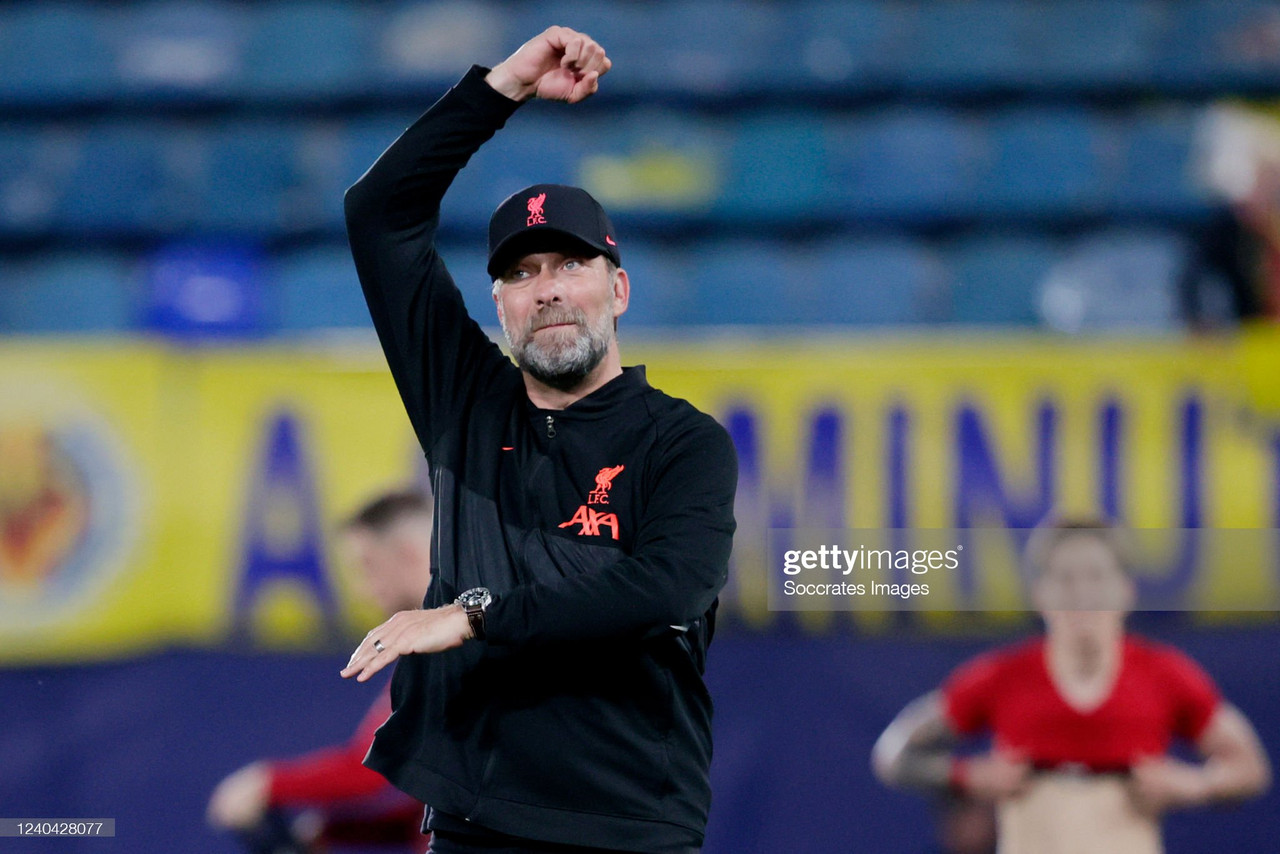 "We never tend to make these Champions League semi-finals easy," spoke a jubilant Trent Alexander-Arnold after his side's 3-2 victory at the Estadio de la Cerámica, fitting words from a 23-year-old that couldn't be more telling of a game.
Liverpool saw off a spirited Villarreal side who stood up to the big occasion and netted two impressive goals in the first half. Jurgen Klopp must have spoke wonders in the dressing room as a rejuvenated eleven burst out the blocks for the Reds with half time substitute Luis Diaz spearheading the charge.
Fabinho bagged the first of the half with a thunderous strike flying through the legs of Gerónimo Rulli before his South American teammate would follow suit heading between the goalkeeper's legs once more.
Sadio Mane finished off the job for Liverpool with a composed finish after taking the ball around an onrushing Rulli and coolly slotting a shot in between two desperate Villarreal defenders.
After the match Klopp addressed the media, as per Liverpool.com.
Words of wisdom at half-time
Liverpool did not look themselves in the first half with no shots on target as Villarreal played some liquid football, pinning Klopp's men back in their own half for large periods.
However, with the introduction of Luis Diaz, Liverpool burst to life in the second showing why they have reach three out of three finals this season.
Klopp spoke on what he said to his players at half time.
"Play better than the first [half]! Usually in a situation like this when we don't find a way into the game we try to find a situation which we can show the boys at half-time that explains it a little bit, what we have to do. So, when Pete [Krawietz] went in I told him, 'Find just one situation where we did it how we wanted to do it in the first place.' And when I came in, Pete just said, 'Nah, didn't find any.' But it was clear.
"The start was obviously really difficult for us to take, we were obviously impressed by that. We had no real build-up, we didn't play in the right spaces, all of a sudden we just kicked long balls and tried to force it. We just explained to the boys where we have to play, what we have to do, where we have to be stronger and where we have to move smarter because obviously in the first half we didn't move enough.
"We couldn't find the midfielders in the half-space because they were not there, the front three were too fixed: Sadio left, Mo right and Diogo in the centre. There was no flexibility so we had to mix that up definitely, to cause them more problems. Because of their very man-orientated defending we played in their hands and that's what we had to change."
Dazzling Diaz
In the first half Liverpool lacked any conviction up front and looked very static. The front three didn't gel and needed a new set of lungs. Enter Luis Diaz. The Colombian burst onto the scene - like he has all season - and produced a Man of the Match performance scoring Liverpool's second goal of the night.
Klopp was full of praise for Diaz after the game, he said: "He had a massive impact. But what I don't like about this is the next story is around that Diogo Jota was our problem: he was not at all our problem, we just had to mix it up.
"We had 11 problems, if you want, in the first half. We just had to mix it up, you can do that with explaining, what I did obviously, but you need then fresh input as well. Sad all of a sudden was involved in the game, that was nothing to do with the position, it must have been a misunderstanding. For specific situations I wanted Mo and Sadio high and wide, but not in open play situations. So even after working for so long together… it's just because it means so much, that's how it is, it means so much.
"First half all of a sudden we were not ourselves but second half we were ourselves and that's why we won the game. Yes of course, Luis, what a goal and he had a few more situations. I think the first one he takes with a bicycle kick, if he takes that on the chest he can score already. So yeah, top performance."
Another special European night
Liverpool's dream of the first team to win the quadruple is still on and with that came another magical performance on Europe's biggest stage. The Reds have become famous for their extraordinary European nights and this match adds to the ever-growing list.
Klopp was questioned after the match on where this night compared to some of the other big European nights in his career.
"I don't like to compare, [but] yes it's a massive one. An absolutely massive one - being 2-0 down, the game looked like it looked, the whole world thought, 'OK, this is rather 3-0 than a 2-1' but maybe we knew that at half-time. So that's the situation, that's what everbody thinks, but we are still here, so we could give it a try actually.
"We just had to make sure that everybody could see that we try and that's what we did in the second half. Honestly, when I saw us first time passing through their line and could turn with the ball, I knew we had a good chance to turn it around. You still have to score, obviously, and it is not easy. The first goal we scored from Fabinho was a situation where Fab offers a run in a space where he never was before in the game. Just being really in a half-space, offering that run in behind, we passed the ball through.
"Obviously he was a bit lucky with the finish, but we had to break their lines and that's what we did in the second half. That's what made it really, really special. From where we were coming from, after two minutes, 1-0 down, with all the games the boys played, yes it was very special - and it is for me together with these other big European nights."