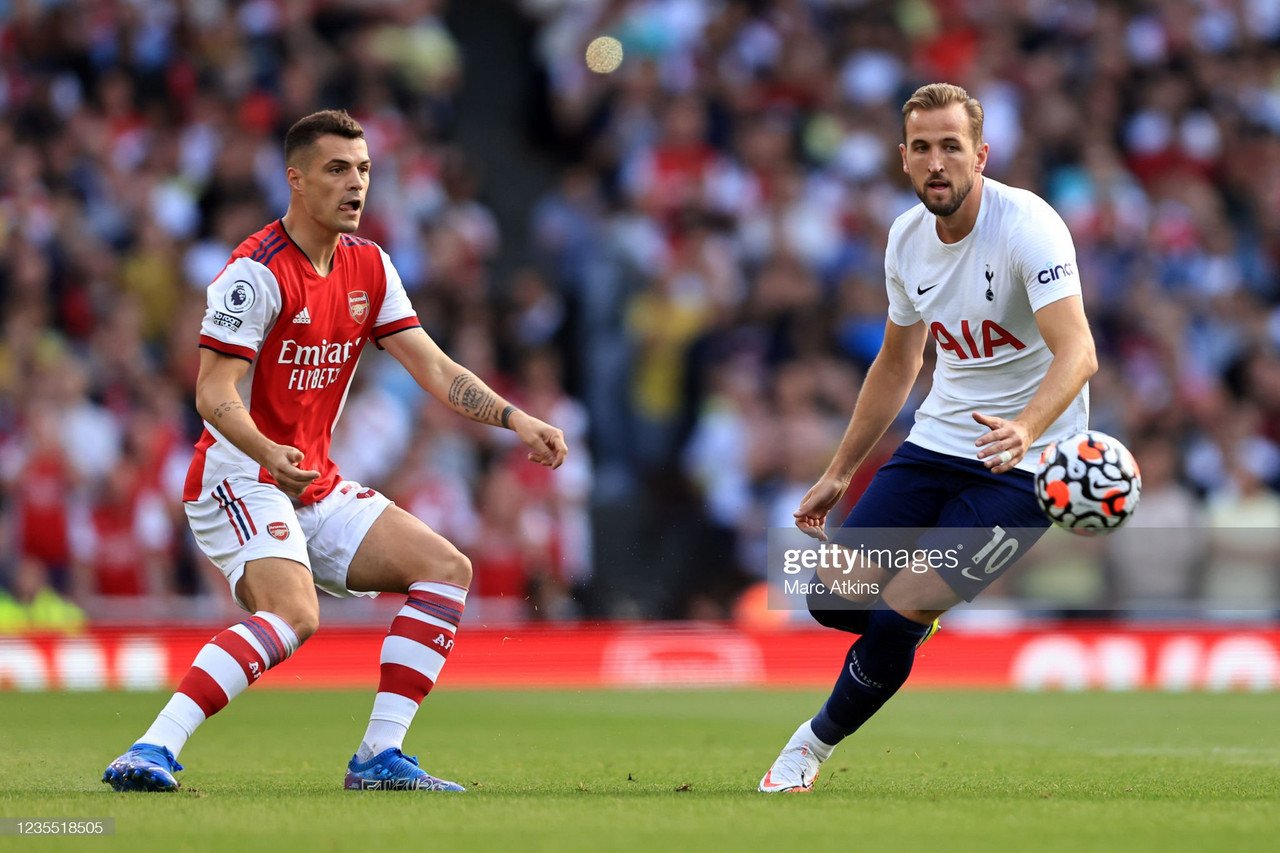 Passion, individual brilliance, ball security and cool heads will all be crucial when the two north London rivals meet for a final battle for fourth place and Champions League qualification.
But more importantly, Spurs' go-to attacking play has to be stopped if Arsenal want to be victorious.
Let's investigate what The Gunners can expect tactically when facing Tottenham and how to handle their main attacking threat.
Spurs' most dangerous play
Tottenham's base formation is 5-2-3. From kick-off, or deep in their own half, they usually build plays in a 3-4; three defenders and four midfielders, like this: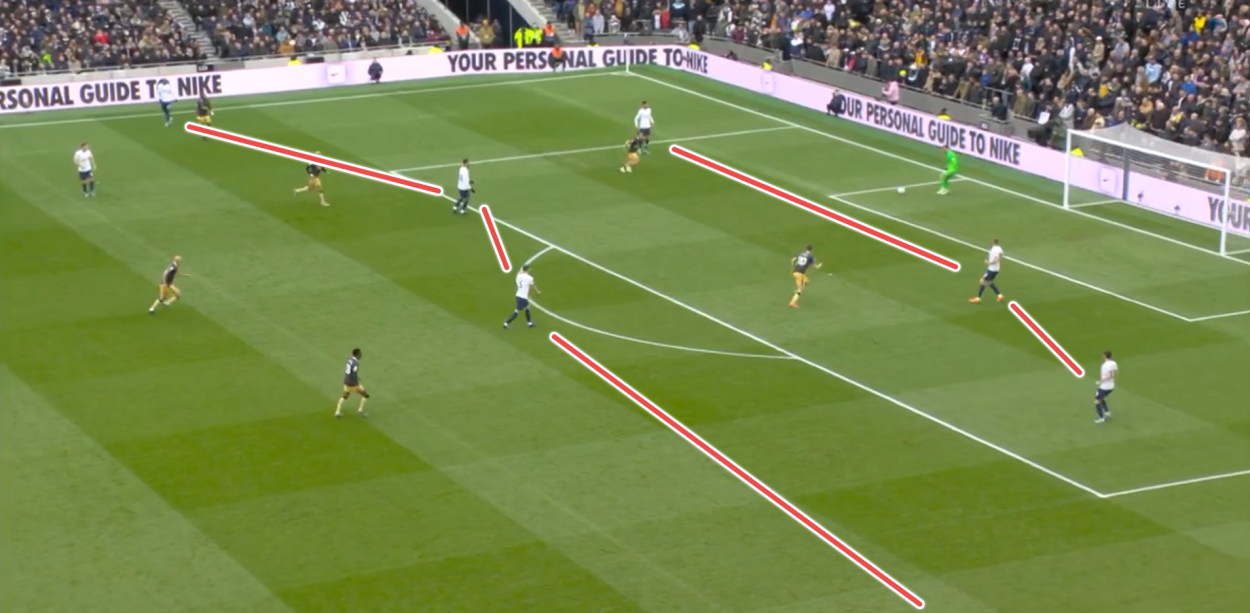 It's a conservative approach designed to give the ball-carrier as many passing options as possible. But it can also lure the opponent high and vulnerable if they decide to press, giving Spurs' outstanding counter-attackers more space in the other end of the pitch.
It's Tottenham's most dangerous play and the recipe for umpteen goals in the past couple of years. They often start these attacks when Harry Kane drops into midfield to receive the ball like a false 9, a constant threat, or when Son Heung-min or Dejan Kulusevski are open in the half spaces.
Here's an example against Newcastle, who, like Arsenal, play 4-3-3: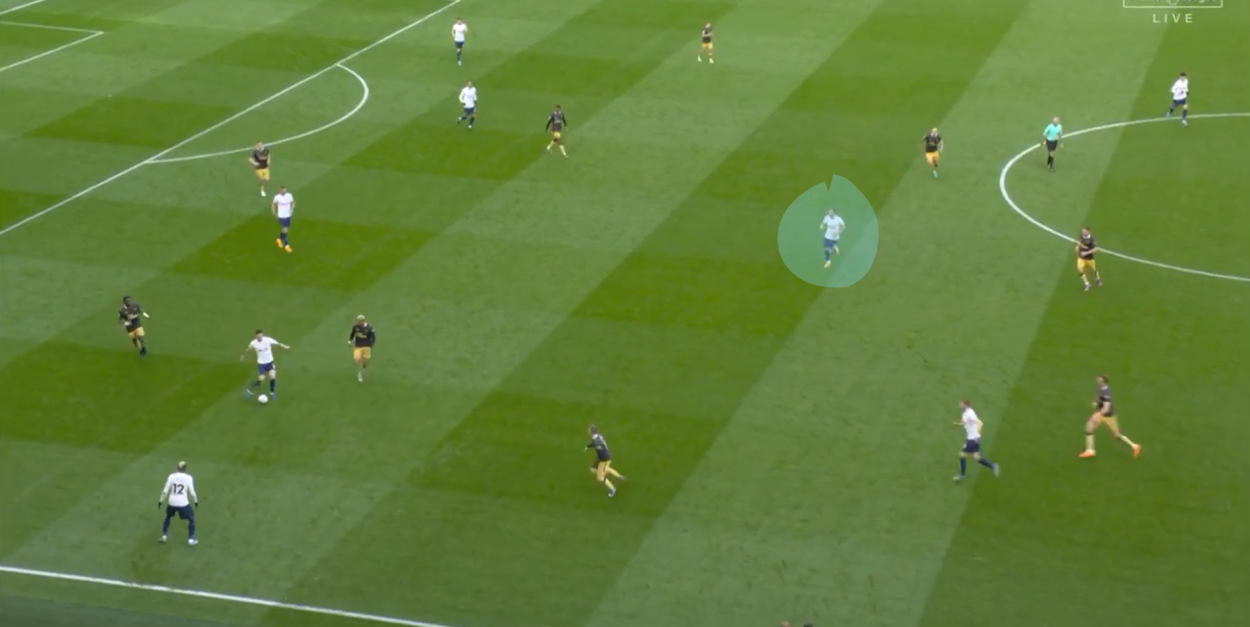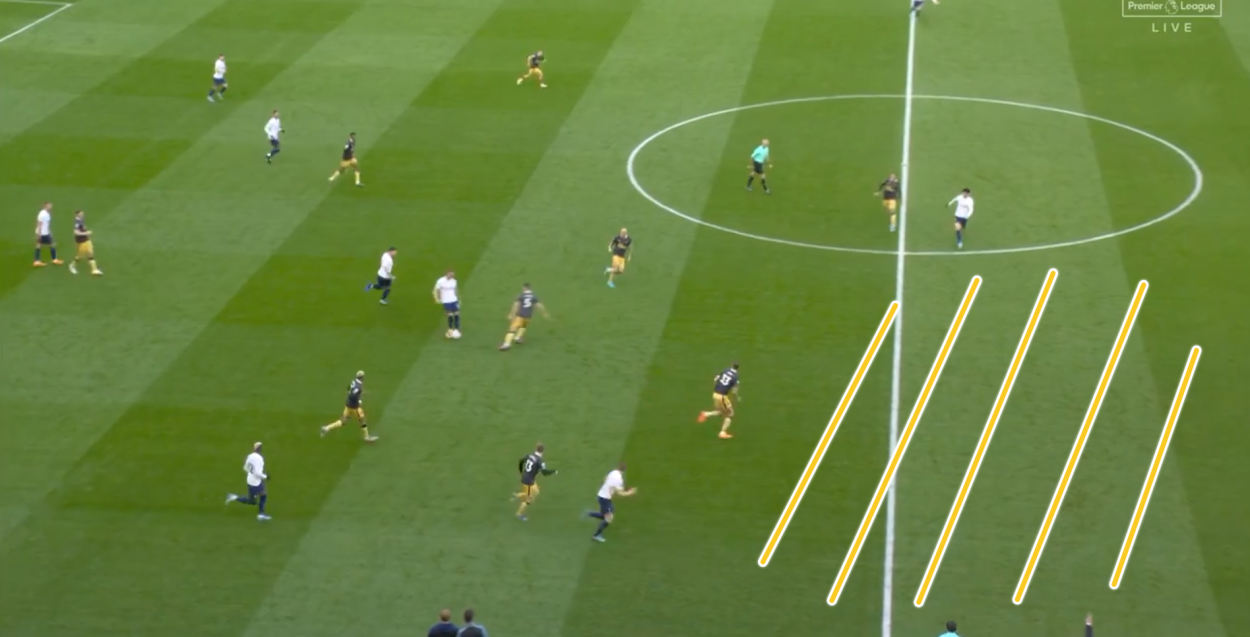 Kane dropped very deep without a marker and got to play Kulusevski through on goal in 50 yards of open grass, while Son positioned himself up top.
The swede controlled the ball and found Son in front of goal, who scored.
The Premier League numbers show the evolution of Kane and Son's partnership. Kane has almost quadrupled his amount of assists in the past two seasons compared to the most recent two years. And Son is scoring much more, partly as a result of the England captain dropping deep as the supplier.


Newcastle got caught in the trap over and over again and lost 5-1. This is what Spurs do with extreme efficiency. It's what the Gunners must avoid. But how?
Arsenal could line up with two extra men in the back with the defensive midfielder to shadow Kane's dropping runs and Takehiro Tomiyasu to mark Son instead of the wingback. It's a 5-3 defensive man advantage for the visitors.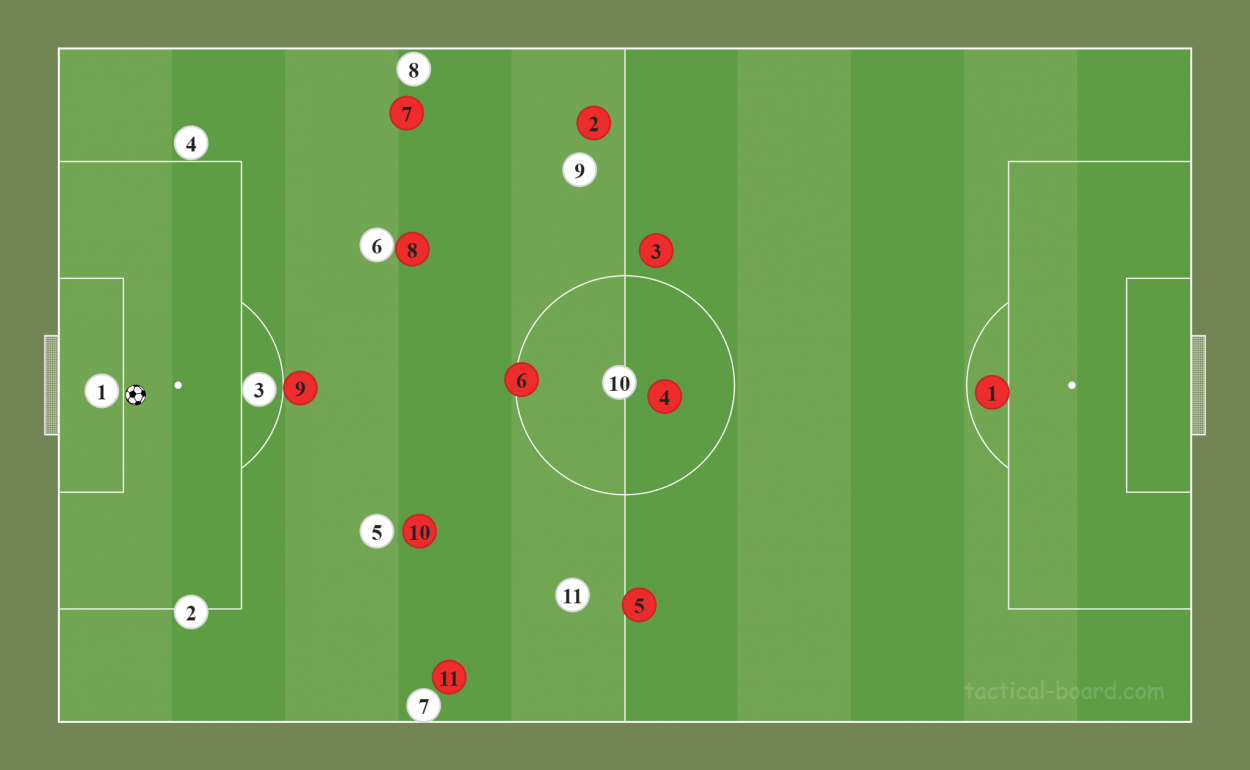 But pressing Spurs' two free centrebacks will be difficult unless Arsenal's number 6 joins the press, leaving the midfield open for Kane to exploit. This could result in a more passive press than usual on Thursday.
Considering this, and Tottenham's desperate need of a win to close the gap on their rivals, Arsenal playing on away ground and the host's terrifying attack, caution might be warranted.
The setup below is a more aggressive option that would facilitate the Gunners to press higher. Here Arsenal's defenders are man-to-man with Son, Kane and Kulusevski, while the leftback marks Spurs' right wingback. It's a 4-3 defensive man advantage for the away team, but risky as it gives the attackers more space.
Which one do you prefer?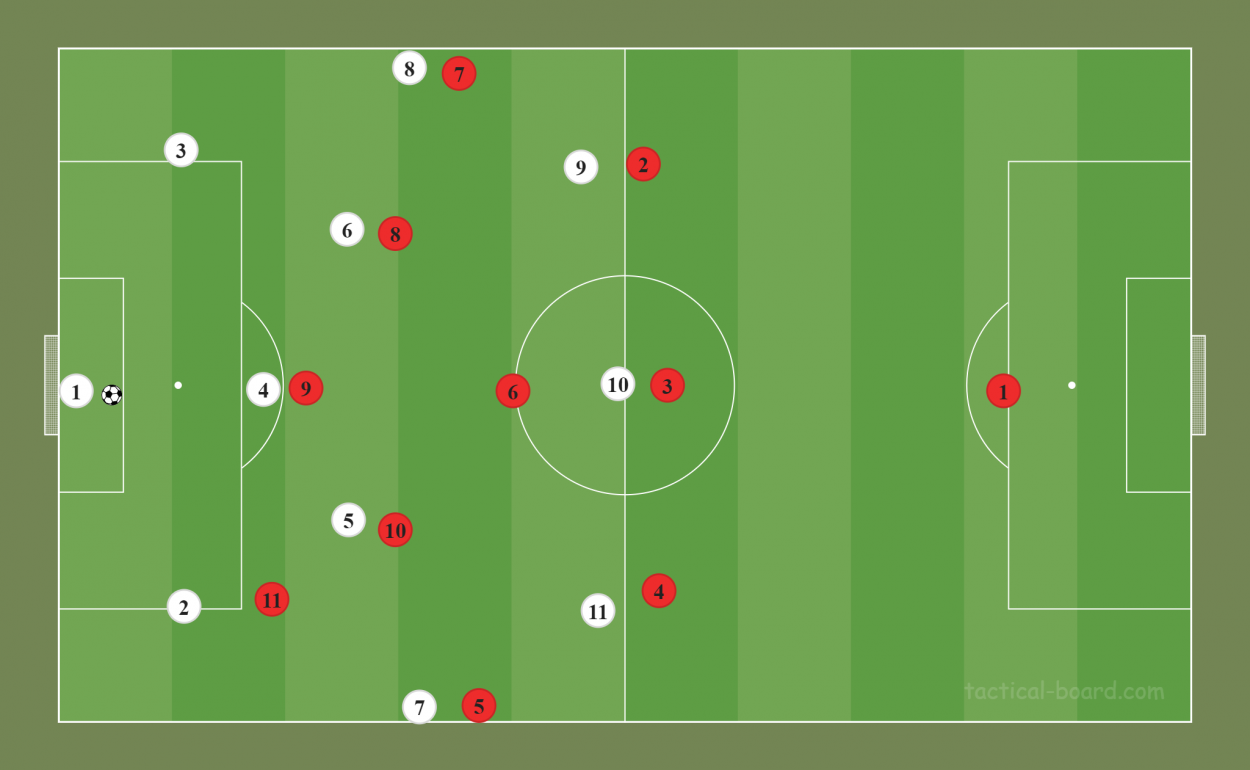 Regardless, it's paramount that either the centreback or Arsenal's defensive midfielder follow Kane when he drops. This move does not only get Spurs out of deep positions but creates scoring chances in the other end.
Rotate then break through
When Spurs manage to create settled plays in the opposition's half, their shape stays largely unchanged from their build-up formation, in a 3-4-3.
Tottenham will look to rotate the ball between their centrebacks, where they have a one or two man advantage, before sending a bold pass between or over the lines to the awaiting Kane, the wingers in the half spaces, or the wingbacks out wide, who then go straight for goal.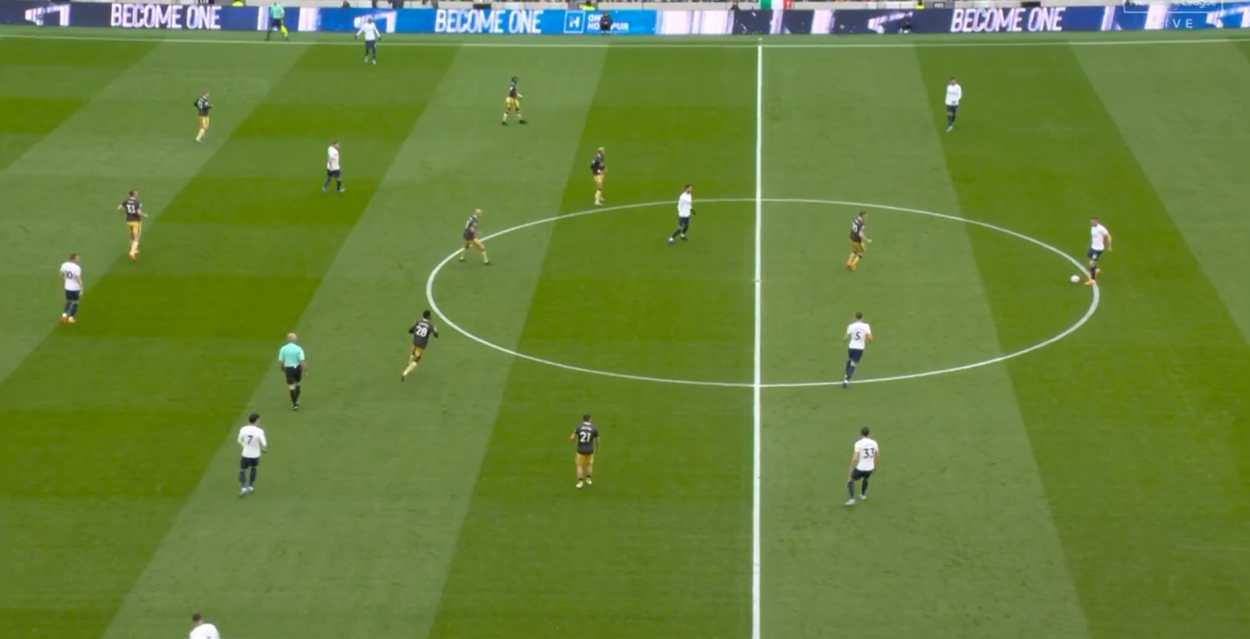 When Arsenal's high press fails they collapse into a 4-4-2 which will give us this position: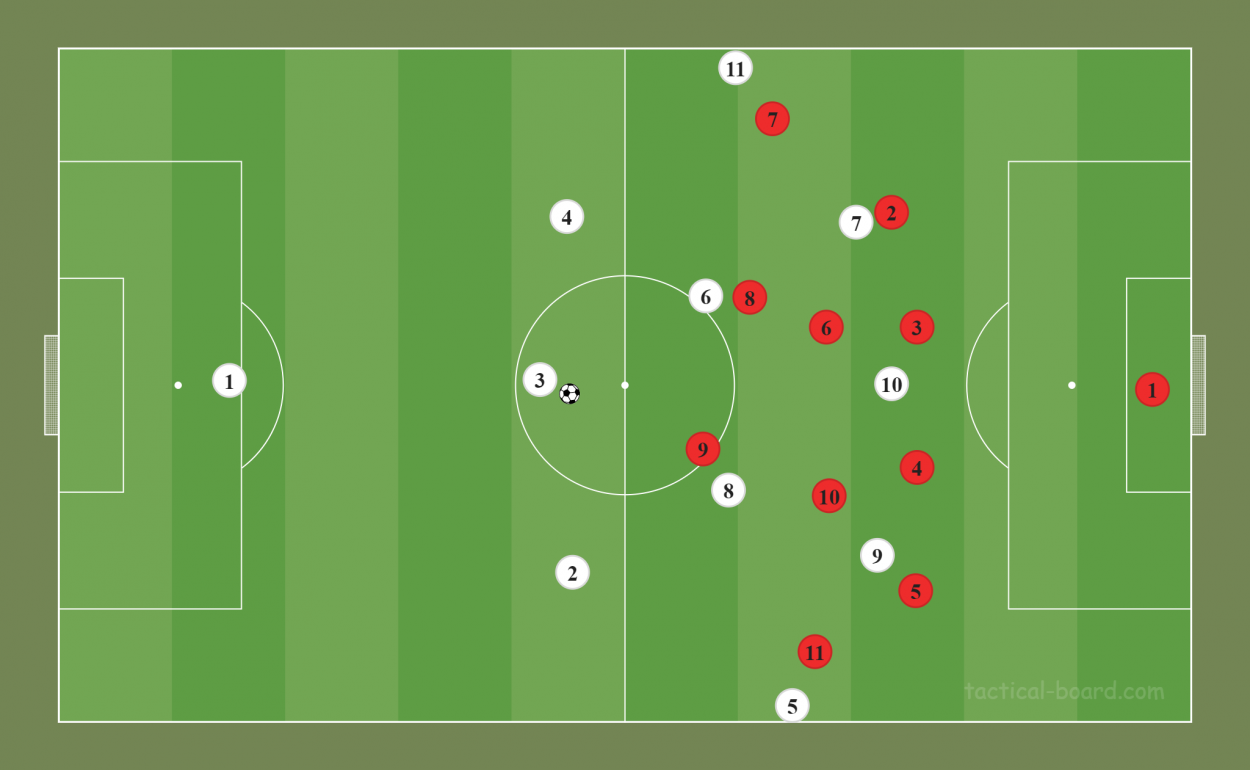 In this phase of the game it's key that Arsenal block the passing lanes to Spurs' front trio. If that fails, the defensive players must be close enough to quickly stop them from turning towards goal.
Kane, Son and Kulusevski have contributed to 30 of Tottenham's 44 goal points in the last ten games, according to FBRef. Don't give them an inch!
One way they produce those numbers is when their front three drifts inside and outside to create one-on-ones with defenders.
Imagine if either Kane or Son receive the ball in this situation: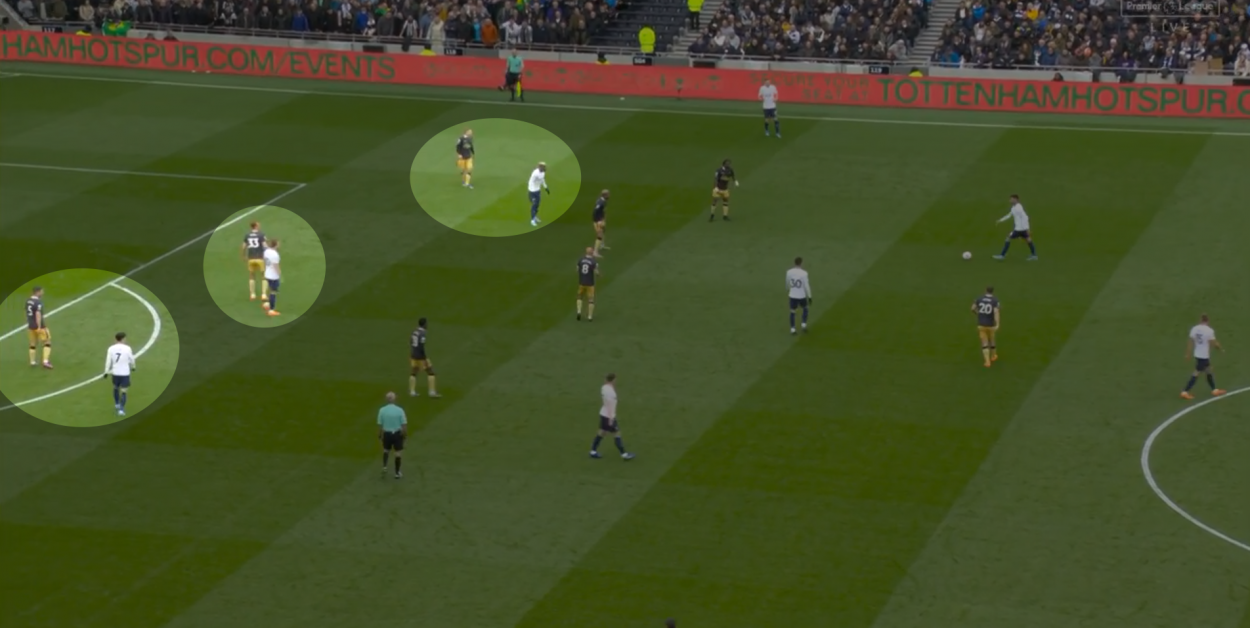 In such a high stakes predicament, Mikel Arteta's midfielders must track runs from deep. Say Spurs' wide player above makes a run inside, or their central midfielder bombs towards goal anticipating a through ball, the hosts will have a man advantage if not followed by an Arsenal player.
The above example also highlights the importance of not letting the centrebacks carry the ball freely. Arsenal will defend in a 4-4-2, however, not 4-5-1 like Newcastle, which adds presence in the middle of the pitch.
Stop the drop!
A huge part of achieving a positive result against Spurs will be by stopping them from using their go-to attacking play: The Kane Drop. Arsenal's defensive midfielder will need eyes on the back of his neck for this one!
Arteta's team must also be aggressively wired to win the ball high and low. If they become passive, Tottenham's direct attacking way and efficiency will triumph.
The nerves are palpable. Hopefully knowing what's coming helps with the stress!