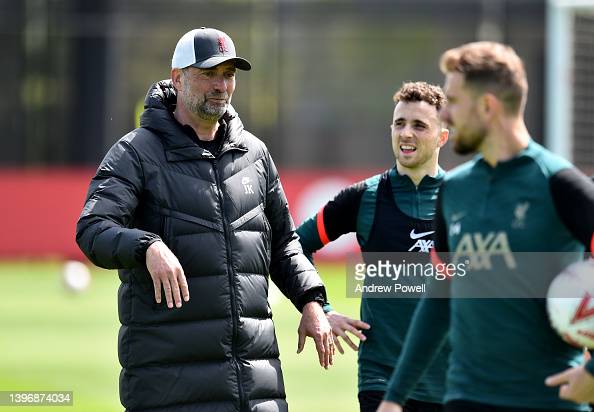 Jürgen Klopp discussed several topics as the Reds prepare to face Thomas Tuchel's side in a domestic cup showpiece under the arch for the second time this season, having beaten the West Londoners on penalties to win the Carabao Cup in late February.
Amongst other things, the 54-year-old spoke on Fabinho's ongoing recovery from the hamstring injury he sustained at Aston Villa on Tuesday, Chelsea's attributes, the excitement ahead of the final, and the Champions League final ticket allocation.
Fabinho update
Klopp offered further clarity on when the Brazilian midfielder can be expected to return, after he was forced to leave the Villa Park pitch in the 30th minute in midweek.
He won't be involved this weekend – and he appears relatively unlikely to feature in the remaining two Premier League matches at Southampton and at home against Wolverhampton Wanderers – but, barring any setbacks, the 28-year-old will be back in time for the Champions League final against Real Madrid on 28th May...
"He will definitely be back for the Champions League final. And before, we will see, we don't know. That's it"
Asked how Fabinho had reacted, Klopp continued…
"Absolutely okay. Fab is a professional – he was obviously not happy about it, that's clear. But, he took it and is already taking on the fight against time, if you want. That's how it is. It is not enough if you are ready on Friday, before the final, so possibly Tuesday, Wednesday, something like that and we are working on that and we are all very positive that it will be the case. So, he's absolutely okay."
Chelsea's attributes
There were then some interesting observations offered about the Blues, who Klopp's fellow German, Tuchel, has had a largely excellent impact upon since his January 2021 arrival…
"Chelsea is a really well, well coached team, I have to say. So they have an idea for all different areas of the game. So, that's how it is. Play a similar system to other teams, but [on a] different level. They are very organised defensively. They have, offensively, incredible talent.
"We have no idea how Thomas will line-up, for example. There are so many different options in offensive areas. [Timo] Werner and [Kai] Havertz didn't start the last game. Could all three start, for example? Gives a completely different dynamic to [Romelu] Lukaku, [Mason] Mount and [Christian] Pulišić, these kind of things. Can play with two strikers. Can play with one, and two 10s. The only thing that's, I think, pretty clear is they defend with five in the last line. And then, from that moment on, we don't know exactly if they have three midfielders, two midfielders – and that's it. Very interesting to prepare, to be honest. That's how it is.
"Look, we play a final – an FA Cup final – it would be a real surprise if we meet a weak team in that final. I'm not sure how it was in the past but obviously, since I am here, all big guns are really going for it, are really going for it. We just didn't have the power to keep us in the competition. Now we had it and now we are there and now we want to have the full prize."
The significance of the FA Cup
Klopp also talked about what it would mean to lift the trophy – which the club haven't won since 2006 – and the importance of the match…
"It is the biggest domestic cup competition in the world, for sure. But, it is like I was, since 20 years, involved in professional football and since then we usually have games ourselves on these kind of dates. Either way, you play yourself or there is a German Cup, whatever, was quite frequently.
"It's not that I watched now 20 FA Cup finals or whatever but I don't think that's necessary to understand how big it is. And it would mean the world to us. That's the truth, that's the absolute truth. This group is a special group, what we have here in the moment. You don't have a guarantee. And the public perception is always like this. You win it and it was fantastic and you lose it and it was, like, useless that you even tried it. That's the world we are living in. But, here we go. There's only one chance to find out who will win the FA Cup – by playing it. And we will give it a real go. That's the plan. Against opponents who will do the same. That's why it's football and it's such a great game to watch. Will be 50-50 in the stadium, obviously blue and red – fantastic.
"We had, only a few weeks ago, another final which felt like a World Cup final, to be honest – how both teams played it, how both teams approached it. So, now we are a few weeks later in the season and another massive one. I'm pretty sure a lot of people around the world will watch this game and a lot of them are Liverpool supporters, so that's cool. Hopefully we can use their power."
He went on to add…
"It will never happen that, the FA Cup final, we see as a normal game. It's an absolutely special game. Massive, massive, massive. For some of us, the biggest in their career. And we really want to enjoy that, as well. And we want to deliver it for our people, that's clear. And, between now and tomorrow, I have a few hours to prepare, to help the boys to prepare properly – and the longer we talk here the less time I have there – but, it's a big one for us."
There has been considerable discussion around the ticket allocation for the final in Paris later this month.
Liverpool and Real Madrid have each received 19,618 tickets within the Stade de France – which is set to have an overall capacity of around 75,000 for the match.
Klopp criticised those numbers recently, and he was asked if he'd had a conversation about the allocation with UEFA President Aleksander Čeferin, after the Slovenian said earlier this week, at the UEFA congress in Vienna, that he'd explained the situation "to one of the coaches of the two teams a couple of days ago."
Čeferin continued: "From the revenues from the finals, UEFA gets 6.5% and 93.5% goes to the clubs. From the other matches, 100% of the revenues goes to the clubs.
"Fans of both teams get 20,000 tickets each. Sponsors that pay 100 or more million euros sponsorship – of which 93.5% goes to the same clubs – get some tickets. It's part of a contractual obligation that we have."
The German manager expanded further on the situation on Friday, and was happy to clarify that it was indeed him who Čeferin had been in touch with…
"Yeah, yeah – it was me. He didn't speak, he texted me. So I, obviously, said what I said – 'I think, should be more tickets for our supporters,' stuff like this. And then he, I think the same explanation pretty much he gave publicly – with the, what is it? 93% of the money goes to the clubs and UEFA gets only a few euros. And I replied and said 'Okay, that's one of these situations where there obviously should be more information before you give answers'. The problem is only I cannot constantly be perfectly prepared for these kind of things, but I still have an opinion. So, I will try to clarify that, that's what I do now, here. I didn't know, obviously, enough about it.
"But I said as well in this conversation – because he said now obviously that he spoke to me – I said, as well, the reason why I'm not in such a good mood when I speak about UEFA or something like that is because of the Nations League. I still think that's one of the most ridiculous ideas in the world of football because now we finish the season where players played more than 70 games, easily. So, just club games – 63, 64 – plus internationals, stuff like this, goes in the direction of 75, which is really mad.
"And we continue with Nations League games because we have to play them, there is no tournament. Oh no, who cares? Then we play four, five, six, whatever, games with the national teams. So, I said, that's the reason. I would prefer if UEFA would take more money from the Champions League final and kick out the Nations League again. That would be my preferred solution, in the end. And more tickets for the people, anyway. So, my personal opinion. Maybe I have, still, not all the information but I cannot do more than say my opinion."