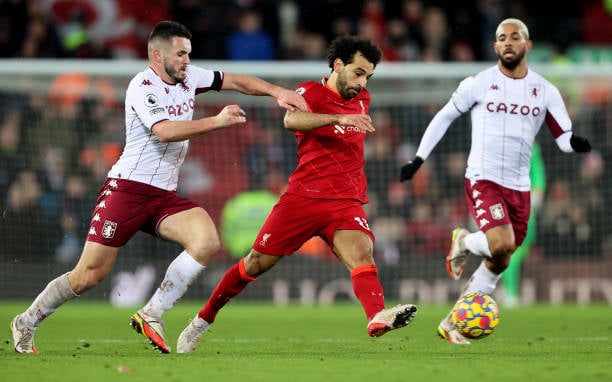 Liverpool will be looking to return to winning ways as they had to settle for a draw against Tottenham Hotspur on Saturday.
A deflected Luis Diaz strike cancelled out Heung Min Son's opener to put themselves within three points of Manchester City.
Liverpool defeated Aston Villa 1-0 courtesy of a Mohammed Salah penalty as Anfield arose to welcome Steven Gerrard back to Merseyside.
It was a memorable encounter between Aston Villa and Liverpool at Villa Park last year, but not for the right reasons if you're a red. Aston Villa hit seven as they demolished Jurgen Klopp's men 7-2.
This will be Liverpool's 59th game of a marathon season that sees the Reds still battling for an infamous quadruple in May. With games coming every few days, Klopp was asked about the challenge he faces selecting a team in such a demanding time.
He said: "Yeah, it's a challenge, to be honest. But very often the decisions get easier with all the information I get from the medical department because then I don't have to choose between all of them, I have only a few.
"In these short periods between the games I didn't get all the information yet, or not the final information, so when I leave here I go to the medical department and collect some more and then we will see. Is it difficult? It's challenging, that's it."
Roberto Firmino has missed Liverpool's last six games after picking up a foot injury against Manchester City at Wembley last month.
Jurgen Klopp is hopeful to have the Brazilian available once more, on Tuesday evening.
Klopp said: "Bobby now trained before the last game [for] two days. We don't train a lot so he always has to do more, that is what he is still doing.
"So, [a] decision for tomorrow. He gets closer and closer and closer. Hopefully he can be involved."
As for Aston Villa, Jacob Ramsey, Leon Bailey and Kortney Hause all missed Aston Villa's win at Turf Moor on Saturday.
The best team in the world?
Steven Gerrard has labelled his former club the 'best in the world' as he prepares to face the Reds to try and dampen their Premier League dream.
Gerrard said: "They're a world-class team. Arguably, the best team in the world right now. We're well aware of the challenge," he stated.
"I've spoken many times about how I respect the coach and the coaching staff there. You either fear that or you put your shoulders back and try to take it on and find situations where you can have your moments in the game.
"Every team on the planet, historically or now, there's always areas or situations that happen in a game where you can hurt them.
"We're well aware of the size of the challenge tomorrow, but it's exciting and I'm looking forward to it. Big games of football are what it's all about."
A massive end to the season awaits
Everyone Is aware of how big the end of this season is for Liverpool Football Club. An FA Cup Final, Champions League Final, and the potential to lift the Premier League title.
Liverpool will head to the capital on Saturday to face Chelsea In this year's FA Cup Final but Jurgen Klopp will be hoping his side's trip to Villa Park can be the perfect dress rehearsal for hopefully more Wembley triumph.
Where to watch?
The game will be broadcasted on Sky Sports Premier League, Maun Event and Ultra HD.
Kick-off: 8:00pm