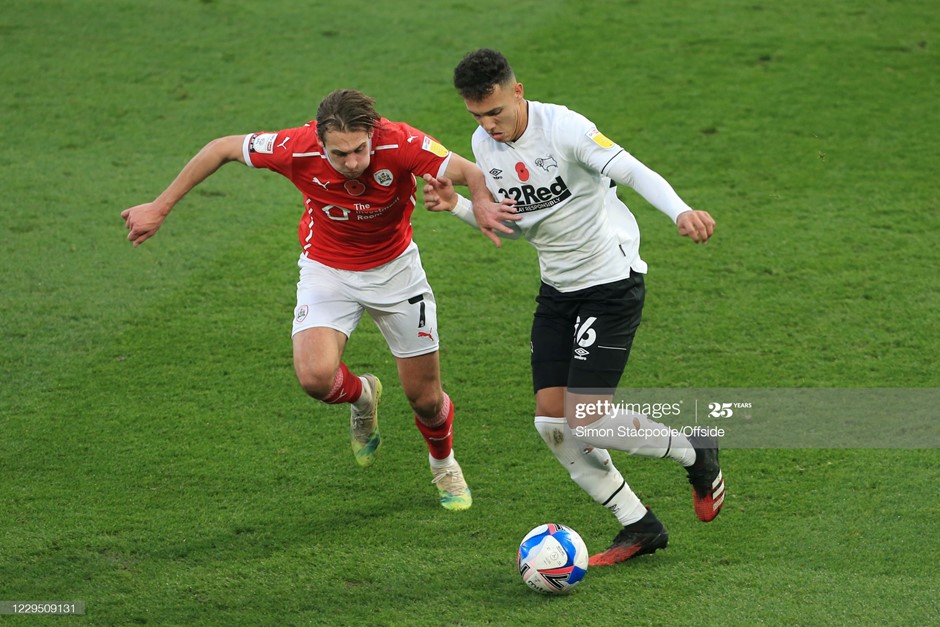 After 16 years at Milton Keynes Dons, Callum Brittain left behind all that he had ever known six weeks ago for a new division and a struggling club without a head coach.
Barnsley had just seen boss Gerhard Struber depart for New York, and they had another gap to plug having rather unceremoniously shipped loan wing-back Kilian Ludewig back to Red Bull Salzburg.
The club's choice of replacement was Brittain, who at 22 had amassed more than a century of appearances at MK Dons and showed undoubted talent, but it was a big career move at a potentially difficult time.
Happily for the former England Under-20s player, Barnsley's next big arrival has already proven a revelation for both him and the whole club in just a month. Valerien Ismael has breathed new life into the Reds, with four wins in five matches transforming their prospects.
Just as important, though, has been his impact on many of the players in the squad, not least Brittain. Stepping up to the Championship as well as the demands of a new coach, he has thrived under the challenge.
Wing-back demands
"I've really enjoyed it," said Brittain, reflecting on his first handful of games in the second tier. "It is a big step up. The boys are physically stronger, the speed is a lot quicker.
"Coming into the 90th minute, in the lower leagues the speed might start to slow down but here it speeds up, like you saw on Saturday when we scored two of our goals in the last five minutes," he added of their late 2-0 victory over Nottingham Forest.
Brittain has also been thrust into a very demanding role, shuttling up and down the pitch as the right wing-back in Ismael's hugely intense, high-tempo system.
Having played plenty of games as both a full-back and wing-back at his previous club, Brittain was no stranger to the position, and it is a role that he has approached with real relish.
"It's a position that I'm used to and I played back at MK Dons, but I'm really enjoying it," he said. "It allows you to get forward and attack but you've also got the responsibility to get back and do your defensive work too."
Although Brittain said he doesn't have a preference between the two positions, he did explain the significant differences. "At wing-back you've got the responsibility of going forward and defending, so there's a lot more running involved. As a full-back you've got to pick your time when to go forward because you've got more responsibility at the back."
His coach has been delighted with how Brittain has adapted to his demands, performed impressively and shown a willingness to learn and improve.
"It's impressive what he did in a short time," said Ismael. "I spoke with him and he told me he had played this position before. It's a big pleasure to work with this guy because he can go to the next level from this philosophy. With his positioning, with the ball, without the ball, the player can make a big difference this season for us."
'A lot of dreams'
The feeling is mutual with Brittain showing an appreciation for the clarity and inspiration he receives from the Frenchman.
"He knows what he wants from the players, he knows what he wants from the team," said the Bedford-born player. "The boys have taken really well to him.
"He gives you that confidence, he gives you that reassurance of what he wants you to do on the pitch.
"He's told me to keep it simple. Play it forward as much as you can. He's told me to keep it simple and basic on the pitch and I think I've done that."
It should be no surprise to hear that Ismael is greatly benefitting a player like Brittain. Having helped develop emerging players when coaching the second teams at Hannover and Wolfsburg, those credentials were one of the reasons why Barnsley's hierarchy considered him the perfect fit for leading the youngest squad in the Championship.
"It's easier to work with the young guys," said Ismael. "They want more and you feel that on the pitch and in the training. They are ready to learn more for each game."
Brittain put it poetically when he said: "There are a lot of young players here. There are a lot of dreams and people want to achieve things." He is undoubtedly among the dreamers, and he's one of the reasons Reds fans can be dreaming of better times ahead as well.