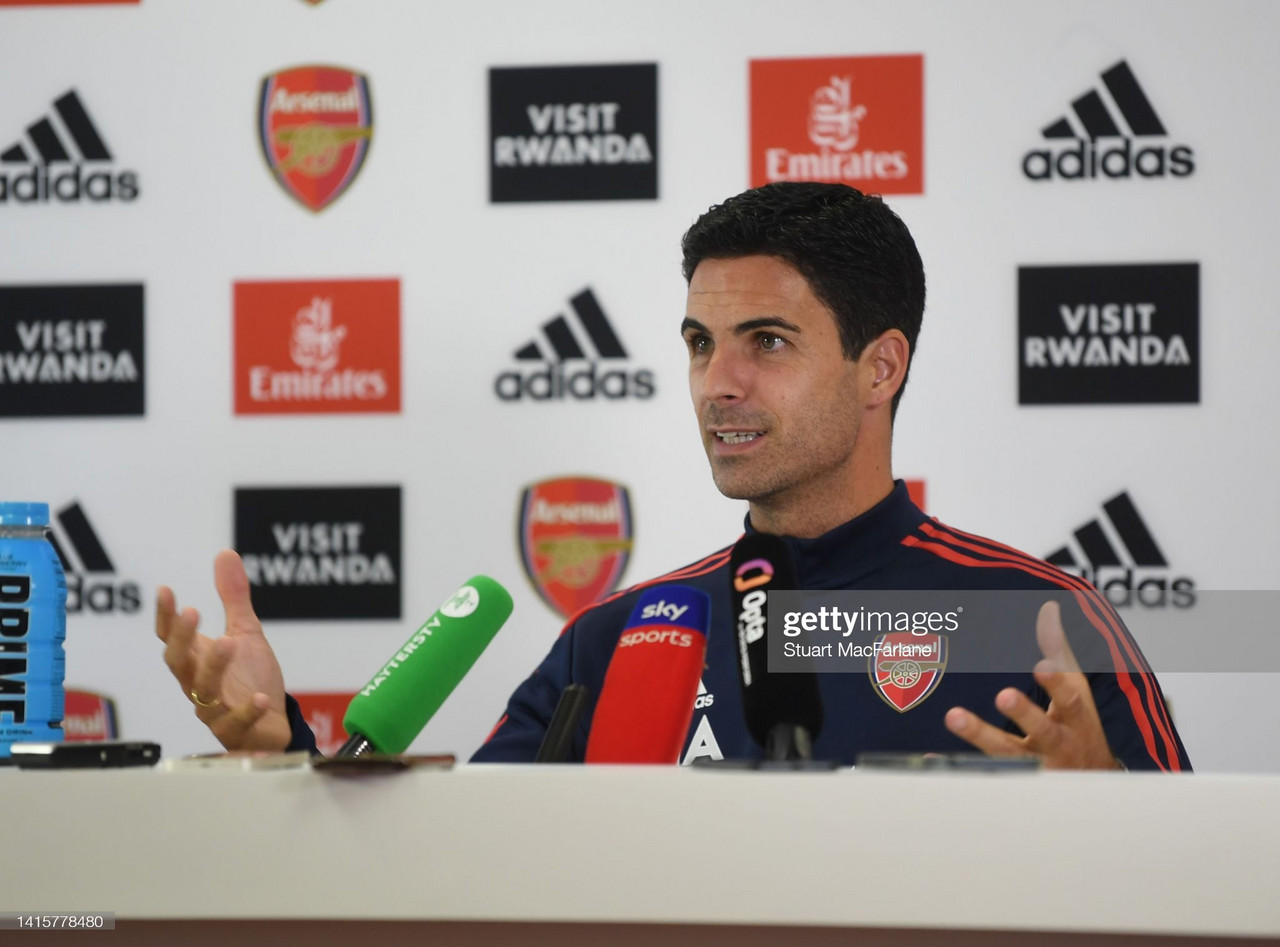 Arsenal manager Mikel Arteta spoke to the media on Friday as his side prepare to travel to the South Coast where they face AFC Bournemouth on Saturday.
The Gunners have looked in top form so far this season, beating both Crystal Palace and Leicester City in their opening two Premier League games.
Freshly promoted Bournemouth await Arsenal in a game which could potentially prove challenging for the North London side. The Cherries beat Aston Villa on the opening day, before losing 4-0 to reigning Premier League champions Manchester City in their last match.
Team news
For the first time this season, Arteta is set to have his entire squad at his disposal after multiple absentees featured for the Gunners' Under-21's side in midweek.
"Everybody is OK. As you saw, we had Cedric [Soares] , Fabio [Vieira] and Emile [Smith Rowe] play with the Under-21's and they look fit, they trained with us all week so they are available for selection," said Arteta.
He added: "Fabio and Emile - they have been injured, they haven't had minutes, they needed that exposure.
"With Cedric it was more a case of giving him the option. He wasn't in the squad last week, he hasn't played many minutes in pre-season.
"We have to give the option for them. He said straight away that he wanted to play, and you can see the attitude that he has."
A tough test
Under Scott Parker, Bournemouth finished second in the Championship, two points behind league champions Fulham.
The Cherries will be looking to avoid a relegation fight this season, and have already shown how dangerous they can be in their 2-0 win over Aston Villa.
"It will be a really tough match," said Arteta when asked about his upcoming opponents. "I've been there [Vitality Stadium] many, many times, I know how tough it is, and I know to expect the atmosphere to be hectic.
"It's a team that is used to winning because last year they had a really successful season, and they've started well this season.
"I know they're going to make it a really difficult game for us."
Despite being wary of his opposition, Arteta was full of praise for his compatriot Parker.
He said: "I always admired him as a player, his character, I know him personally as well pretty well and I'm really happy for him.
"The way he presents himself and the way he wants to play this game - I think is great for the game to have managers who want to play the way that he wants to and I wish him the best of luck... apart from tomorrow!"
A blast from the past
Arteta took charge of his first ever game as Arsenal manager all the way back in December of 2019, away to Bournemouth.
Now almost three years deep in the job, Arteta looked back as his first game.
He said: "It was raining, I got very wet! I was excited and nervous, and very much looking forward to what was coming. It seems like a long time ago."
The Spaniard also believes that he has changed as a manager since his first game, saying: "I think the team and the club needs a certain person in each phase and in each moment.
"I think that the coach or the manager that the team needed, or the club needed a year ago is different to what it needs today.
"You have to constantly be evolving because now we have to drive this club into a different speed.
"Before there were moments where we probably had to give a lot of protection, and keep the players in the right place to not fall apart.
"So this is evolving and we as individuals - especially the people who have a lot of decision making - have to inspire others, have to evolve and change as well."
Gabriel Jesus
The signing of Gabriel Jesus has been the highlight of Arsenal's transfer window, and the Brazilian has hit the ground running at his new club.
Arteta knows Jesus well, working with the 25-year-old during his time at Manchester City.
When asked about his new main man, Arteta said: "Probably the biggest difference since I worked with him before is his maturity.
"He's got a different role here, you can sense that straight away. I'm glad that he's having a good time and performing really well for the team.
"For me, what makes the difference with him is his attitude, his willingness and his desire to win every single training session, every single ball in the game and that's what makes him the player he is.
"Top teams need top scorers and not just one, ideally three. When you have those players and they can hit certain numbers, that gives you every chance to be at the top of the table."
Bukayo Saka
Arsenal's home grown prodigy Bukayo Saka has just under two years left on his current deal with the Gunners.
Arteta gave an update on contract talks between the two.
He said: "I'm very confident that we as a club, Bukayo [Saka] and his family and his agent are very much aligned on what we want to achieve.
"I would like to get that down because I don't want the player or anybody distracted in the middle of the season, but those things take time and have to go through the right process."
Arsenal will be looking to carry on their good form against Bournemouth and make it three wins from three on Saturday, with a positive result putting them in good early stead in their quest to qualify for the Champions League.
All quotes taken from Arsenal's website [arsenal.com].