As the seaon begins to wind down in the Frauen-Bundesliga, the various battles are beginning to reach their pinnacle.
Bayern Munich continue their steady march to another title, the relegation battle sees some movement and separation, and VfL Wolfsburg and 1. FFC Frankfurt remain neck-and-neck to finish in the final UEFA Women's Champions League spot.
Leverkusen win the Rhine derby
In what was seen as a pivotal three points between teams at the bottom of the table, Bayer Leverkusen came out on top with a 2-0 win over 1. FC Köln.
Leverkusen gained the initial advantage with a 14th minute goal by Francesca Weber. The rest of the half wore on with a few chances here and there but it mostly remained a tightly contested derby.
Kristina Šundov then scored the decisive goal of the match in the 67th minute, meaning Leverkusen are now eight points clear of the bottom two places in the league.
Frankfurt and Wolfsburg win as their battle heats up
Both Frankfurt and Wolfsburg gained the required three points from their matches, making the race for the final Champions League spot one that will go down to the wire.
FFC Frankfurt overcame Werder Bremen, with a brace from Kersten Garefrekes and Mandy Islacker's opener giving them a 3-0 win.
SC Sand, on the other hand, could not keep the Wolfsburg attack in check, but they made the Wolves work very hard for their win.
Nina Burger and Anne van Bonn scored the goals that gave Sand a 2-1 lead, after Tessa Wullaert's opener, but a strike from Ramona Bachmann and Élise Bussaglia's with a brace meant Wolfsburg fought back for three points.
Munich on the roll
Bayern Munich continued what seems to be foregone conclusion now as they ran out 3-0 winners over SC Freiburg.
Melanie Behringer, Vivianne Miedema, who continues her rich, goal-scoring form, and Sara Däbritz all registered goals for the Bavarians. If they win their next game and Wolfsburg drop points in the next round, Bayern will be crowned champions of Germany once again.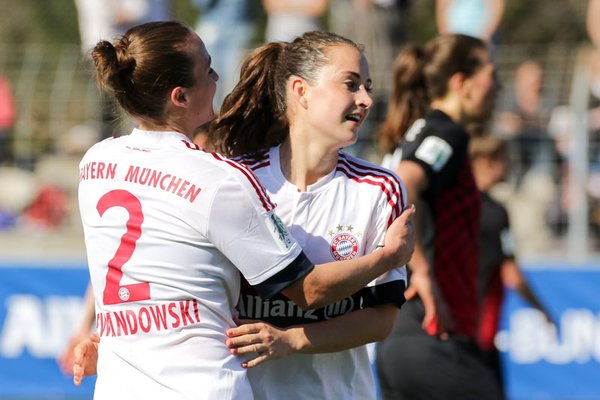 Mid-table teams stay in sight of each other
The other results in the round saw SGS Essen draw 1-1 with Turbine Potsdam, with the goals coming from Lea Schüller and Patricia Hanebeck.
USV Jena beat TSG 1899 Hoffenheim by three goals to one. Lucie Voňková scored two of the goals for Jena and Amber Hearn got the other goal while Martina Moser got the only goal for Hoffenheim.
This leaves all four teams separated by two points in the table.