Jordan Nobbs has extended her stay at Arsenal Ladies after first joining the team in 2010 from Sunderland Ladies.
Nobbs reiterates her love for Arsenal
Nobbs was interviewed by Arsenal after signing her new contract and she reiterated her love for the club. She admitted "it was always a dream to play for Arsenal", saying it was "incredible" to pen a "bigger deal and a longer deal". Nobbs added, "It's where I want to be and it's where I'm happy as well."
In her time at Arsenal, Nobbs has appeared 53 times for the club and has scored 21 goals in that time period. She has also helped the north London side win two FA WSL titles, three FA Women's Cups and four Continental Cups.
During her time at Arsenal she has also featured for England and, as the vice-captain for her country, helped them finish third at the 2015 FIFA Women's World Cup.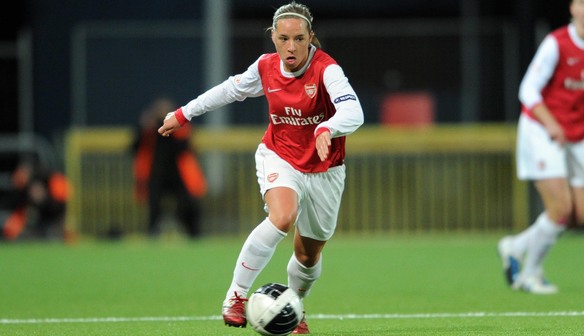 Losa happy with Nobbs' new contract
Pedro Martinez Losa, Arsenal's manager, also commented on Nobbs' extension, citing that she was "a symbol of Arsenal's future".
"Jordan is a very important player for us and one of our key offensive players." Losa stated on the club's official website.
The boss believes that Nobbs "has a lot to learn", but possesses "incredible potential". Losa thinks that their start is showing "more than enough" to suggest she can be the club's future.
He added, "We are very happy - if she is happy, we are happy. That is the most important thing."
Development is key
Losa also praised Jordan Nobbs' development since signing for Arsenal, mentioning Kelly Smith and Kim Little as her mentors. "She learned from players like Kelly Smith and Kim Little at a time when they were playing Champions League," Losa said. The manager believes Nobbs gained "a lot from the competitiveness", as well as "playing at the top level with top players in the world".
He concluded by speaking about Nobbs and her renewed commitment to the club, "We can receive big rewards in the future and especially players like Jordan Nobbs who can show us those values."
Arsenal certainly seem to be looking forward to Nobbs' continued contribution in the 2016 season as they embark on challenging for more titles.