Chelsea and Tottenham Hotspur have been charged by the FA after their ferocious 2-2 draw on Monday night.
Battle at the bridge
Tottenham's title hopes were dashed on Monday night despite taking a two-goal lead through Harry Kane and Son Heung-min, with goals from Gary Cahill and Eden Hazard securing the title for former Blues manager Claudio Ranieri and his Leicester City side.
A battle between these two bitter London rivals was expected, but tempers boiled over on more than one occasion with Mark Clattenburg handing out 12 cards - a league record of nine going to Mauricio Pochettino's side.
The Football Association were expected to throw the book at both clubs, and both have been charged with three offences of failing to control their players.
The charges are in reference to incidents in the 45th and 87th minute as well as after the game. Both sides will have until 6pm on Monday 9 May to respond to the charges against them.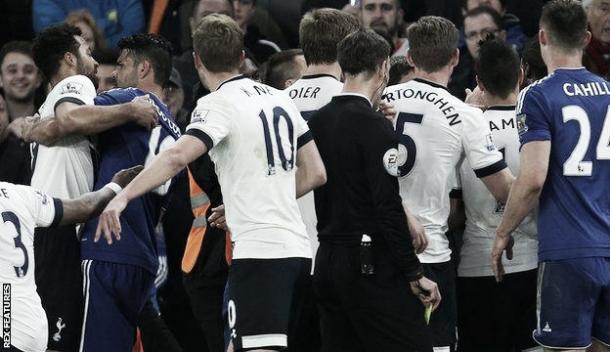 Lengthy ban
The incident just before the end of the first half is the one that has caught the eye of many in particular for the clash between Mousa Dembele and Diego Costa.
The Belgian midfielder was involved in an incident with the striker in which it appeared that Dembele stuck his finger in the eye of the Spaniard.
The incident was not seen by the officials at the time but video evidence has seen the 28-year-old retrospectively charged and he has until 6pm on Thursday 5 May to respond to it.
If found guilty of the charge, Dembele could face a lengthy ban that could exceed that of the usual punishment of a violent conduct offence of three games.
The FA statement read that Demble's behaviour "constituted violent conduct" and that the "standard punishment of three matches" would be "clearly insufficient".