Everton's managerial search may be coming to an end as reports suggest they are in talks with Southampton manager Ronald Koeman over the vacant role.
Koeman has been new major shareholder Farhad Moshiri's number one target since he parted ways with Roberto Martinez at the end of last season. Koeman has also been touted as a potential future Arsenal and Barcelona manager and the Blues think he could be the man to right the ship.
The former Dutch international is a winner, a major quality needed for any new Everton boss as they target Champions League football and trophies under Moshiri.
The job at Goodison Park is not at all easy and any new manager will have a list of things to do straight away to clean up the mess left by the previous manager. The fanbase has been split for some time and while a new manager will be backed by the fans, there will be parts of the fanbase who wanted a different boss.
There are a number of problems with the playing squad too. Players like Romelu Lukaku and John Stones will be interested in leaving and while Lukaku looks likely to leave, any new manager will have to convince Stones to commit at least another 12 months to the Blues.
Koeman the safe choice?
While Koeman's previous work and CV may not excite fans like Unai Emery's, he could well be the safe choice and that is not necessarily a bad thing.
After two seasons of regression, the Blues are looking to climb the table again. Moshiri may be wealthy but his vision for Everton is one of stable growth. Of course, if any manager steps into the role and spends £100 Million, he will have big expectations on his shoulders.
Koeman has already helped move Southampton into the top seven on a consistent basis and while the Blues will be aiming for more than just safety, consistent progression would not be a bad thing.
The Blues are desperate for European football and a trophy at Goodison Park. Koeman has qualified for the Europa League in back to back seasons with Southampton and that would be welcomed at Goodison Park, provided the league campaign does not suffer.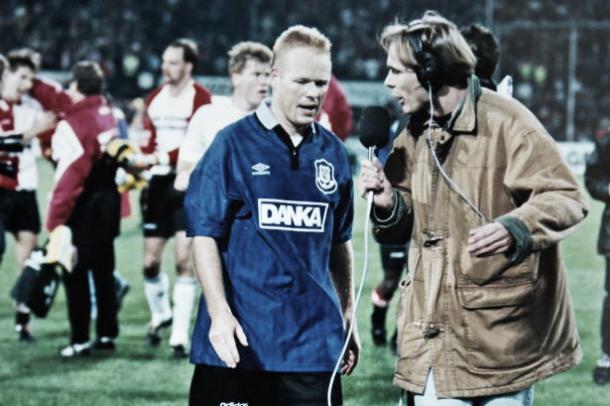 Koeman backed by Stubbs
Koeman already has a public support from one former Everton player and coach. Alan Stubbs who recently took over at Rotherham United, said he believes the Dutchman is the "perfect candidate" and that Koeman would be his choice as an Everton fan.
Stubbs may be away from the club, but he'll always be a fan. He said Koeman has done "fantastic" in the Premier League and his "profile and demeanour" would help him connect with the Everton fans.