Jürgen Klopp believed it important to have options and quality off of the bench as his 10-man Liverpool side came from behind to win 2-1 away at Crystal Palace in dramatic fashion, hailing the passion and character his team showed to produce a spirited comeback.
After a first-half that saw Palace strike the woodwork and enjoy the better chances in the game, Joe Ledley's 48th-minute strike after the Reds failed to clear a corner came as little surprise.
Having endured many a miserable afternoon at Selhurst Park, where they hadn't won since 1997 before Sunday afternoon, it only seemed to get worse when James Milner received a second yellow card to be given his marching orders just after the hour mark.
But Roberto Firmino drew his side level after Alex McCarthy gifted him the ball when losing his footing inside the six-yard box, before second-half substitute Christian Benteke won a penalty in the dying embers of stoppage-time, which he duly converted to spark wild celebrations amongst the players and the travelling supporters.
Milner's red card came just moments after Klopp had brought on Philippe Coutinho to add some extra quality in the final third as Liverpool chased a way back into the game, but the boss insisted that it was the players who deserve credit for the result.
Klopp: Nobody thought we could win it, but Benteke had other ideas
Speaking to the press after the final whistle, the German explained that he and his backroom staff "knew about this yellow card" but made a decision regardless, because they "wanted to bring Phil Coutinho onto the pitch" in order to "be a little bit more offensive" down the right-hand side.
He said that they planned to do so by swapping Jon Flanagan, who was brought off for Coutinho, with Milner - who would be able to add more threat down the right, but Klopp said: "I think it was the first moment after they had a short corner. Lost the ball, bam, second yellow."
However, Klopp refused to lay any blame on the experienced midfielder's shoulders as he said that "things like this happen" and it was "not the biggest problem."
The manager argued that it was "not a problem" in an attacking sense, saying that teams "don't need 11 players for offensive play" but admitted that it affected them at the back because "it makes sense to have 11 for defending."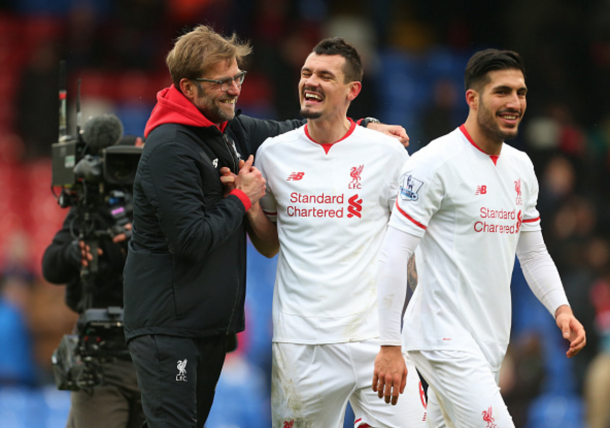 "We had to find a solution for this and we tried to do it with 3-4-2," added Klopp, who said that the game was "more about passion than about formation in this moment" as he said they "did well" but "needed a little bit of luck" to get back into the game.
Despite the equaliser coming courtesy of a horrendous McCarthy error, the Reds boss said that they "deserved the luck" across their performance on the "whole 90 minutes" and said they "needed a bit of luck to force this mistake and could use it to score a goal."
On the frenetic finish, which saw Liverpool awarded a penalty after a coming together with Damien Delaney inside the area, Klopp admitted that "nobody really thought" they would "try to make another goal" but praied Benteke for having "another idea."
"He took the ball, went into the box, and it was a challenge, it was a foul. It was a penalty and he took the chance for us," he continued, calling it a "really good" afternoon for his team.
Boss insists he wasn't thinking ahead with team selection
For the second successive game, Klopp decided to keep Coutinho and Daniel Sturridge on the bench - opting for a similar team to the one that swaggered past Manchester City in a convincing 3-0 win in midweek.
But despite the strong bench he had available to him, Klopp insists he was not sparing any of the players for this Thursday's UEFA Europa League last 16 first-leg against Manchester United at Anfield, saying that he "did not have" that game in mind.
"We tried to prepare ourselves for a real physical fight against Palace," revealed Klopp, who said that they "had to fight for second balls" and needed "direction" when they were "under pressure." He added that they had to "go behind the last lines" and needed "speed" as well as "tactical movements together" in order to "close the gap and protect ourselves" defensively.
He explained his starting line-up as what "made sense" and said that it was logical to "play with a similar formation" to the one that helped them cruise past City.
Klopp even went as far to tell the media that he has "never had a bench with this quality in 15 years as a manager" and called it "important" to have game-changing players in reserve.
"If you have a bench like this, you know that on the pitch you have a good team, but we needed a good team because Palace are really difficult to play [against]," he said, insisting that "from the first game" earlier in the season they knew it would be hard, but relished in the fact that they have "taken the points back" from that defeat - his first as Liverpool manager - in November.
"Cool" that Reds have options now, says Klopp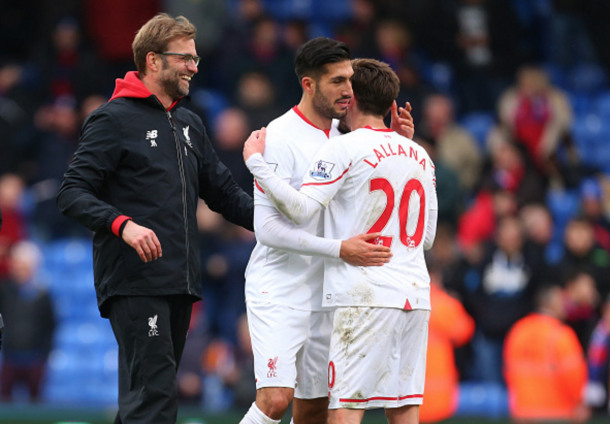 With Benteke ending a 14-game wait for a goal in South London and Sturridge and Coutinho nearing full fitness, Klopp has a wealth of options availabe to him.
Only in midweek, Adam Lallana contributed arguably his finest ever performance in a red shirt against City whilst Firmino continues to excel, having scored seven goals and registered four assists since the turn of the year alone.
Asked about how he plans to set up in the future, he joked that the Reds will play "4-1-5" with all of their forwards on the pitch together, before insisting: "That's the situation, that's football."
He said that for a team "with aims and big ambitions", they need "a strong bench" with "100 per-cent fit players" in both "100 per cent form and shape" - which he said their squad at Palace had for "the first time."
Klopp acknowledged that while they've had "a lot of form and shape on the bench" previously, they've never had "fitness" because players have "come back after four and five weeks" after injury, and described it as "a good moment" to have so many players available, which he hopes "stays like this."
He said that he has "no problem" with players angry at not starting, but challenged them to "show it on the pitch" as he explained they "need all of these guys" and it's "always [about] who doesn't play" and they have "another question" if Benteke starts and Sturridge doesn't, or vice versa.
Klopp added: "We have a long run, we have very important games to go and this is the first time we've had more players than matches! Usually, we have less players [available] than we have matches in a week, so we should use this situation."
He also praised those who came off the bench at Palace for their contributions, in particular pointing out Benteke's match-winning spot-kick. He said that the players "did well" and said Coutinho "did great" after coming on, as did Benteke - whilst Kolo Touré came on "in the last few minutes" and "saved the world" for the team.
The boss said that he hopes Benteke "can take this" forward after what was "a great moment" as he put forward his opinion that it was a penalty because "it was enough of a touch - more than enough" and denied a goalscoring opportunity, before adding that the result, and the late goal, was "absolutely deserved."