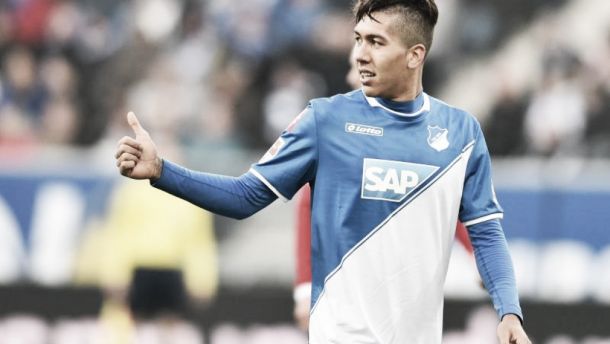 As Liverpool confirmed the signing of Roberto Firmino, there was widespread joy from Reds fans throughout the globe as they celebrated their new £22million signing.
It signals a real statement of intent from the club, as the owners look to support Brendan Rodgers in the Ulsterman's bid to improve upon last season's sixth placed finish.
But what exactly do we know about the midfielder? Many will have watched Firmino grace various Bundesliga pitches for Hoffenheim, however many won't, so let's take an in-depth look at the player.
Background
Born on the Brazilian coast of Maceio, Firmino played for Clube de Regatas Brasil as a young boy, before being picked up by Figueirense at the age of 17. This was a fairly common trait for talented Brazilian youngsters, as they get picked up by top division clubs just as they turn professional.
Due to his fairly tall height (5ft 11in), he was originally used as a defensive midfielder, but slowly began to move forward as he progressed.
Professional club career
As previously mentioned, Firmino was snapped up by Figueirense when he turned 17. He impressed for them, scoring eight goals in 38 appearances at such a young age. However, it was Germany where he was to get his big chance.
Hoffenheim paid around £2.5 million for him in 2011, to bring the then 19-year-old to the Bundesliga. Scoring his first goal against Eintracht Frankfurt in April 2011, Firmino managed three goals in 11 games during his first season.
In the four seasons after that, Firmino became one of Hoffenheim's best players, scoring 46 goals in 142 games from midfield. Not only that, he provided many assists for his teammates, making 37 in the last two seasons.
National team
As an Brazilian midfielder who plays in the number 10 role, it was always going to be difficult for Firmno to break into a position that is wanted by so many players.
However, he did finally get his chance at international level in 2014, after Brazil's embarrassing World Cup display. Dunga, the new coach, wanted to implement fresh tactics and ideas, and brought new players in to do this.
Firmino made his debut in a friendly agains Turkey, and scored his first goal for his country just six days later, against Austria.
To this date, he has made nine appearances for Brazil, scoring four goals.
Playing style and qualities
Despite being fairly tall for an attacking midfielder, Firmino is very dynamic and fluid. He possesses great dribbling ability, having the trickery to beat a man whilst on the ball.
As his record for goals and assists show, he is an excellent passer and shooter of the ball, but it is his defensive talents that often go unnoticed. Firmino completed 176 tackles in the last two Bundesliga seasons, the sixth highest figure in the league.
Similarly to ex-Liverpool player Luis Suarez, Firmino has an incredible knack of not getting injured. He has only missed two league games in the past two years, something which can only help him hit the ground running.
Where will he fit in?
Firmino excells in the number 10 role behind a striker, but is an extremely versatile player that Rodgers could use across the pitch.
Liverpool could set up with two attacking midfielders in a 'box' formation, which Philippe Coutinho and Firmino would be free to roam in.
Alternatively, Firmino could play the 10 in either a diamond or 4-2-3-1 system, with Coutinho behind him in a deeper role, or on the left hand side.
Should Rodgers wish to continue playing Coutinho exclusively in the number 10 position, Firmino could play just off another player in a striking pair, or on his own as a false nine.
Finally, the Brazilian could be used on the left wing, with the idea of cutting inside and shooting, but the general consensus is that this would be a waste of his talents.