Jürgen Klopp admitted that Liverpool's lacklustre defending against AS Roma was a cause for concern as his side lost 2-1 to their Serie A opponents in the searing heat of St. Louis on Tuesday.
Despite a promising attacking performance from the first-half eleven, they were arguably lucky to go into the break having conceded just one after Sheyi Ojo equalised on the verge of half-time, with Edin Dzeko firing the breakthrough before the half-hour.
Mass changes at the break meant a different game altogether in the second-half, Mohamed Salah firing the decisive goal after stealing in to meet a loose ball from just two yards out at the Busch Stadium.
Klopp, whose side now return to England following the conclusion of their US tour, acknowledged that his team have improvements to make but insists there is still time to correct their mistakes.
Reds boss underwhelmed but accepts the factors towards Reds' substandard display
"It was obviously not our best game, but games like this can happen," he said in his pre-match press conference, explaining that the Reds "weren't compact in the first-half" and allowed "too big spaces between the positions."
He admitted that lead to "nearly every offensive action of Roma" coming to "a chance" which he declared "makes no sense."
Despite their vulnerabilities at the back, Klopp said that "on the other hand" they managed to create "a lot of good chances too" so that it "could have been 6-5 to either side at half-time."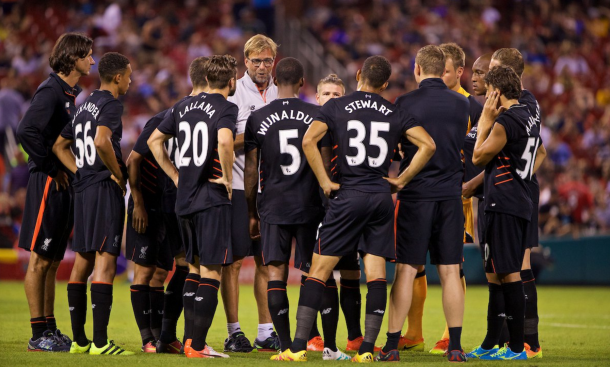 He added that while that may "be exciting" for the fans, it is "of course not what I want" as he acknowledged: "Sometimes as a manager you have to accept things and tonight I can accept it because I know why."
Expanding on why he believes his squad were so below-par, he pointed to "13 days in the USA" as well as playing in "the hardest circumstances" against the Italian outfit after "a lot of intensive sessions" and the "wet heat" and called it "not too easy" for his players to play in.
"We had a lot of games in the last few weeks and the opponent had no games in the last two weeks. We knew all that before the game, so it's hard," Klopp continued, despite vowing that his side "have to do better in games like this.
Klopp: It was easy to see what went wrong for us
The German could at least see the source of Liverpool's problems, telling journalists that it was "easy to see what's wrong" which is "good" because "it's easier to change it."
Despite defeat to Roma being their second loss in three games across the Atlantic, also falling to Chelsea last week, there was little concern from Klopp who said that his players have done "really well" in their pre-season camp and "had a lot of perfect sessions" and some "really good moments" in the friendlies.
He focused on a "few offensive situations" in which his side "played really well and were unlucky or a good goalkeeper [save]" denied them.
"We didn't score often enough," he admitted, adding: "But I'm happy nobody is injured after this game. It was really difficult for my team to play tonight after this intense time."
Liverpool now fly back home to train back on Merseyside before two final friendlies - a glamour tie with Barcelona at Wembley Stadium and a trip to Germany to face Klopp's former club Mainz.
The Reds boss said: "Now we have finished, hopefully a safe trip, go home to England and build on the base we have made here."