Jürgen Klopp is considering further strengthening to his Liverpool squad with the start of the 2016-17 Premier League season just over a week away.
The German has made seven signings so far this summer, spending over £70 million to welcome the likes of Sadio Mane, Georginio Wijnaldum and Loris Karius to Anfield.
But he is eyeing further additions on the verge of the new campaign, with his squad having just returned to Merseyside from a pre-season tour of the United States.
One position in need of recruitment is left-back with a lack of back-up for Alberto Moreno - who limped off late in the Reds' 2-1 defeat to AS Roma in St. Louis earlier this week - after Brad Smith's departure and Jon Flanagan's likely season-long loan move.
Klopp failed to sign first-choice target Ben Chilwell earlier this summer after Leicester City rejected a £7 million for the 19-year-old, who has since penned a new five-year contract with the Foxes.
The Reds boss has suggested he could utilise James Milner as a stop-gap option and has played the central midfielder numerous times there already in pre-season.
But he has hinted that he could yet do more transfer business, with the window not closing until Wednesday August 31.
Klopp open to making more signings
"Is the activity all over? I have no idea," Klopp said, when asked about his intentions in the market in his post-match press conference. "I don't think so. We will see what happens."
He admitted that if their defeat to Roma was "our base" from which they will work off for the season then they will "have to change everything" but insisted that "it isn't" and that "maybe" the Milan was "more our base."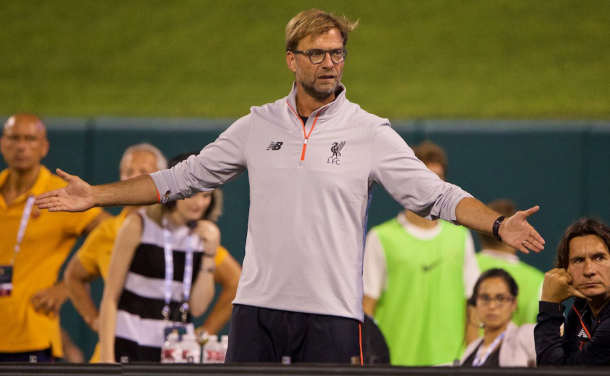 Asked about his depth at centre-back, having opted to play Kevin Stewart in the centre of defence in the second-half, he acknowledged that Joe Gomez, Mamadou Sakho and Lucas Leiva "are all injured" currently and therefore they "haven't got enough centre-backs at the moment."
But indicating that he isn't looking for further cover, Klopp insisted that they "have to handle situations" although he admitted there have been "too many games with not enough centre-backs."
However, the Reds added: "We can't sign someone just for a few weeks. In other positions, we do have cover."
Reds' defending can still improve, says Klopp
Liverpool's back-line struggled to deal with the directness and movement of Roma's forwards as goals from Edin Dzeko and Mohamed Salah gave the Italians victory.
But despite Klopp having criticised their underwhelming defending for making "no sense" afterwards, he believes they have time to iron out their flaws ahead of their opening weekend trip to Arsenal.
He admitted that they "have to improve a lot" but "not because of this game" despite how vulnerable they were at the back.
"What you saw was an example of how you can't defend. Leaving spaces so big you could have cut grass in between," he continued, bemoaning his side's defence for being "too wide, too deep and too far from each other"so that "each pass they played was a chance.
However, the manager also praised the "really good football" of his side, which he said "created six or seven chances." He accepted that it was "a bad game" but said that they are aware of "why we lost."