Swansea City assistant Alan Curtis took over the post-match comments for manager Francesco Guidolin on Sunday, as the head man spent the week fighting illness ahead of their clash with Tottenham Hotspur.
Despite the Swans suffering a 2-1 loss to the second placed North Londoners, the ex-interim manager felt the effort was strong from the visiting side and cited positives in the aftermath.
Early strike not enough
The Swans weren't given much of a chance according to the pundits, but an upset was in the air early after striker Alberto Paloschi found a deflected shot at his feet near goal and pipped a shot into the top of the net in the 19th minute.
The lead was kept past half time but was cancelled out in the 70th minute with a poke from Nacer Chadli before a well placed effort from defender Danny Rose gave Spurs the lead seven minutes later. The hosts then held on get the three points needed to chase table-toppers Leicester City.
Fabianksi proves tough, earns praise
Curtis was keen to highlight the efforts of goalkeeper Lukasz Fabianski, who did an excellent job between the sticks.
He didn't keep praise solely on the Polish keeper though, stating that "the whole team defended well" and that they "can take solace from the performance."
Given the current position of Swansea in the table and the remaining schedule for the club, Curtis emphasised the fight and spirit they have - which will be needed. Away from home in a tough loss against Spurs, he feels they can improve for the next fixture against Arsenal by maintaining a level head.
On the other side, Spurs manager Mauricio Pochettino hailed the efforts of Fabianski, saying he "was fantastic and it looked impossible to score."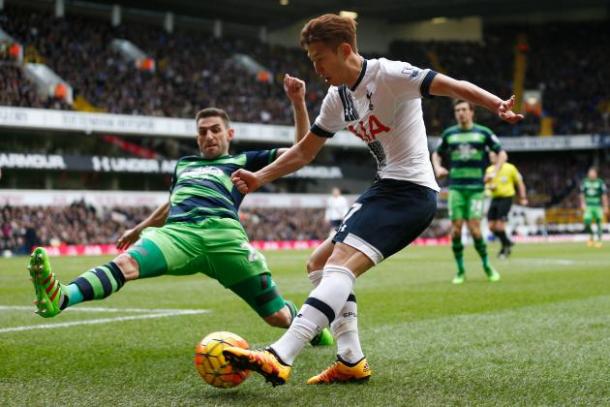 Keeping the spirit
Spurs were the better team during the Sunday clash, but the effort shown by Swansea won't go unnoticed by supporters. Keeping up for next season is the priority at hand and the club has enjoyed a good run of performances as of late, despite the two defeats in recent weeks.
Swansea travel to the Emirates in London to face Arsenal on Wednesday and will look to upset the Gunners like last season.