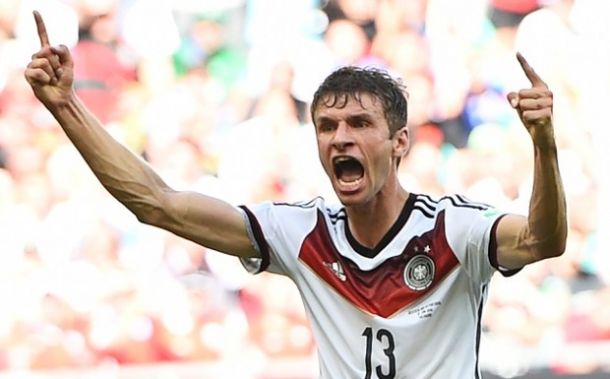 The 2014 World Cup has been a success for Germany, who are preparing for their first appearance in the final since 2002. Joachim Löw and his men owe a great deal of gratitude to a certain Thomas Müller, the team's top scorer with five goals.
Müller's quintet puts him one behind Colombia's James Rodriguez in the race for the Golden Boot and if the Bayern Munich man were to equal, or better, Rodriguez' record then he would earn his second Golden Boot, having shared the reward with Diego Forlan, Wesley Sneijder and David Villa in 2010, after each scored five.
As a matter of fact, Müller's overall record of ten goals over two World Cups is impressive considering he is still only 24 years old, meaning he could be a fixture in the German squad for years to come.
Müller will no doubt play a key role for Die Nationalmannschaft on Sunday against Argentina, whether it'll be playing as a centre-forward or just in behind Miroslav Klose, it's this versatility that makes Müller such a lethal attacker.
Löw opted to play Thomas Müller as the lone striker against Portugal in the team's opening game, a decision which brought much success as Müller scored a hat-trick in a 4-0 win.
In the win over Portugal, Müller displayed the qualities of a natural centre forward, as he pounced upon anything he found in the 18 yard area, showing the Portuguese no mercy. In fact, only one of his five goals this tournament came from outside the area.
However, the 24 year old has played most of the tournament in a "False 9" role, where he normally plays at Bayern Munich in behind Mario Mandzukic - soon to be Robert Lewandowski, of course.
Since his change in role to the False 9, Germany haven't looked the same attacking threat having drawn with Ghana and beating USA, Algeria and France by a one goal margin.
Of course, they did put seven past Brazil in the semi-finals and Germany will be hoping to emulate that performance against Argentina to win their fourth World Cup trophy, their first as a re-unified nation.