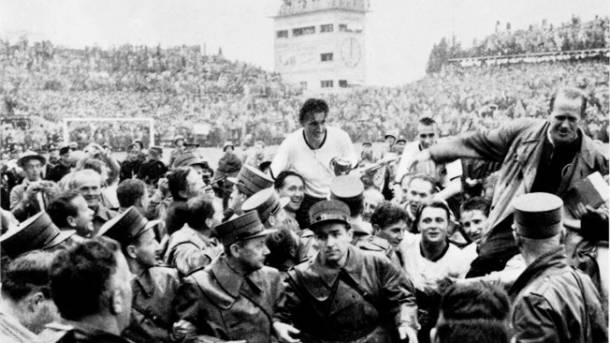 Years of successful international football were this week cast in a new light as Humboldt University in Berlin published a report detailing the state-sponsored doping that fuelled German sides from the 1950s right through to the 1990s - six world cup finals in all.
The report indicates that several players even tested positive for traces of the banned stimulant Ephedrine in the controversial final of 1966. The report also validates claims made by goalkeeper Toni Schumacher in his 1987 book "Anpfiff" (German for "kick-off"), and even accusations levelled by Hungary's losing footballers in the 1954 world cup final.
The 1954 final in itself has often been touted as being "Too good to be true", where a rag tag team of amateurs and semi-pro West Germans beat one of the most dominant sides in footballing history 3-2, having been demolished 8-3 by the Hungarians earlier in the tournament.
While it has long been suspected and accepted across a range of sports on both sides of the Berlin wall, with Cycling and Athletics the most frequent casualties, the scale and breadth of the West German operation detailed within the report is staggering.
Several leading politicians, ministers and coaches have been implicated, but perhaps more worryingly the last section of the report, detailing the results of investigations in sport since 1990 has been suppressed, casting a shadow on the 1996 European Cup triumph of Germany, as well as dashing efforts to draw a definitive line under the issue. More damningly, it states that decathlete Birgit Dresse, who died of multiple organ failure in 1987 aged 26, had traces of over 100 different substances within her body.
Football has been coming under increased scrutiny in recent years to improve anti doping practices, particularly in the wake of revelations in Italian courts with regards to the blood doping employed by the 1996 Champions League winning Juventus side - Club doctor Riccardo Agricola was sentenced to a 22 month custodial sentence in 2002 for crimes relating to this.