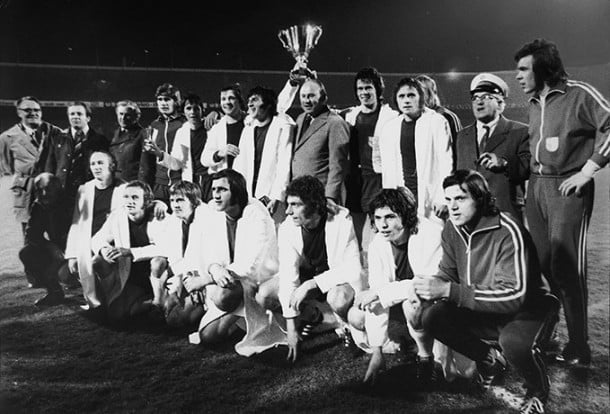 1. FC Magdeburg is a special club in the history of German football – More specifically, East-German football. Since reunification, clubs from the former German Democratic Republic have, in general, found success hard to come by due to inferior infrastructure and the poaching of young talent by traditional financial powerhouses in former West-German cities.
While the likes of Dynamo Dresden and Hansa Rostock struggle to keep their heads above water, Magdeburg are starting to make a real comeback into modern-day relevance. Having gained promotion in 2014-15 after winning the Regionalliga Nordost, they find themselves 4th in 3.Liga with a real chance of back-to-back promotions.
However, time has very much eroded the historical importance of this club in a distant past when a country was divided into two hugely dissimilar chunks. Nicknamed Der Club (The Club), just like their more illustrious Western counterparts 1. FC Nürnberg, Magdeburg truly was The Club of East-Germany at one stage – The only club from the GDR to ever win a European competition, the European Cup Winners' Cup, against the mighty AC Milan, no less.
The beginning of an intriguing history
Tracing its roots all the way back to 1896 as SV Victoria 96 Magdeburg, Der Club found moderate success in the pre-World War II period of German football, appearing in several German Championship finals but failing to register a triumph. Moving on to the new Gauliga Mitte, Magdeburg was a solid mid-table team, but nothing more.
However, as was the case with the vast majority of football clubs in Germany after World War II came to an end, major changes to the structure of the league system and the country as a whole was to change the history of the club forever.
All sports clubs were systematically dissolved which fell within the Soviet Occupation Zone, to be formed into smaller clubs which were set to compete at local and regional levels. This set in motion a furiously changing and oft confusing sequence of events leading to the formation of Der Club in its current incarnation - In 1945, the players of two disbanded clubs, Magdeburger SC Prussia 1899 and Cricket Viktoria Magdeburg came together to form the Sportgruppe (SG) Sudenburg.
Soon afterwards, this club and SG Lemsdorf merged to create BSG Eintracht Sudenburg, which then swiftly was paired with SAG Krupp Gruson in 1950. During the next year, the club was renamed as BSG Stahl Magdeburg, before once more being rechristened another year later as BSG Motor Mitte Magdeburg.
But there was to be yet another change in 1957, as the footballing department of BSG Motor Mitte was moved to SC Aufbau Magdeburg due to political pressure to achieve higher standards of performance. Only eight years later, the footballing department was once again broken out of its parent club in order to create a football-only club called 1. FC Magdeburg.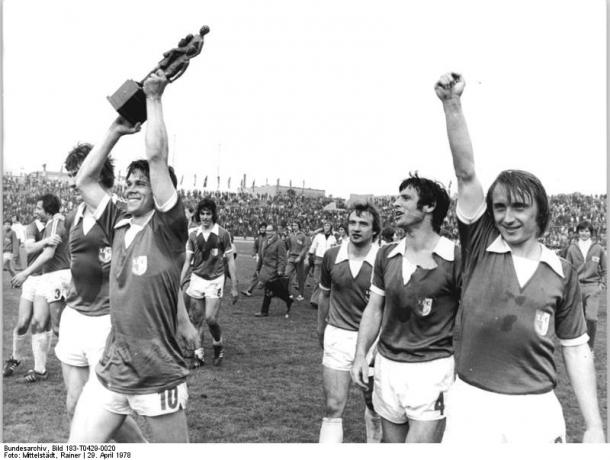 Magdeburg won 7 FDGB-Pokal titles, with their fifth coming in 1978.
Early years
The club as it is known today was finally born, in the midst of a general movement in East-Germany towards football-only clubs in order to promote excellence that could compete at the very highest level possible. Interestingly, with its birth in 1957, Magdeburg remains the oldest East-German football club created within this period that is still active to this day.
Der Club was promoted to the top tier of East-German football, the DDR-Oberliga, in 1959, and was quickly established to be a lower-midtable team. However, in 1964 the club shocked football in the East by winning the FDGB-Pokal after coming behind from 0-2 down to beat SC Leipzig 3-2 in Dessau. This granted Der Club their first-ever foray into European competition, holding Turkish giants Galatasaray to three consecutive draws – With the deciding game in Vienna, after draws home and away, having to be decided by coin-toss after yet another draw.
Legend has it that the first coin-toss stuck perfectly upright in the muddy turf, with another toss thereof subsequently needed to send the unlucky Magdeburg out by a cruel twist of fate.
Despite another mid-table finish in 1964-65, Der Club managed to defend their FDGB-Pokal crown, becoming the first-ever East-German team to do so, by beating FC Carl Zeiss Jena 2-1 in Berlin. Despite managing to reach the Cup Winners' Cup quarter-final the following season, going out to a star-studded West Ham, the campaign was a disaster for Magdeburg as they finished last in the league and were dumped into the second-tier DDR-Liga.
However, they made a swift return to the top division under new manager Heinz Krügel, and followed it up with two consecutive third-place finishes in the DDR-Oberliga in 1968 and 1969. In the latter campaign Magdeburg also managed to win their third FDGB-Pokal, establishing themselves as one of the top teams in East-Germany. The next decade would usher in the greatest age of Der Club, as the battle for dominance in the DDR's football scene heated up.
Golden age in Magdeburg
There was a furious tussle for power between Magdeburg and Dynamo Dresden, with the former quickly becoming the breeding-ground for East-German internationals under manager Krügel – Producing 9 internationals between 1969 and 1974, including four who competed at the 1974 World Cup, historically beating eventual champions West-Germany in the process.
In 1972, Der Club won the DDR-Oberliga for the first time with the youngest squad in history, while also attracting record crowds averaging over 22,000 spectators per game. The golden age had begun, with Magdeburg competing in the European Cup for the first time, being knocked out in the second round by Juventus. To add gloss to an excellent season, a fourth FDGB-Pokal title was secured with a 3-2 victory over 1.FC Lokomotiv Leipzig.
Next followed the most successful campaign in Magdeburg's history in 1973-74, as Der Club won their second DDR-Oberliga title and shocked Cup Winners' Cup holders AC Milan 2-0 in Rotterdam's De Kuip – And remaining the only East-German club to win a European title. In the following season, Magdeburg defended their league crown, once more setting record attendance figures in the process.
The European Supercup was set to be played between Magdeburg and West-German giants Bayern Munich, who had won the European Cup, but it was cancelled due to the clubs involved not being able to fit it into their schedule – Or at least, that was the official version of events, with a political motivation later being suggested as the real reason.
However, these two sides would face each other in the first round of the next edition of the European Cup in any case, having been drawn together in a brilliantly ironic twist. The Bavarians ended up winning both matches, sending Der Club crashing out of Europe's premier club competition.
Things would start to fall apart for Magdeburg in 1976, as Krügel, the mastermind behind the rise of Der Club, was relieved from his duties by the Socialist Unity Party of Germany, who considered him "politically unreliable" to their agenda. While his successor, Klaus Urbanczyk, would finish in the top four of the league for the rest of the 1970's and win two more FDGB-Pokal titles in 1978 and 1979, the ability to win the DDR-Oberliga and the sheer attractiveness and youthful exuberance of their play had been lost.
Magdeburg were still very much a presence, though, competing in a number of glamour ties in European competition, such as their clash in the quarter-finals of the 1976-77 UEFA Cup against Juventus and becoming the first-ever team to beat Schalke at the Parkstadion in continental competition in the 1977-78 edition of the same competition, before heart-breakingly crashing out to eventual winners PSV Eindhoven in the quarter-finals by conceding a winner with only 90 seconds left on the clock.
The downward spiral
In the 1980's, signs of decline were starting to set in for Magdeburg as attendance figures started to drop sharply due to a failure to compete for the title in the DDR-Oberliga anymore. However, there was a brief, and spectacular, return to the 'good old days' in 1983 as Der Club won their seventh FDGB-Pokal title against FC Karl-Marx-Stadt – Bringing along a massive 25,000 fans to Berlin, a record for travelling fans that still stands to this day.
Magdeburg had been surpassed by the likes of old rivals Dynamo Dresden, BFC Dynamo and Lok Leipzig domestically, but still managed to qualify for the odd UEFA Cup appearence. However, it was clear that Der Club could not compete anymore, with a 1-5 home defeat against Barcelona in which a certain Diego Maradona scored a hattrick being a perfect illustration thereof. In 1989-90, nearing the end of the DDR Oberliga's existence, Magdeburg pushed rivals Karl-Marx-Stadt to the final day in the championship, but were unable to add one last title to their name, ending third.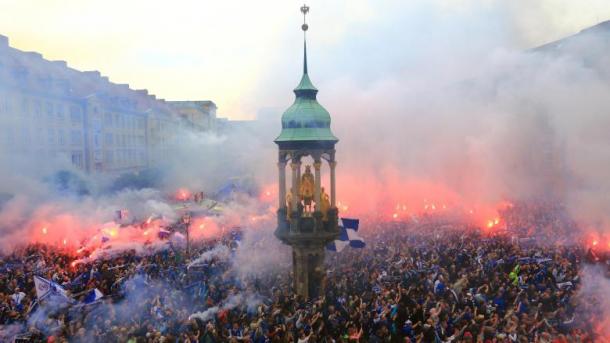 Magdeburg fans celebrating promotion to 3.Liga
The 1990's ushered in the era of reunification, and hopes were high that Der Club would qualify into the Bundesliga or 2. Bundesliga after their third-placed finish. However, the loss of manager Joachim Streich and key players such as Dirk Schuster and Wolfgang Steinbach meant that Magdeburg could not win a single one of their qualification play-off games, subsequently being dumped into the third-tier Oberliga Nordost/Staffel Mitte.
For the next decade much of the focus was on trying to gain promotion to the 2.Bundesliga, but all these efforts were unsuccessful, with infrequent appearances in the DFB-Pokal becoming as good as it got for a rapidly deteriorating fanbase. The new millennium hinted at a new hope, though, as Magdeburg won the league in some style, scoring 120 goals as well as making a run to the DFB-Pokal quarter-finals – Having knocked out 1.FC Köln, Bayern and Karlsruher SC, before bowing out at the hands of Schalke.
In the promotion play-offs, Der Club swept aside former East-German rivals BFC Dynamo 5-2, but gross mismanagement left the club in dire financial trouble, necessitating loans from two banks to keep the club at third-tier level. But in 2002, the bubble burst, sending the club into administration and into the fourth tier of German football.
Rebuilding for the future
This started a slow, but steady process of rebuilding, as the city of Magdeburg resolved to build a new stadium, while the new club board focused on a more sustainable financial model, which brings us to the present day where Der Club has dragged itself back into the third division.
The future is looking much brighter than it has been for a long time, and we could well see them in 2.Bundesliga before too long. But whatever happens, the history of this fascinating club can never be erased, and their achievements will be in the record books forever. It just needs somebody, every now and then, to blow the dust off of it all and expose a new generation of football lovers to Der Club.
1. FC Magdeburg was, definitely, fleetingly the jewel in the crown of East-German football.