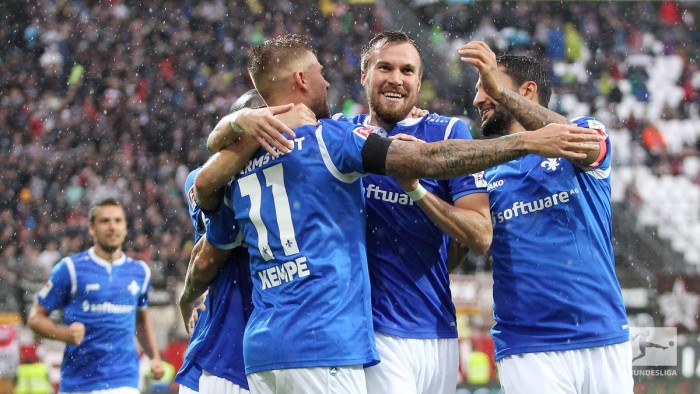 SV Darmstadt 98 thoroughly outplayed a poor FC St. Pauli to, temporarily at least, move top of the 2. Bundesliga.
In their second home match of the season, former Borussia Dortmund hero Kevin Großkreutz scored his first goal for the club early on.
Tobias Kempe scored the second from the spot soon after half-time, with Sami Allagui having a penalty saved at the other end. Yannick Stark added the third for Darmstadt in the closing stages.
Großkreutz opens his account for Darmstadt
These two sides have started the season in similar fashion – winning their opening league matches, drawing their second, before bowing out of the DFB-Pokal, Darmstadt beaten by SSV Jahn Regensburg and St. Pauli upset by SC Paderborn 07. After making changes for those matches, both sides restored most of their sides from the previous league games, with Sandro Sirigu and Fabian Holland replacing Patrick Banggaard and Markus Steinhöfer for the Lilles, whilst St. Pauli brought in Christopher Avevor for Lasse Sobiech after his head injury against Paderborn.
This game wasted no time in getting going. St. Pauli could have led barely more than a minute in, as Aziz Bouhaddouz dived in to head a Christopher Buchtmann corner goalwards, only for Daniel Heuer Fernandes to save with his palms. At the other end, Artur Sobiech had a shot put wide by the recalled Robin Himmelmann, before a vital block by Avevor from a Wilson Kamavuaka shot.
Darmstadt then scored as the clock ticked into the ninth minute. Marc Hornschuh got his head to a Sandro Sirigu cross ahead of Sobiech, however the ball fell straight into the path of Großkreutz, who got enough on it to beat Himmelmann and score his first goal for the Lillies.
Darmstadt had chances to double their advantage, with Kempe having a shot blocked by Hornschuh before Himmelmann did well to put out Kamavuaka's header, which bounced dangerous off the ground before he parried it over.
St. Pauli looked a little lacking in response, with Bouhaddouz putting over the best chance they had of an equaliser with little more than a scuffed shot. They kept up their pursuit as half-time closed in, however they lacked the firepower to really worry Darmstadt.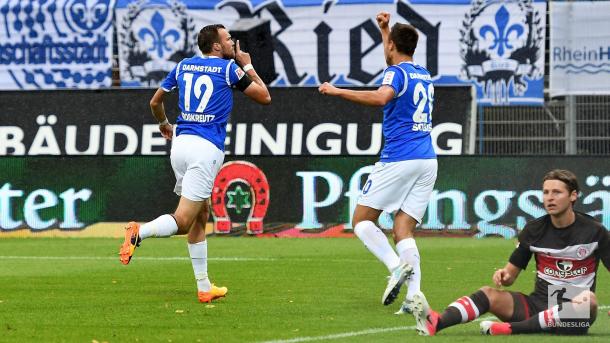 Allagui penalty miss compounds poor night for St. Pauli
Needing a way back into the game, St. Pauli got off to the worst possible start when they conceded a penalty just after the break. Avevor got ahead of Sobiech, only to fall into Großkreutz, with Jeremy Dudziak possibly fouling the German world champion as well. Kempe stepped up and put the ball just out of reach of Himmelmann to double the home side's lead.
St. Pauli were going nowhere fast, with the belated introduction of Cenk Sahin not immediately helping either. Darmstadt could have got a third as Marvin Mehlem went on the counter, trying to then find Sobiech. Buchtmann tried to clear, only passing it back to Mehlem, but he couldn't then put his effort on target.
At the other end, Buchtmann then tried to pull St. Pauli out of their hole, with an impressive strike put wide by Heuer Fernandes, almost a carbon copy of the two goals he scored against Dynamo Dresden. St. Pauli were then given a penalty from the resulting corner, with Aytac Sulu or Sirigu alleged to have handballed whilst going to ground. Replays showed neither had done so. Justice was done therefore when Heuer Fernandes went the right way and saved from Sami Allagui.
Bouhaddouz was having a poor game up front for St. Pauli, but he always set up a chance for Allagui to make up for his penalty. The former Hertha BSC striker got a foot on Bouhaddouz's cross, only to see it hit the post, with Heuer Fernades pushing the ball away from danger before it could cross the line.
The final denouncement was precipitated by Torsten Frings's decision to introduce Stark into the game. With what was most likely his first touch of the game, he scored Darmstadt's third goal on the rebound after Himmelmann had blocked the header of another substitute, Terrence Boyd.