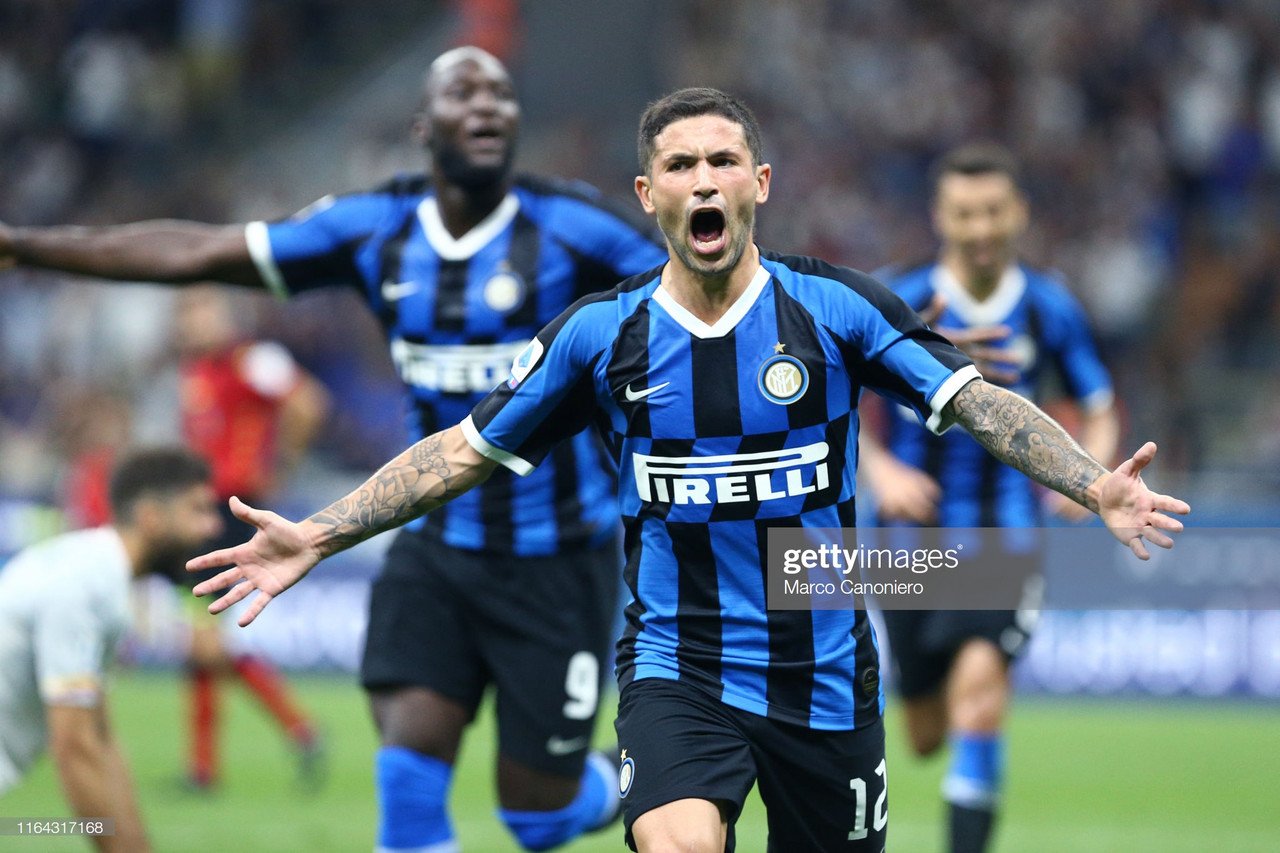 After a very busy summer transfer market, and new coach Antonio Conte at the helm, Inter Milan are hoping to have put themselves in the running for Serie A glory this season. But, it remains to be seen if they will be a legitimate threat to the likes of Juventus F.C and S.S.C Napoli in the Scudetto race this season.
This Inter squad certainly looks strong on paper but will their performances be able to match the potential? It seems that the overall success of the team will come down to how their new buys will be able to influence the squad and if they are able to perform consistently.
The Tactical Mastermind – Antonio Conte
Just about everywhere Conte has gone he has won. As a player with Juve, as a coach with the Bianconeri and even at Chelsea FC, he has won. Conte has proven himself as a winner year after year and this season at Inter may not be any different. The hard nose and passionate coach will stick with his 3-5-2 formation through thick and thin and he has acquired players that will fit his style of play if they buy into his system.
Conte will always bring the passion from the sidelines to help motivate his squad and maybe that is the extra little kick this Nerazzurri squad needs to get over the line to win the Scudetto. Conte's passion and his system have been proven to work in the past, but Inter will need more than just the right coach, they are going to need their new boys to deliver.
The Inter New Boys
Inter have brought in a handful of new faces into the squad this summer between outright purchases, season-long loans and even the rare free transfer, all while staying within the rules of Financial Fair Play (FFP). Quite the impressive summer for Mister Beppe Marotta. Him and Conte know each other very well from their time at Juventus and he knows exactly what Conte is looking for in his squad.
Marotta managed to bring in the likes of Romelu Lukaku, Valentino Lazaro, Nicolo Barella, Stefano Sensi, Lucien Agoume, Diego Godin, Alexis Sanchez and Cristiano Biraghi. That's quite the impressive list all done within one summer transfer window.
Even after deciding to part ways with former club captain Mauro Icardi who is now at Paris St-Germain FC, Ivan Perisic at Bayern Munich and Radja Nainggolan to Cagliari Calcio, this is still one of the deepest Inter squads in recent history. Inter have improved in all three positions but a lot of pressure will come on Lukaku and if he can find the form of his Everton FC days, where he was almost unstoppable in the English Premier League.
The young Italians, Barella and Sensi both showed promise at Cagliari and Sassuolo Calcio respectively last season, both have larger spotlights on themselves this season. Both the coaching staff and the Nerazzurri fans are expecting a lot out of these two for years to come.
Thus far, this Inter team shows a lot of promise and hard work. In addition to that, with the signing of tough and experienced defender Diego Godin from Atletico Madrid, they could even surprise a few by making a deep run in the UEFA Champions League.
Consistency is the Key to Success
Between the coaching change and the new faces in the starting 11, there is certainly optimism surrounding this 2019/2020 Inter team and rightfully so. Potentially making them challengers in both Serie A and in the Champions League this season.
After an impressive 2-0-0 start to the season, Conte will continue to demand the most out of his squad night in and night out. If some of their new boys are unable to find their form of previous years, Inter will not be as successful as they are hoping. Evidently, their consistency in play will be crucial to their overall success this season.