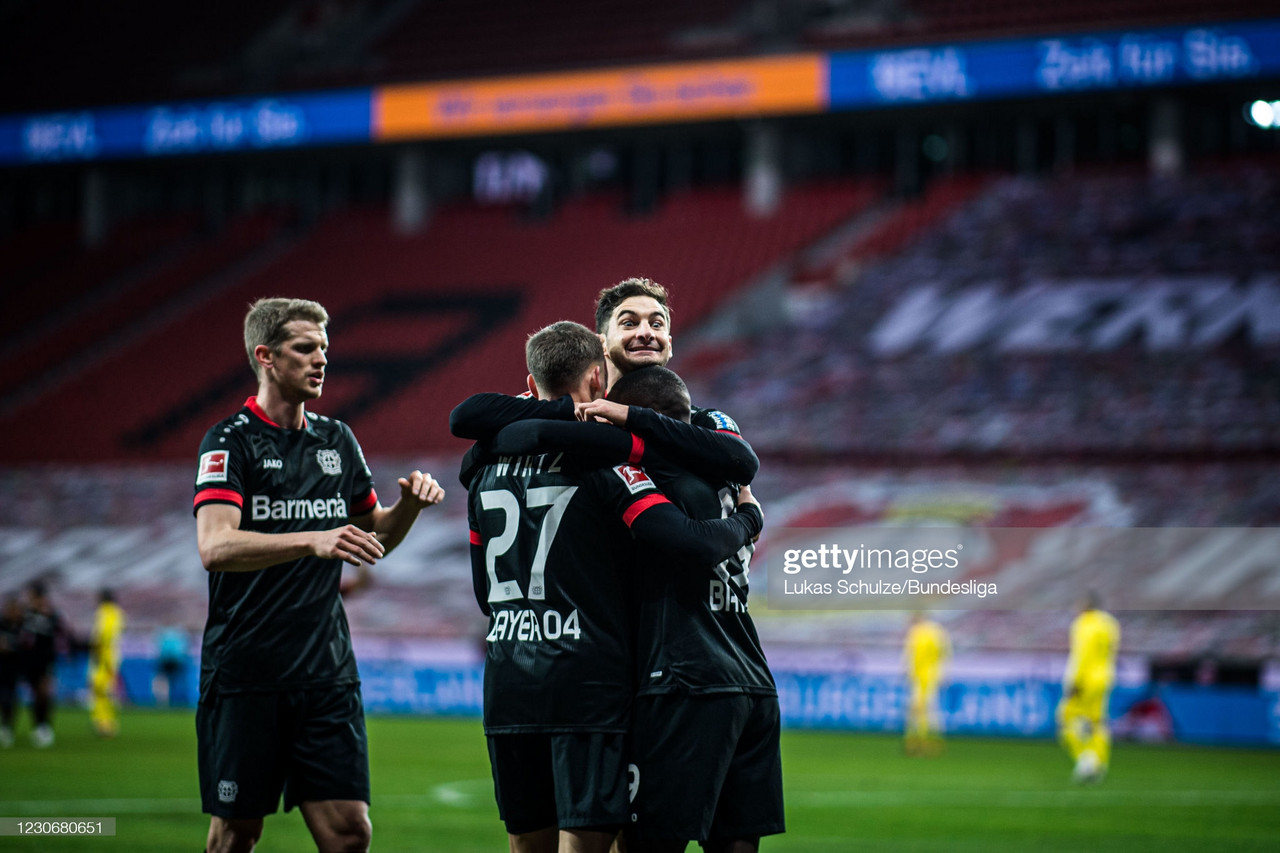 Featuring important clashes at both ends of the table, this week confirmed and also rewrote some significant Bundesliga narratives. As the games continue to come thick and fast in Germany and the pressure just keeps mounting, we look back on three key takeaways from Matchday 17.
The same issues continue to plague Borussia Dortmund
Under recently departed Lucien Favre, there was a sense that a collection of star-quality players was not translating into a Bundesliga side capable of challenging for title. Despite showing signs of promise in the first few games of the Edin Terzic reign, the Schwarzgelben have reverted back to their old ways and the Bosnian is suffering with the same problems as his predecessor.
Tuesday night's defeat to Bayer Leverkusen, off the back of a 1-1 draw with lowly Mainz 05, only confirmed that the problems at Dortmund run deeper than the manager. Whilst the performances of youngsters Jude Bellingham and Giovanni Reyna will have buoyed the mood slightly, it has been the underwhelming showings from stalwarts such as Mats Hummels, Raphael Guerreiro, and Roman Bürki that are the most damaging. It is hardly surprising that the poor form of these players - all part of the defensive unit - has led to Dortmund keeping only one clean sheet in the past eleven matches.
All too often against Leverkusen, the trio (amongst others) looked tactically unaware while also demonstrating a lack of willingness and fight. It is also painfully obvious that they rely too much on Erling Haaland; quite simply if Haaland does not play well, Dortmund do not.
One wonder's how much accountability the established core at Dortmund needs to take instead of looking to pass blame elsewhere.
Hertha Berlin's troubles worsen on and off the pitch
Krzysztof Piatek's missed penalty miss early on in their 3-0 drubbing against TSG Hoffenheim rather capsulated the mood around Hertha Berlin at the moment. There's plenty of promise, but no reward. For a team that has spent nearly €150 million on transfers over the last two seasons, sitting just two places above the relegation zone will certainly not be in line with expectations. A combination of poor recruitment, managerial changes, and tactical ineptitude has turned Hertha into something closer to a laughing stock than the 'Big City Club' they tried to re-brand themselves as.
Whilst the on the field performances have left a lot to be desired (not least so in this game), there is no getting away from the fact that the constant upheaval off the pitch has not helped things. Alongside all the controversy that new investor Lars Windhorst has caused, this loss has sparked further outrage at sporting director Michael Preetz, so much so that there will be a fan demonstration against the 53 year old ahead of their match on Saturday against Werder Bremen.
The ongoing soap opera that is Hertha Berlin needs a few positive episodes to help the club escape from its current turmoil.
Schalke and Mainz left firmly adrift
In spite of spirited performances from both sides last weekend, the midweek round of fixtures brought very little in the way of hope for both Schalke 04 and Mainz 05 as they find themselves now eight points behind 16th placed FC Köln. They are truly presented with a mountain to climb if they are to have any dreams of staying in the division.
It was utter heartbreak for the Royal Blues as they succumbed to defeat in their crucial six-pointer against Köln in the dying embers of extra time. Not even another Matthew Hoppe goal could save Schalke this time around, who now look as if they will be resigned to the 2. Bundesliga. There could yet be life in the fallen giant, though.
New-arrival Klass-Jan Huntelaar, who did not feature in the match said afterwards: "I saw a good team in the second-half, if we play 17 games like that, we have a good choice of coming out."
If Schalke will find hope in acquiring Huntelaar and Sead Kolasinac, the opposite is true for Mainz, who this week saw top scorer Jean-Philippe Mateta depart for Crystal Palace. It does not make good reading for Bo Svensonn's side that they are yet to win a match at home as well, so that will need to change quickly if they are to give themselves a chance of retaining their Bundesliga status.