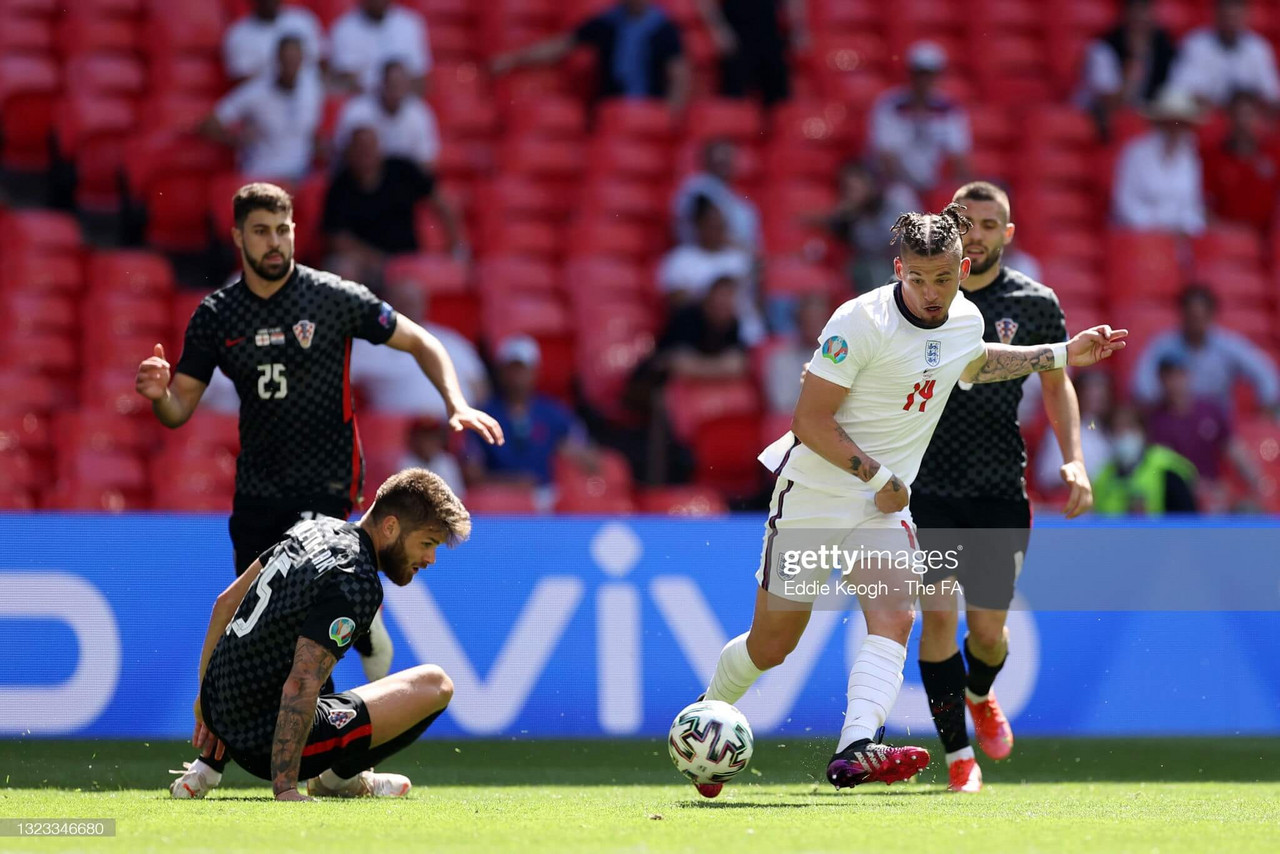 Gareth Southgate was adamant about what he wanted from Kalvin Phillips at Wembley. The England manager wanted his midfielder to push on more than he normally would do when playing for his country or his club, Leeds United.
What Southgate got was not only the best display of any player taking part in this Euro 2020 group D opener, but also the best performance from Phillips in what was his seventh appearance for the national team. The 25-year-old midfielder was instrumental in England's one-goal win over Croatia to set an upbeat tone to their European Championship campaign.
Phillips started in a midfield three, to the right of Declan Rice - the deeper-lying midfielder - and on the opposite side to Mason Mount, who was bright early too. Whereas Phillips normally sits deeper or is more restrained in terms of getting up the field, here the England manager wanted him to advance much more regularly and be part of the attacking play.
He is certainly capable of it. Phillips has a beautiful touch and can also send a lovely pass, as seen with his assist for Raheem Sterling's goal in the second half. But Phillips can also find the target. It was his volleyed attempt that brought the only meaningful save from Dominik Livakovic in the Croatia goal in the first half - in fact that was England's only shot on target during the opening half.
Yet, Phillips's impact was much more than just that attempt. He drove the press which unsettled Zlatko Dalic's side early on. For the opening 20 minutes, England were far superior and played at a speedy pace which Croatia couldn't keep up with. Phillips was instrumental to that. His advanced positioning, which for most of the first half hour was well inside the Croatia half, meant his tackles were won closer to the Croatia area.
What's more, his dynamism and confident nature when taking the ball and running both inside and out, was a source of concern for Croatia. Along with Sterling's runs, they appeared to be the most likely route to an England breakthrough which their first half display deserved.
It was only natural that Phillips created the sole goal of the game too. The opener came while the encounter was in a lull early in the second half. Kyle Walker passed to the Leeds midfielder and little looked on, but Phillips seized the opportunity. He turned inside from the right with his head up looking for the options. He calmly strode forward and played a lovely incisive ball for Sterling who dispatched beyond Livakovic.
That one-passing movement, the speed of the counter, was what Southgate has been aiming for from his team since the 2018 World Cup when they were knocked out at the semi-finals by Dalic's Croatia. That is why he opted to deploy Phillips in this more advanced position.
Phillips went from a borderline starter to an integral part of England's midfield with this performance. Suddenly the absence of Jordan Henderson through lack of match fitness seems a little less concerning. Despite Phillips having a great season with Leeds, in which he has caught the eyes of many neutral onlookers in the Premier League, and also despite him having played six good enough games for England to this point, it was this virtuoso display which has made him stand out so clearly.
Scotland are next and Phillips will relish that challenge - and battle - just as much as this game. This showing was not perfect from Phillips, nor was it from England as a whole: they slowed dramatically at the end of the first half, mainly due the heat, and also spurned chances to double their lead, which did result in the final few minutes being too nervy for comfort. But this is a great platform to work from. Their Euro 2020 campaign is up and running thanks to Phillips's afternoon in the sun.